December 1st, 2009 / 4:02 pm
Random
Ryan Call
Front Matter/Back Matter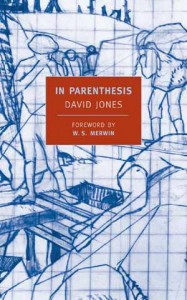 From TS Eliot's Introduction to In Parenthesis by David Jones:
A work of literary art which uses the language in a new way or for a new purpose, does not call for many words from the introducer. All that one can say amounts only to pointing towards the book, and affirming its importance and permanence as a work of art. The aim of the introducer should be to arouse the curiosity of a possible new reader. To attempt to explain, in such a note as this, is futile. Here is a book about the experiences of one soldier in the War of 1914-18. It is also a book about War, and about many other things also, such as Roman Britain, the Arthurian Legend, and divers matters which are given association by the mind of the writer. And as for the writer himself, he is a Londoner of Welsh and English descent. He is decidedly a Briton. He is also a Roman Catholic, and he is a painter who has painted some beautiful pictures and designed some beautiful lettering. All these facts about him are important. Some of them appear in his own Preface to this book; some the reader may discover in the course of reading.
How important is the front matter and back matter of a book to you? Do you read introductions by translators and others before you read a book? Or after you've read the book? Do you care much about what another person writes in an afterword? Has the name of an introducer ever helped you to purchase a book? What are some introductions/prefaces/afterwords that particularly stand out in your mind as interesting?
20 Comments