August 31st, 2010 / 11:35 am
Uncategorized
Adam Robinson
Green Gallery Press Is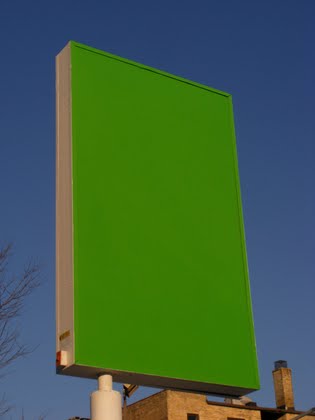 In an attic in Riverwest, a Milwaukee neighborhood that is my favorite neighborhood anywhere, brothers John and Joe Riepenhoff founded the Green Gallery. At its start, the gallery was a regular-sized room where they showcased their friends' work. That was around 2001. Now the Green Gallery has expanded to two buildings, and John is active with art happenings across the globe, with Milwaukee International.
Recently the Green Gallery bros have started putting out books, with their recent offerings: Nicholas Frank's The Sound of the Horn and Paul Druecke and Claire Readig's The Last Days of John Budgen, Jr. I read Frank's short novella in one sitting and loved it. At first I wondered if perhaps the tone was overly-formal, or too "Kafka-esque," but there aren't any holes in Frank's serious prose. It's a good story (about an accident that results in a car horn that won't shut off) and it has stayed with me. I recommend grabbing one – if you can find a copy. That isn't easy because the books are meant to accompany art exhibitions and there's no web presence (remember that?).
Are these the only two books? Are there more in the pipe?
We made small chapbooks to accompany shows at Green Gallery West for a few years, either written work by the artists or supplementary essays, and they were often in runs of 50 to 100, but these are our first two perfect bound books of fiction. Steve Wetzel and Kiki Anderson have books in the works that we hope to publish within the coming months.
They're very limited runs. Why is that?
We print small numbers because that's what we can afford right now and the venues and market we have access to are museum book stores and art boutiques, where these serve partially as limited art objects as well as literary works by artists. We print locally, too, so it's easy to print as we sell.
Are they only available at the gallery? I couldn't find a website.
Right now we only sell them at The Green Gallery (Milwaukee), Woodland Pattern (Milwaukee), Malmö Konsthall (Malmö), Golden Age (Chicago), and Ooga Booga (Los Angeles). We don't have a web store set up yet but people can email john@thegreengallery.biz special order.
How'd you choose to publish Nick and Paul? Did the books accompany a show?
The Green Gallery has been working with Nicholas and with Paul for several years in a variety of capacities. We've done several exhibitions with both artists and Joe developed relationships with them as writers and eventually offered to publish their work. Joe offered to do all the editing and asked Paul Stoelting, an L.A. based artist, to do the design. Setting dates for exhibitions in the gallery served as an impetus to complete the publishing process for Nicholas's. Paul approached Joe for help creating the final version of the John Budgen Jr. book and it was finished for a reading at Woodland Pattern.
Where do art and literature intersect? How'd you come about starting the press?
Nicholas Frank's show was about narrative, the book and the paintings supported different aspects of narrative and complimented each other. He showed a painting series that built upon a visual series like chapters in a book, the book itself served as an object in the space. By having a book in a gallery next to the paintings Nicholas says "it makes the author 'visible' as the maker of the object, the book, in the same way we see the paintings and understand that this artist Nicholas Frank made them." This set-up changes how we read the story and how we see the paintings.
Many of the artists The Green Gallery works with are approaching art from multiple mediums and each have different abilities to communicate what it means for them to be alive right now interacting with the world. It's not common for an artist to have many refined disciplines to work in so when I do a show with an artist with a skill outside of visual art I like to try to support and share that in the overall exhibition experience. I'm lucky to have Joe Riepenhoff, Green Gallery Press Editor, dedicating time to this endeavor and who has the skills to work with artists in developing a presentable book object that functions in a book world as well as an art world. I asked Joe to be the Editor for Green Gallery Press after he wrote and published a small booklet of short stories to accompany Sarah Luther's installation at Green Gallery West in 2008 while I was in Japan. Since then the publications have taken many different forms to accommodate the artist whose work they accompany (an essay on artistic labor in late capitalism by Dorota Biczel Nelson, the aesthetic beauty of quantitative data representations for Renato Umali, one sentence rants and illustrations for a Leshitski group show, brochure of theoretic unpacking for David Robbins, etc.).
It's also important for me to make difficult art accessible to more people. By publishing works of fiction along with gallery exhibitions we're providing an artifact that documents the temporary event of an exhibition and is generally more economically accessible than a painting or sculpture.
What are your ambitions for the press?
I'm not sure, we're publishing one book at a time out of necessity to document some of the writing happening in our art community now. Hopefully the scene will grow and we'll continue to celebrate the culture of this place.
Tags: green gallery, nicholas frank, riepenhoff
8 Comments