January 11th, 2010 / 2:00 pm
Uncategorized
Ryan Call
Holiday In Cambodia: Call for Submissions/Donations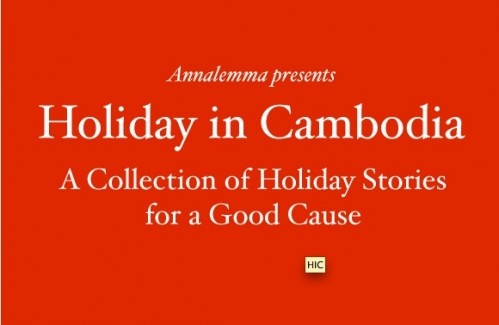 From Christopher Heavener of Annalemma comes this call for submissions (deadline: Jan 15th) and donations to a project that seeks to support the work of Anne Elizabeth Moore, who works with Cambodian women, teaching them how to make zines. Here's word of the anthology/donation drive direct from Chris:
In the winter of 2007 editor, author, and activist Anne Elizabeth Moore was invited to live to Phnom Penh to teach Cambodian young women how to make zines. She plans to return December 24th to continue her ongoing project. We think this is awesome. We want to help her out and hope you do too.

Everyone has drama happening around the holidays and we all know drama makes for good stories. Send us your true stories of familial (or otherwise) conflict taking place around the holidays and we will then choose the best ones for publication in zine format entitled "Holiday in Cambodia: a Collection of Holiday Stories for a Good Cause". There will be an open fee for submissions, meaning submitters are encouraged to send whatever they think is a fair submission fee. Could be zero dollars, could be $100. Yup, just like the Radiohead thing. This book will be available to purchase for $10 on January 31st, 2010 at annalemma.net. All proceeds from sales, as well as submission fees, will go directly to Anne's amazing work with young Cambodian women.

UPDATE: I, Chris Heavener, hereby proclaim that I will match all funds generated by this project. Out of pocket.

SUBMISSION GUIDELINES: Please keep the stories under 3000 words. Only one submission per person. True stories only. If you have to change names or bend the truth here and there to make for a better story then that's cool but we don't want any Santa's or Frosty's or Hanukkah Harry's showing up to the party.

Deadline is January 15th, 2010.

SUBMISSION PROCESS: Login to Paypal.com and click the "Send Money" tab. Payment of your chosen submission fee should be sent to holiday@annalemma.net

Once paid, email your submission to holiday@annalemma.net (in Word or .rtf format) from the same email address associated with your Paypal account, or from a different account clarifying who you are and what email address the payment went through. Then kick your heels up by the fireplace, sip some eggnog and wait to hear back from us.

If you're interested in donating directly to Anne's project click here.

Anne Elizabeth Moore's book, Unmarketable: Brandalism, Copyfighting, Mocketing, and the Erosion of Integrity (The New Press, 2007), received favorable reviews from Forbes, The LA Times, and The Guardian. Co-editor and publisher of now-defunct Punk Planet, founding editor of the popular Best American Comics series from Houghton Mifflin, Moore's work has been the subject of films, college lectures, and police investigations. She teaches at the School of the Art Institute of Chicago.anneelizabethmoore.com

For more information on her work in Cambodia, click here.

For more info on "Cambodian Grrl: Self Publishing in Phnom Penh", a 36 page collection of essays concerning Moore's previous experiences teaching a large group of young Khmer women self-publishing in Cambodia, click here.
Tags: annalemma
One Comment
January 14th, 2010 / 11:08 am HIC Update. | Annalemma Magazine—

[…] of you, send those submissions in soon! Also, thanks to Ryan Call for pumping this project up on HTMLgiant and to Matt Bell for doing the same. SHARETHIS.addEntry({ title: "HIC Update.", url: […]