January 7th, 2010 / 11:42 am
Uncategorized
Amy McDaniel
HTMLG Secret Santa: What Did You Get?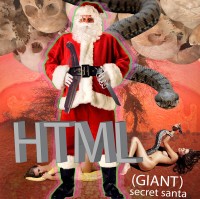 I conducted a very scientific Secret Santa survey, and out of three people polled, only one person got a gift from their HTMLG Secret Santa, yet all three sent gifts. I was one of the people I polled, and I was NOT the person who got a gift. I want my gift! Also, this poll conclusively indicates that only 66 2/3% of Santas sent gifts. It's not too late. Your recipient will still appreciate a gift, even now! I know that because 2 out of 2 people who did not get a gift yet said so. You will still be loved and praised despite your (forgivable) tardiness.
But for those who did receive a gift, what did you get? Tell me how excited you are! I need that right now.
78 Comments