February 25th, 2009 / 1:00 am
Uncategorized
Blake Butler
Ken Baumann on Shane Jones's LIGHT BOXES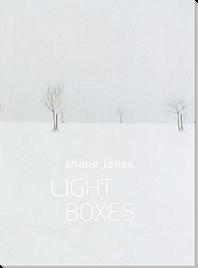 A review submitted by national heartthrob Ken Baumann, for Shane Jones's just released novel LIGHT BOXES from Publishing Genius Press.
I feel it's hard today to find a work of art that is earnest, that is compassionate. (Michael Kimball's Dear Everybody comes to mind). I was startled by Shane Jones's novel because it is so painfully both; it bleeds itself, and bleeds for others.

Light Boxes is a story about a community, about a man's quest to rid his community of February, a bitter and long spell of cold that haunts the the town and its people. I don't want to speak explicitly of the 'narrative' here, only because I think there is magic in discovery; it's a sensual work. Many of the images affected me viscerally, and will stay with me for a long time. Dead bees pour from the sky, a broken father sits in the middle of a snow-covered street, a body surfaces in a river covered in text… I could list all the beautiful, and often tragic, images contained within for awhile.

To go deeper: The characters, the people, in Light Boxes breathe true. I really felt them living, and felt them dying. They seem warm, hot & cold all at once, much like the seasons that surround them. The story also functions on a level outside its own prison, outside the printed page, but, again: I'd like to keep quiet. I'd like you to discover the layers yourself.

Shane has crafted a fine myth, one I hope lasts for a very long time.
[HTML Giant is now accepting reader book reviews to our public email inbox. We will sporadically contact you in interested in running the piece. Feel free to query.]
Tags: Ken Baumann, light boxes, shane jones
12 Comments