March 4th, 2009 / 11:57 am
Uncategorized
Blake Butler
Michael Cera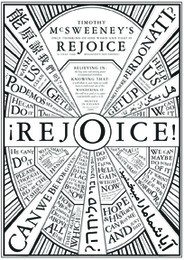 Michael Cera is in McSweeney's issue 30.
Discuss.
I deleted the excerpt because it wasn' t Michael Cera.
In context of the convo, it likely doesn't matter.
Here is a summary of the story, which likely fills the proper role:
This is one of those weird cases where you know enough about the author to wonder about the story (as Cera is not 38).  The story concerns Carroll Silver, a 38 year old actor who fears that he is past his prime.  He lashes out at everyone around him including his agent, which leads him to be in bad financial straits.  It is only when he lashes out at an innocent young fan, who criticizes his movie Pinecone, that Silver wonders just how far his star has fallen.  Silver's attempt at redemption is simultaneously creepy and touching.  The attention to detail in the story is very good, as is the way Cera understands awkward stardom (or at least it seems genuine to me, a person who has experienced no awkward stardom).  I look forward to more work from him.
Tags: mcsweeney's, michael cera
80 Comments