March 25th, 2009 / 5:54 pm
Uncategorized
Jimmy Chen
MONKEYBICYCLE No. 6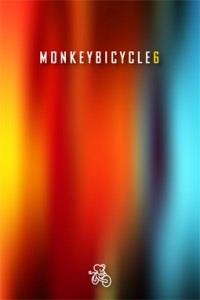 Monkeybicycle No. 6 is available for pre-order here. From the editors:
In this edition of Monkeybicycle's print version, we move back toward the traditional style of fine literature that we so recklessly abandoned for issue five. Loaded with dozens of incredible stories and poems from the likes of Ryan Boudinot, Kim Chinquee, Curtis Smith, Laura van den Berg, as well as so, so many more, this book is sure to please. Check out the full line-up below, and then pick up your copy today!

Contributors: Shane Allison, Sheila Ashdown, Richard Barrett, Matt Bell, Ryan Boudinot, Kim Chinquee, Martha Clarkson, Michael Czyzniejewski, Daniel O. Harris, Drew Jackson, Jason Jordan, Jing Li, Frayn Masters, Corey Mesler, Cristin O'Keefe Aptowicz, CS Reid, Nora Robertson, Sarah Salway, Curtis Smith, Tyler Stoddard Smith, John Spiers, Joe Sullivan, Matthew Summers-Sparks, Twixt, Laura van den Berg, Cody Walker, Brandi Wells, and Jay Wexler.
It comes out April 25. [Reasons why April is the cruelest month: T.S. Eliot said so, taxes are due, Hitler's birthday. Reasons why April is the coolest month: Monkeybicycle No. 6 is released, Kind of Blue is recorded.] Big props to Kim Chinquee, who is in the current/new American Short Fiction, Bateau, and NOON.

Also, check out these [this & this] one-sentence stories which I've been enjoying.
Tags: dzanc books, Monkeybicycle
12 Comments