September 2nd, 2020 / 12:16 pm
Random
Noah Cicero
Mrs. Dalloway v. Ulysses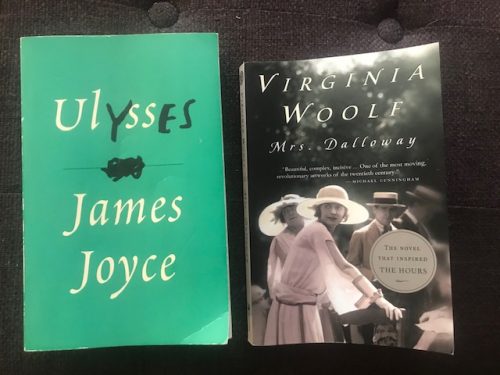 I recently reread Mrs. Dalloway and Ulysses. I read them when I was young, now I'm at the beginnings of becoming old.
Both books take place during one day, Mrs. Dalloway June 13, 1923, and Ulysses June 16, 1904.
Mrs. Dalloway feels like a day to me. I felt like I escaped into 1923, that I was really there, hanging out with Clarissa, Elizabeth, Peter and Septimus. Even though the characters are upper class, in another country, 100 years ago, far removed from my personal life experience; it still seems like Woolf captures many of the universals of life, throwing parties, shopping, having children, having a partner for a long time, having a person who you once loved, imperialism, having wars and PTSD veterans, being a wife of a PTSD veteran, sexuality and friendship. Basic experiences, we all have, regardless of social class or time.
I recently read The Waves and Orlando, sometimes when I am reading Woolf, I feel like I am having a mystical experience.
I am fascinated by the structure and arrangement of Ulysses. I get very zenned out when reading Ulysses, like I am in a dreamland, away from my life. It shows me personally that it is possible to supply information in multiple ways and the audience still gets a picture of what is happening.
I don't feel like I am living a day in Dublin though, and I don't feel like it contains many universals, it is just two guys walking around chatting with other guys all day. There is this scene that I guess is a nightmare hallucination, that stretches from 429 to 609, that is like, why?
I believe Joyce was a very rigorous, competent and hardworking fellow, however I don't think he was very deep and had never taken the time for true self-examination, so trying to use two or three people, as symbols for what it means to be human, comes off, a little funny.
The sad thing, I get from both books, is that life in the early 20th century United Kingdom offered no spiritual path and mental health treatment (The treatment Septimus gets seems bad). These characters were eaten by their agonies. I am really happy we have invented self-care and have medications for mental issues.
I am glad I reread both books, in 15 years I'll read them again.
9 Comments