September 12th, 2009 / 3:43 pm
Uncategorized
Matthew Simmons
My Fever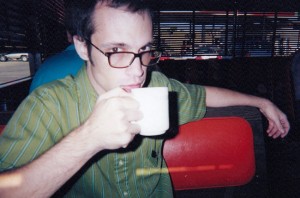 For the last week, a fever has been kicking my ass.
At the same time, in the moments where my brain hasn't been too soft and clouded to concentrate on reading, something else has been kicking my ass. It's Bill Cotter's book, Fever Chart now available from McSweeney's.

Jerome Coe, whose narration is touched by the unreliability of his sanity, finds himself in New Orleans after some time in and out of institutions in New England. He travels there with a stranger in search of the home of a woman—a fellow inmate who has died in a car crash—he had fallen in love with. Jerome will fall in love again and again in Fever Chart, and it will not go well.
It's a dark book. Funny, sure—Jerome has episodes where he hallucinates thought balloons filled with Scrabble tiles telling him what to do—but dark. It's been compared to A Confederacy of Dunces (even by the publisher), but beyond the setting, I'm not precisely sure it's a apt comparison. Jerome is surrounded by large characters, but he himself is small, pushed to action and reaction by those around him. Ignatius Reilly pushed his rotundity around, bumping into the world, forcing himself on others. Coe runs from the world, runs from doctors, sleeps under his bed, falls in love with women he will never actually speak to.
Fever Chart is an excellent piece of writing, solid sentence to sentence. I'm enjoying it quite a bit.
Most of the time.
The thing is, I've been sick enough that I've had some trouble being emotionally centered. My fever brain is already a little unsettled, and the more unsettling sections of the book—Coe's hand is mistreated on multiple occasions in the story—have only helped to further fry my ego.
Ever encounter a book at a really bad time, and really enjoy the book, but also notice the book fucking with you? Tell me about it.
34 Comments