Matthew Simmons
Matthew Simmons lives in Seattle.
Hi. It's okay. It's just me.
Matthew. I used to write for this site.
Hey, I've given up on writing books in order to spend my free time focusing on table top role-playing games!
(Maybe actually I've given up on writing books in order to be a dad, but anyway whatever.)
So, yeah. I have the dice and everything. I have two shelves full of TTRPG books now. It's a pretty nice-looking couple of shelves. I read interesting indie modules in my spare time and try to think about what makes them work and what makes them not work, sort of like I used to do for short stories and novels. I get together with friends online one night every week and play games with them, now that we are all stuck at home almost all of the time. And sometimes I run games, too.
Like: In February, when people could still gather together in groups, I ran a game of Tales from the Loop for my group.
Tales from the Loop is an RPG inspired by those consciously retro sci-fi paintings by Simon Stålenhag that became popular five or six years ago, which depict an alternate 1980s. In the game, the players are young adults living in those paintings—a world of dimensional rifts, AIs, big cell phones, Huffy bicycles, robots, boom boxes, Trapper Keepers, vehicles that float on massive magnetic drives, and adults who don't listen to them.
*
My first roleplaying game was, like most people, Dungeons & Dragons. My parents bought me the Basic and Expert boxed sets when we first moved to Upper Michigan in the mid-'80s. For a while, I didn't have anyone else to play with—my brother was older than me and not interested, and I didn't have a lot of friends yet—so the only person who would play with me was my dad. We played once. He was pretty nice about it, but I could tell he wasn't interested. When we had had family game nights before then, he never participated.
It wasn't really his thing. But he tried once, anyway, with me, because he knew I was upset that I didn't have anyone else to play with.
Eventually I found a group of others to play with in high school. And then a couple of folks to play with in college.
And then I stopped for many years, until I was given the opportunity to write a novel for the RPG company Wizards of the Coast.
That got me playing again. And I have been pretty regularly ever since.
*
In contrast to a lot of the better known tabletop roleplaying games, Tales is very simple, mechanically, involving only a few numbers and pools of six-sided dice thrown to succeed at overcoming obstacles. Like this: A character must convince someone to not beat them up, hop a fence, hack a computer, or escape an inter-dimensional monster. The player grabs a couple of six-sided dice—the number of which is determined by their natural abilities (represented by ability scores), skills (which they can spend points on during character creation), and circumstances. They role, try to get at least one six, and succeed if they do. If they fail, the story gets complicated. The game is less focused on charts and numbers and bonuses and balanced mechanics than the roleplaying games one might already be familiar with. It's in the family of roleplaying story games, heavier on scene building and collaboration than on crunch and tactics.
None of the kids die in Tales from the Loop. The characters are the protagonists in a story that is told in scenes, everyone at the table collaborating to make a story reminiscent of a movie, so like an '80s kid sci-fi movie, there is peril and pathos, and kids can be broken, but they don't get killed. The rulebook is more focused on storycraft than rules, and in places reads more like a book on screenplay writing than on wargaming. Some roleplaying games drill down on rules, looking to end arguments at the table over rules by codifying everything. Tales minimizes rules to minimize disagreements.
In our group, I run Tales from the Loop. I'm the Gamemaster. Instead of playing one of the kids, I write the skeleton of a scenario, create the setting, populate it with characters for the players to interact with, and then set up the win condition. Like: Here's the place where you live, here's the problem, here are some people who can maybe either help or hinder you as you try to solve the problem, here's the countdown clock and the pace at which you should go, and here's what happens if you do or don't solve it. And then I walk everyone through the game, play the characters that the players interact with, improvise when they go in an unexpected direction.
It's nice, during a time when I don't write much on my own anymore, to have a place to collaborate with others to tell stories.
*
My dad was diagnosed with Stage IV prostate cancer on December 5, 2018. He had been unwell even before then, with serious mobility issues, spinal stenosis, a tremor that we thought might have been Parkinson's. He hated doctors and had to see them all them time over the years previous to the cancer diagnosis, and apparently had a worrying blood test in 2016—elevated Prostate-specific antigen levels—that he just didn't follow up on. And then he slipped when my mother was trying to get him out of bed, and found that one of his legs had stopped working. My mom couldn't lift him. An ambulance was called. He resisted a trip to the ER, but they took him anyway. They did some X-rays and some bloodwork.
A doctor talked to my mom that night and told her that my dad's PSA levels were really high. She didn't know what that meant and the doctor didn't explain. The next day, a nurse mentioned my dad's prostate cancer, and that's when she found out what a PSA level was and why it was bad when it was elevated. Or at 4500, like my dad's was.
*
READ MORE >
A Beehive Is Not a Little City (Made Out of Honey)
Tremendous Ache in My Fingers
Are You Reasonable?
In Your Motor Car (Flash Your Lights at Satellites)
Klimt in the Country
Never Break, Day
Booze Cruise
Fellas Remind Yr Mothers
Cantankerous Oval Godhead
Green.Pleasant
Euphoric and He Looks Like a Baby
Cheeseburgers in Paradise
At Loggerheads w/Reptilians
Pants (Refrain)
Murphy and the Solar Bowler Hat
Center of the Earth (Everybody Dances in the)
This Colossal Waste of Time
Preview of a Great Massacre
O Shit I Missed the Brexit Vote
Fan Theory about the Karma Police Video Involving Edward Snowden
Casual Friday (Hazmat Suit)
Something Something Hamilton I Guess
Fodor's Guide to Antarctica
Anvil Meets Head
Guh
Matthew Simmons
—
EVERYBODY, HELP! I'M AT THE GROCERY STORE AND TRYING TO DECIDE BETWEEN RED AND GREEN PEPPERS FOR STUFFED PEPPERS! WHAT SHOULD I DO?
UPDATE:
CLOSURE!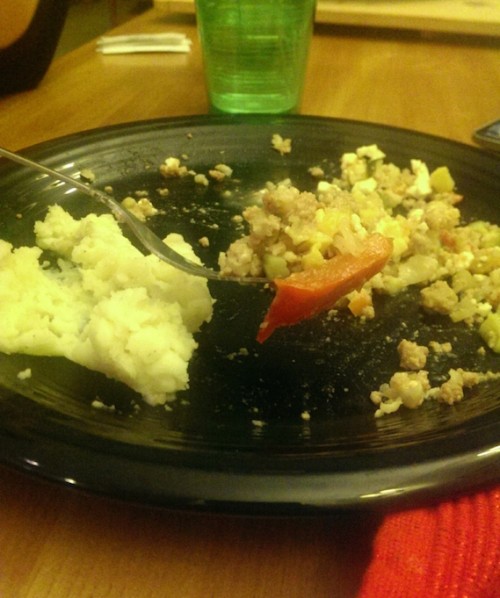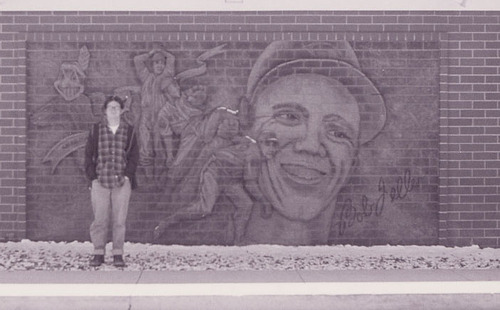 (Pictured is the author at the Bob Feller Museum in Van Meter, Iowa, back when he was younger and thinner.)
Like many of you, I still have friends in Iowa. And like many of you, I miss them very much. I'm only human. Like many of you.
My Iowa friend Eli likes to go to estate sales. He likes to buy old furniture. Most of all, he likes things that are old and made out of wood and have drawers. He often buys the things that are old and made out of wood and have drawers without first opening the drawers to see what is in them. He's only human. Like many of you.
Recently he bought a bureau. In the bureau he found some notebooks. Eli doesn't like notebooks.
Or, actually, Eli likes notebooks okay. But Eli likes things that are old and made out of wood and have drawers. And Eli knows that most of all, I like notebooks. And Eli likes me. So Eli sent me some notebooks.

This year, I went on a small, self-financed West Coast book tour. As a tool to market my book, it was not terribly successful. Ah, well.
As a vacation, though, it was wildly successful. There were some things on the West Coast that I had wanted to see, and I got to see them. I saw The Winchester Mystery House. I saw The Esalen Institute. I saw The Madonna Inn. I saw molting seals. I saw The Watts Towers. I saw The Museum of Jurassic Technology. And, best of all, I finally got a chance to see and use Deaver's Great Chain of Being. READ MORE >

Here's something to keep in mind if you happen to be in Michigan next February.
On February 17, 1974, at a VFW Hall in Grand Rapids, Michigan, The Nail Bombs played their only show. They played for 11 and one half minutes. They played three songs. There were 19 people in the audience. All 19 started their own bands within two weeks of seeing The Nail Bombs play. Shows played by the bands formed by the 19 people who saw The Nail Bombs play inspired more bands. Those bands inspired more bands. Those bands inspired more bands. Thus, The Nail Bombs are an index case of much of the Midwest's punk rock scene. (Sure, The MC5. Sure, The Stooges. But remember: with music, multiple ears are available to be infected, and multiple strains infect. The Nail Bombs were a strain. An powerful strain.)
No one knows who The Nail Bombs were. No member of the band has ever stepped forward and said, "I was a Nail Bomb." No one has even attempted to do so as a hoax. They never recorded a record, or even made a little demo. There was at one point a tape of the show—the only audio evidence of the existence of The Nail Bombs—but it has been lost, and now there remain only some fragments of a transcript. (Fragments will appear at the end of this post.) READ MORE >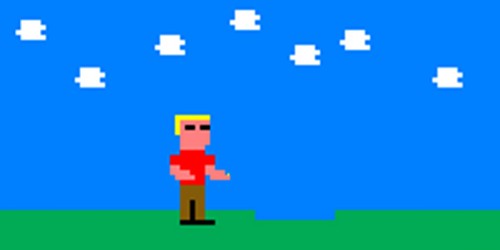 One of the things I'm noticing lately is that I'm, I think not just a little sick, but completely sick of narrative video games. Or at least I am sick of games that have big, ambitious narratives.
Because I'm sick of big, ambitious narrative video games, I've found myself playing discrete-narrative, gameplay-centric little indie games. And old games.
So that's why I've been thinking about Chaser 2 again. READ MORE >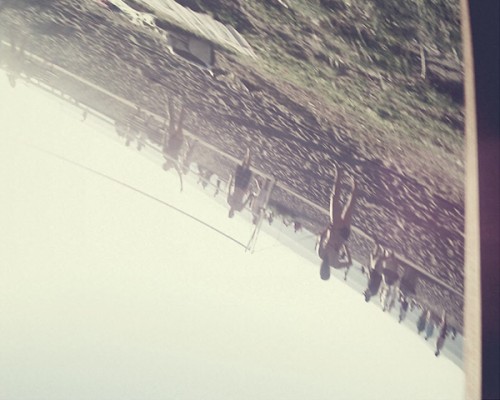 In my last post, I mentioned that I wanted to write a little bit about the actor and singer Marcus "Marky" Kelly, who had minor-but I think significant-career in show business from the late 1950s through the 1960s. The highlight of it all was, of course, his teen idolhood in the early 1960s. I had assumed Kelly was gone for good, and quite possibly dead, until I discovered a movie called Filtered Water (director unknown, writer unknown, producer unknown, actors unknown) in my mailbox a few months ago. The movie featured an old actor who I think might be Kelly.
But let me make it clear: I am not 100% sure that the old actor in Filtered Water is Kelly. There are, however, clues. There is a physiognomic similarity-Kelly had bright blue eyes, and a signature half-smile. The actor in the film has bright blue eyes, and a familiar half-smile. There is the timeline-Kelly was born in 1940, and the actor appears to be in his 70s. (And I know this because my folks are in their 70s, and if I look at an old picture of my Dad and a new one, old pictures of Kelly and a screenshot of the actor look to have an uncannily similar progression. The same wrinkles, the same advancing tenderness to the eyes, the same added colors in the complexion. If its him, he's aged like my dad has aged.) And there is the voice. The actor's voice sounds like what Kelly's voice would sound like if it fell apart and was rebuilt. Like a voice does when we age. READ MORE >