September 1st, 2010 / 10:34 pm
Uncategorized
Justin Taylor
self-love smorgasbord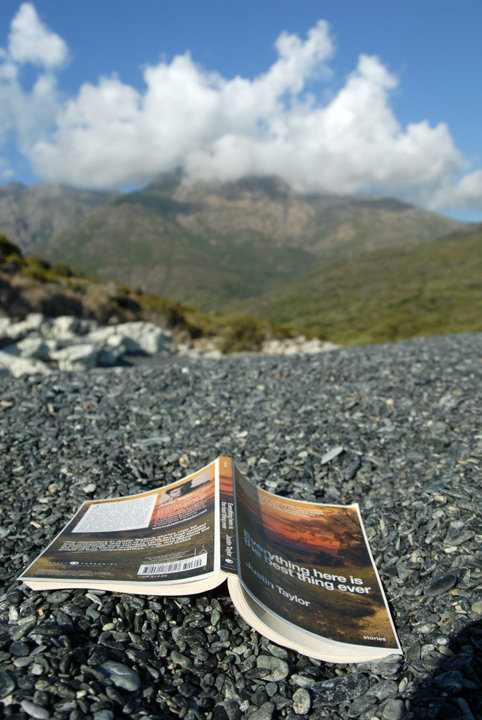 Hey, let's just do this once, okay? This picture was emailed to me by the journalist and photographer Alberto Riva, a man I've never met.  It came with this note- "Hi Justin – I just read your book on a beach in Corsica, and I thought you might like to see a photo." You thought right, Alberto, and thanks! Alberto's got a website, and there's some great stuff on there, including these images of New York, and a talk about photography with Lou Reed.
Matthew Simmons invited me to talk Apocalypse for Hobart. Our conversation is now live (and has been for a while, but I've been lazy/away).
I wrote an essay for the "Selling Shorts" series at Beatrice.com on "The Crazy Thought" by David Gates.
I gave this reading list to InDigest magazine.
I participated in a series called "The Great American Novel: An Honor Roll of Fallen Genres." This is is in the new issue of Canteen (#6) which is available now or very soon. My response is not online, though Tao Lin's is. Speaking of which, keep an eye peeled for the September Bookforum, which will feature a review of Lin's latest by local favorite Joshua Cohen. Worlds collide! I've got a piece on Matthew Sharpe's You Were Wrong in the same issue.
And last but not least, all of Brooklyn hails the return of Drew Toal, former Time Out (New York) books guy, erstwhile contributor to this blog, once and future roommate of yours truly–all his shit is in the living room and he is nowhere to be found. Now I am going to go and drink his beer. (UPDATE: That turned out to not be Drew's beer.) Welcome home!
And to everyone else, thanks for bearing with. We won't be doing this again anytime soon.
51 Comments