HTMLGIANT / Justin Taylor
Justin Taylor
Friends,
It is with a heavy yet satisfied heart that I announce my resignation from HTMLGiant. I have enjoyed just over two wonderful years (roughly equivalent, in internet time, to a decade and a half) as a contributor to this blog. It has been a privilege and a thrill to be part of this site since its inception.  Endless thanks are due to Blake Butler and Gene Morgan, for inviting me to join up in the first place, and for all the good times since. A hearty cheers as well to the other contributors here (past and present) and to our legion of commenters and readers. It has been a lot of fun to talk and debate with you (most of you, at any rate) and I'm sure we'll still be seeing plenty of one another around the web, and maybe in meatspace too. Now, before things get too sentimental, here's Woody Guthrie to play us out.
Author News
/
28 Comments
November 3rd, 2010 / 12:00 pm
Justin Taylor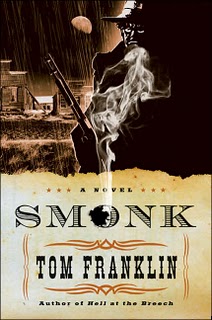 Upriver, dawn's dry herald brought to the hungover steamship crew news of the pervert Evavangeline had gutted the midnight before. It went bunk to bunk in whispers and giggles. Instead of falling into the water like decent folk, the pervert had gotten tangled in a fishnet hung along the ship's port side. Throughout the night a pulsing contingent of catfish, carp, grinnel, gar, sucker, alligators and even a few river-lost sand sharks disoriented by fresh water had followed the boat, swirling in the ooze. In the morning light, enormous orange crawfish with their pinchers clicking rode the body, one arm of which trailing in the water was festooned with moccasins attached at the fang. When one became too blooded it fell loose and sank in the clouds in the sky in the river.
– Tom Franklin, Smonk
Excerpts
/
73 Comments
October 28th, 2010 / 3:55 pm
Justin Taylor
[FYI: I know it's Mean Week, but here's something not mean. Bryan Charles's memoir will be published by Open City Books in November. New York folks, Charles reads with Ed Park at the KGB Bar on Wednesday, 10/27. – JT]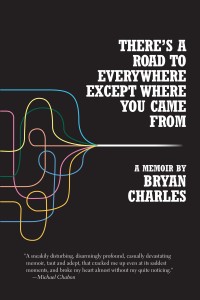 I received a box of business cards that said BRYAN A. CHARLES, STAFF WRITER. I sent one to my mother and she was delighted. I started reading the Wall Street Journal and various financial websites, learning the biz. I made sure Clara saw the Journal open on my desk every morning. Occasionally if I felt comfortable I'd mention an article or some topic of interest to the markets generally. I ran drafts of my "Thinking Primarily About Mutual Funds" piece by Peter, the senior writer. He was in his early thirties, had been at the game a while, and had a great gift. Peter could open his mouth and speak fully formed marketing sentences. But there was an irony in his manner that subtly conveyed the absurdity of our task. Peter taught me that financial services involved pushing and repackaging and reselling the same few concepts: diversification, buying a new home, saving for your children's college education or your own retirement. But the bedrock tenets of financial marketing were stressing the importance of taking a long-term view and encouraging investors to consult financial advisors.
Excerpts
/
9 Comments
October 26th, 2010 / 10:54 am
Justin Taylor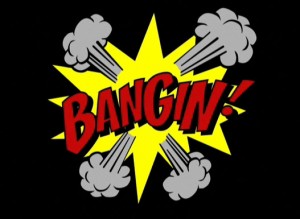 Today is awesomepoet Mary Jo Bang's birthday. Over on her wall, the best wishes are piling up; fellow awesomepoet Erin Belieu even proclaimed-
All hail Mary Jo's existence! Hip hip, hooray!
which seems just about right to me. As our regular readers know, HTMLGiant encourages you to celebrate the existence of writers you admire and enjoy by reading their work and buying their books. You can start over at Poets.org, where there are five MJB poems and a bio. A similar setup, but with mostly different poems, can be found at the Poetry Foundation. Her most recent collection is The Bride of E, and the one before it, Elegy, won the National Book Critics Circle Award. Those two are both published by Graywolf. I also know many people who are strong partisans for her early book, Louise in Love. All this plus The Eye like a Strange Balloon and The Downstream Extremity of the Isle of Swans, so there's really no excuse for not getting your fill. Mary Jo Bang, HTMLGiant wishes you a very happy birthday, and advises that you never–ever–do a Google image search for your last name. Cheers!
Author Spotlight
/
1 Comment
October 22nd, 2010 / 1:32 pm
Justin Taylor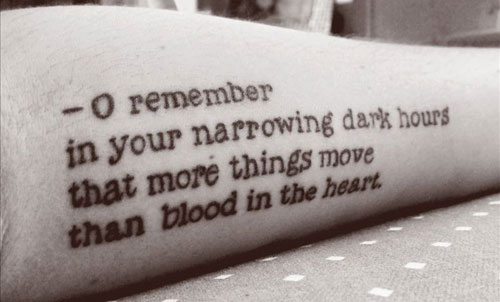 Hey, guess what? Fourteen months after first announcing our project on this site, The Word Made Flesh: Literary Tattoos from Bookworms Worldwide is as real as a needle driving ink into your skin. Today is Publication Day for us, and my co-editor Eva Talmadge and I want to take a moment to offer our gratitude to all of the HTMLGiant readership. Without your early support, encouragement and re-blogging, this project might well have come to nothing. But instead, we've got this full-color anthology of hundreds of tattoos in a panoply of languages from book and body-art enthusiasts all over the U.S. and the world. Eva and I have done a lot of press already, and there's more coming. I won't be gumming up the works here at Giant with a running tally, but one of the highlights for us thus far has been our appearance this morning on NPR's On Point with Tom Ashbrook. You can stream our segment here. Also, many listeners are uploading pictures of their own literary tattoos to a fan gallery that NPR is hosting on their site. We've also been getting a lot of new tattoos to our submissions address, tattoolit@gmail.com , and we've been posting those on the book's official site. If you've got one (or ten), we want to see it, so please do keep 'em coming in. And thanks–seriously–for everything. Cheers!
Web Hype
/
5 Comments
October 12th, 2010 / 2:30 pm
Justin Taylor
This was just posted to Unsaid literary journal's Facebook. Reposted here in case you don't do the Facebook. (If you do do the Facebook, you should click on the link: "like" the post, "friend" the journal, &c.) There's also an interview with Powell in the new issue of the New York Tyrant.
Keep in mind what writing should do:
1) Be alive.
2) Be surprising.
3) Obey tenets of economy, verve, etc.
4) Amount to something (usually, in terms of having "something at stake").
5) Payoff (i.e., resolve).
Any three of five is worth spoiling paper for. It should be remembered also that:
6) Brave wild failure is applauded.
And that:
7) You should be less comfortable if you're pretty sure of what you're writing about.
And that:
8) You should ignore, at all times, all sense of authorial narrative obligations, and, certainly, your own preconceptions and ideas.
This is more preaching than could possibly be salubrious. So, some more: Obey only the logic of immediacy, from word to word. Or, obey only its obverse, the illogic of immediacy, or the logic of inimmediacy, as you prefer.
Craft Notes
/
12 Comments
October 10th, 2010 / 3:14 pm
Justin Taylor
[Caveat spoiler. Enter this and all voids at your own risk.]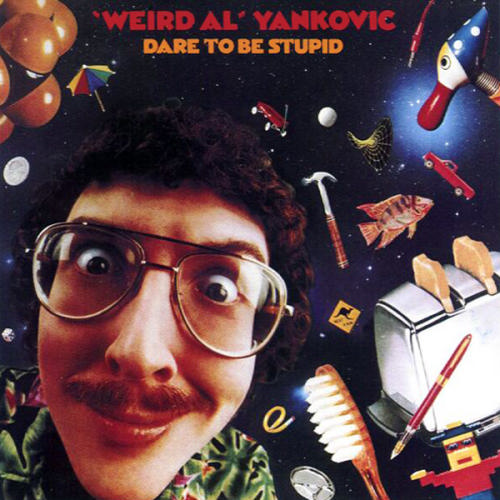 Enter the Void, the new film by Gaspar Noe, is a nearly three hours' slurry of blur and brightness, punctuated by lucid moments of pornographic violence and/or actual pornography, and informed by exactly two ideas: the first, that everything about a fluorescent light is utterly fascinating; the second, that the only remotely interesting thing about a woman is her tits. Everything else the film has to say–drugs are bad, kind of, but maybe they're just really cool; fucking your sister, like fucking your best friend's mom, has its pros and cons; Japan is really shiny and has relatively few Japanese people in it; something something reincarnation–is either so hopelessly garbled or else delivered in such cliched terms ("Rockabye Baby" plinked out on a celeste! A drug dealer who is also a gay rapist!) that the temptation is to think the movie is inviting your laughter. (O, would that it were so!) I saw it last night with Joshua Cohen at the IFC Cinema in New York.
Film
/
30 Comments
October 6th, 2010 / 12:21 pm
Justin Taylor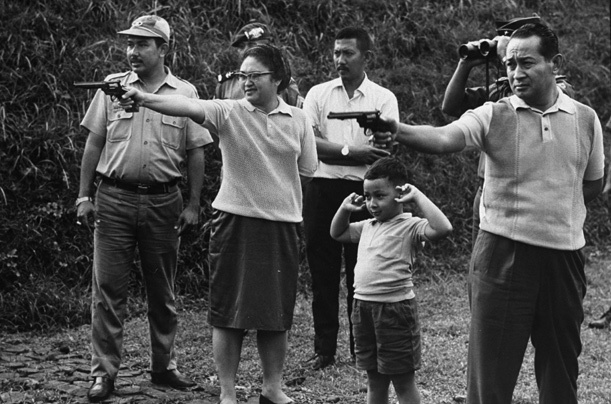 Moe Tkacik–the Moe who hasn't joined the Tea Party–takes New Yorker staff writer Peter Boyer to the woodshed over his lying profile of the lunatic monstrosity that is The Family. Boyer's article, an unlikely piece of hack inside-jobbery, basically exists to quell the rumors you may have heard about The Family–that they're a secretive sect of influence-dealing theocrats, that they're genocide-friendly, that they've got a kind of perpetual hard-on for dictators and fascists, that they hate women, that they are the force behind the Ugandan gay death penalty legislation, and that for one reason or another are probably actively plotting your death right now–all of which are pretty much true. I remember reading the Boyer piece whenever it came out (a week or two ago?) with a growing sense of cognitive dissonance and a slowly rising gorge. Everything about the piece is inexcusable, beginning with the existence of the organization being profiled. It's heartening–but also induces further rage–to read such an incisive and thorough response, and Moe Tkacik is not only the best person for the job, she's pretty much the only person who would bother to do it. Lucky us! Speaking of which, this piece appears on Das Krapital, Moe's new gig as a daily blogger for the Washington City Paper. You should also check out her piece on "Why the Right Hates Freedom", and basically be reading this blog every day. Expect to hear about it again. Also, check out Jeff Sharlet's blog.
Author Spotlight
/
5 Comments
October 2nd, 2010 / 12:34 pm
Justin Taylor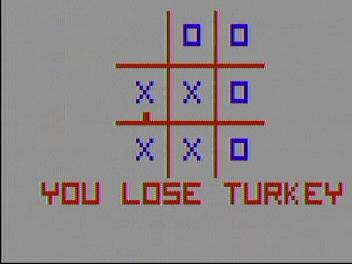 Christian Lorentzen does the Malcolm Gladwell.
The Guardian Books Blog on "How Writers Review their Critics."
Elif Batuman's epic piece in the NYTimes Magazine on the purgatory of some of Kafka's papers.
There's a great piece over at The Millions on what it means to be a "best bookstore" and how, contra the insidious "death of books/bookstores/reading/literacy" meme that we're all always seeing spread around, there's actually a lot to be excited about on these fronts. Among the other fun stuff in the piece, is this offhand list of "the top 10 booksellers in America …  Stephanie Anderson from WORD, Emily Pullen from Skylight, Michele Filgate from Riverrun, Rachel Fershleiser from Housing Works…". The article also mentions a crucial point first made–by Rachel F.–on the Housing Works blog, that many of the best bookstores in NYC have opened rather than closed within the last ten years. Counter-meme, anyone?
Every time you think you know Joshua Cohen, he finds something else to surprise you with. Apparently, homeboy has been (or is now?) publishing a new unpublished piece of short fiction every week on his website. Check out the Paragraph for Liu Xaiobo.
And finally, something I was right about. Remember back when we were talking about the suicide of Kevin Morrissey at the VQR? In a comment on that post, I argued that the charges of "workplace bullying" leveled against VQR editor Ted Genoways appeared off-base and reductive. I suggested that people read Emily Bazelon's Slate reporting on the Phoebe Prince case. Well, a couple of days ago Slate published a big new piece by Bazelon about the VQR, what workplace bullying really is (and isn't), and how the media made a caricature out of Ted Genoways. You should go read that piece right now.
Roundup
/
4 Comments
September 30th, 2010 / 3:42 pm