July 22nd, 2010 / 10:52 am
Uncategorized
Ryan Call
The Center for Writers Loses Barthelme; Rick Magazine Is Born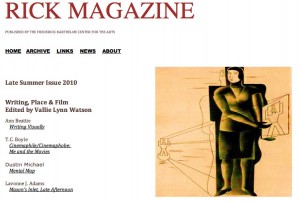 Frederick Barthelme will soon leave The Center for Writers and the Mississippi Review, and it seems that he's taking the Mississippi Review Online editorial staff and vision with him in order to create a new online magazine.
A few weeks ago, The Hattiesburg American ran this article about Frederick Barthelme's leaving The Center for Writers and the Mississippi Review. There was a little bit of a spat in the comments section of that article, then Brevity picked up the news, as did the MFA blog, but that's about all the coverage the story received (that I could tell from briefly clicking around yesterday). Then, several days ago, The Chronicle of Higher Education published a story about how Barthelme's departure will directly affect the status of the Mississippi Review:
The Chronicle asked Barthelme via email what's going to happen with the Review. "At present, then, there is no staff at all, and there is no one here who has actually run a magazine previously," he responded. "The interim department chair has been talking to other English faculty (non-creative writing) about taking over the magazine.  He is also talking to the remaining CW faculty about the same thing, and it's unclear which way the tree will fall."

The uncertainty has already had an effect, according to Barthelme, who told us that the summer 2010 online issue has been cancelled. "Another is scheduled for Oct. 1, and I have heard nothing about plans for it," he said. "The online magazine has, as you may know, separate content, i.e. it is not a reprint, or a partial version of the print magazine–it's completely separate with original content."

There's still a print issue scheduled for December 2010, Barthelme told the Chronicle, "but as far as I know there are no plans in process for producing it."
If the situation as Barthelme describes it does not change soon, the Mississippi Review will face a rough year or two, during which it will be important for the magazine to reorient itself. The Chronicle goes on to report that, according to Barthelme, Julia Johnson, who will take over the Mississippi Review (she is now listed as Editor on the MR website), may or may not stay on permanently at the university. Barthelme also told The Hattiesburg American that Johnson recently received a more lucrative offer elsewhere for the 2011-2012 academic year. I emailed Johnson to ask if she'd like to comment and will update if she responds.
***
Although little seems different at Mississippi Review Online–for example, they are still accepting contest entries for the 2011 MR Prize–the masthead is much smaller and a new link button has appeared; it sends viewers to www.rickmagazine.net: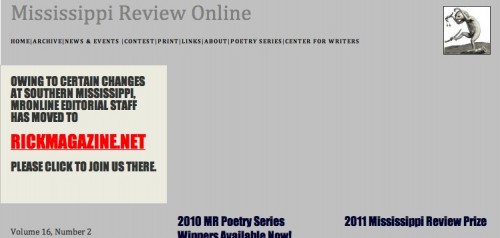 I emailed Gary Percesepe, formerly one of the Associate Editors of MROnline, to confirm Rick Magazine's existence, and he put me in touch with Barthelme. Barthelme explained via email that the goal of the new magazine was to carry on the work he's been doing since 1995 with Mississippi Review Online. He wrote
I hope to take the whole MROnline archive with me, as the online version of the magazine had content independent of the print MR, and was a wholly supplementary effort on my part, not in any way encouraged, supported, or paid for (apart from Web space) by the university. I believe the entire editorial staff is joining me at RickMagazine.net and we will be fully operational momentarily at that url. At first we will be an ad hoc operation, and later, perhaps, a full blown quarterly.
Percesepe confirmed that he will be one of the editors helping Barthelme:
I'm happy to be part of the editorial team of the new Rick Magazine. Frederick Barthelme is one of the finest writers working in America. If this were not enough, he practically invented the online lit mag. He was treated shabbily by his university, after many years of faithful service. The only positive thing to have come out of this dreary mess thus far is the creation of Rick Mag, which promises to be as quirky, funny, irreverent, and essential as its creator. I would follow Rick Barthelme anywhere.
Rick Magazine has just posted its first issue, a late summer issue guest edited by Vallie Lynn Watson and devoted to "Writing, Place, and Film." The issue includes work by Ann Beattie, TC Boyle, Dustin Michael, and Lavonne J. Adams.
Tags: Frederick Barthelme, Gary Percesepe, mississippi review online, rick magazine, The Center for Writers
27 Comments