mississippi review online
This is a response to Roxane's recent post, "How the Hell Do We Teach Creative Writing?"
I am a firm believer that creative writing can be taught; I've been teaching it for years now (at DePaul University, the School of the Art Institute of Chicago, Lake Forest College, and StoryStudio Chicago). Below, I'll break "creative writing" down into five pedagogical areas (I'm a rather analytical fellow); when viewed from that perspective, I think, a whole host of practicable exercises and activities become apparent. (Note that this will be a blanket overview; I'd be happy to discuss any of this in much more depth.)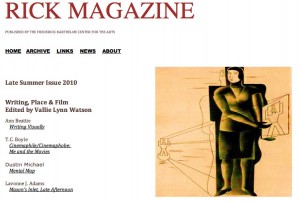 Frederick Barthelme will soon leave The Center for Writers and the Mississippi Review, and it seems that he's taking the Mississippi Review Online editorial staff and vision with him in order to create a new online magazine.
A few weeks ago, The Hattiesburg American ran this article about Frederick Barthelme's leaving The Center for Writers and the Mississippi Review. There was a little bit of a spat in the comments section of that article, then Brevity picked up the news, as did the MFA blog, but that's about all the coverage the story received (that I could tell from briefly clicking around yesterday). Then, several days ago, The Chronicle of Higher Education published a story about how Barthelme's departure will directly affect the status of the Mississippi Review:
The Chronicle asked Barthelme via email what's going to happen with the Review. "At present, then, there is no staff at all, and there is no one here who has actually run a magazine previously," he responded. "The interim department chair has been talking to other English faculty (non-creative writing) about taking over the magazine.  He is also talking to the remaining CW faculty about the same thing, and it's unclear which way the tree will fall."
Over at the Brevity blog, we have this:
Brevity editor Dinty W. Moore is pleased to have published what he believes to be the shortest essay ever, in the new Mississippi Review.
Of Dinty Moore's piece, Mike Scalise sincerely asks "can someone please explain to me, in sober, clear, and intelligent terms, what makes 'I have a tendency towards glibness' an 'essay'?"
In the introduction to the issue, Jane Hamilton explains in postive/negative terms:
To the right of zero, we have "essay," "hybrid" and "lyric"—positive terms, assertions of form in the absence of form. But as the works collected here demonstrate, these terms describe forays to the left side of the number line, attempts to fill in the lacunae of memory, find the truth in untruth or half-truth, to compensate for the limitations of language and labels. In these poetic non-poems and narrative non-stories, we can see what I've always suspected to be true—the real action is in front of zero.
What do you think, marmot?
(TOC here)