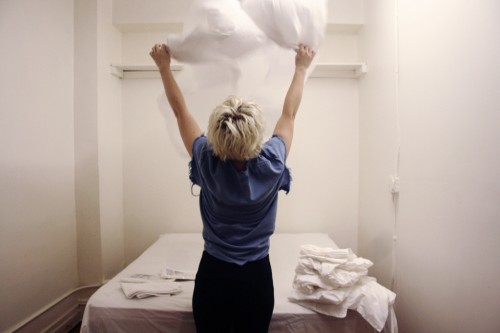 Hey people who don't live in New York.*  Yeah, that's right, you people. There is something happening in Brooklyn that I want you to be a part of. This week I started a business called 3B. It's a bed and breakfast that I have been renovating with 7 others this summer and now we're officially  o  p  e  n  .  .  .   .  Amy McDaniel and Alban Fischer both booked weekends for this month and Adam Robinson is threatening to show up with his band. I am excited about all of these people because talking in real life is awesome. FYI: All rooms will be goddamncheap til November 15, when we open our lounge and kitchen. After November 15, I will be giving all Giant-readers a deal, especially if you're a writer on tour or coming here for writing-related stuff. Even without a discount we are ridiculously cheaper than anywhere else in Brooklyn that isn't shady and dank and inconvenient. (And our place is really nice and we bring you breakfast and coffee in the morning.)
Also, by staying here you'll be directly supporting the stories, music, poems, essays, buildings, etc that my roommates and I make. Everyone wins. (And if you're considering a move to Brooklyn (and who isn't?) we have good monthly and weekly rates if you need a place to land before finding an apartment.)
*People who live in New York: send us those out-of-towners who keep showing up on your couch!