July 12th, 2010 / 11:03 am
Uncategorized
Lily Hoang
Translation, Representation, and my Confusion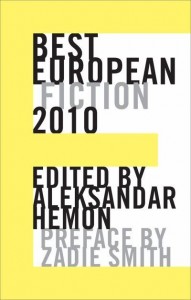 In this week's NYRB, Tim Parks reviewed Best European Fiction 2010, an anthology published by Dalkey, edited and with an introduction by Aleksandar Hemon and a forward by Zadie Smith. Parks discusses the demographic of contributors, mentioning that Europe isn't fully represented in this anthology of "best European" writing. Heavy-hitting writer countries like Germany, Sweden, Greece, and the Czech Republic are absent. So I wonder: Would an anthology of "Best American" writing need contributors from every state? I'd examine my copy of Best American, but I don't own it. Someone else, please, do.
Parks goes on to say:
"Represented" is hardly the right word. Many of the stories do not take place in the writers' native countries: the pieces from Castilian Spain and Serbia take place in France, the French story in Japan, the stories from Poland and Macedonia in Austria, the story from Croatia in Hungary, the story from England in France; most curiously, the story translated from Gaelic tells of an old blind clairvoyant in rural Bolivia. / I have no problem with this. All the contributions are interesting and some impressive. That is enough for me. But it does make one wonder whether we are learning much about other cultures from this venture, whether it is true, as Hemon claims, that "ceaseless" and "immediate" translation of literature from abroad is a "profound, non-negotiable need."
So if I'm understanding Parks correctly—and I may be wrong—his complaint is that the fictions Hemon chose are not set in the country in which the writer is residing. Am I right? So again, let's look at the Best American series. Are those stories set in the states or cities or whatever where the writer lives? By the way, I get that it's more than just an issue of residence, these writers are "representing" their country, which I find very problematic. That being said, I still don't know why their fiction has to be set in their country. Not every story I write is set in the US, which isn't even fair now because I live in Canada, but wouldn't it be best if my fictions were set in Vietnam, if "representation" is the issue? I'm confused. Is anyone else? It's wonky logic from any angle.
But I'm getting off track. Focus, Lily, because here comes my real issue with this review: Parks seems to say that the purpose in reading literature from places not here is that we should be "learning… about other cultures." What!? Seriously? I completely agree with Hemon that the need for translation from literature abroad is "profound" and "non-negotiable," but I am at a loss to how Parks translates this to mean that readers need to "learn something" about other cultures by reading these texts. In essence, Parks seems to be exoticizing non-American lit. I mean: can you imagine if people from other countries looked to American fiction as a way to learn about our "culture"? Furthermore, would you want to pick that representative piece of fiction to stand in for our entire country? It's ridiculous, and yet, this seems to be the exact criticism Parks lodges at Best European Fiction.
Like I said, I haven't read this anthology. I have, however, read this whole review, which is substantial. Parks makes some interesting points. It's worth the read. I'll send with what he says about translation. I'll withhold my commentary for now, but you, please, go right on ahead and tell me what you think:
What can I say then, if I wish to comment on the thirty-one translations in Best European Fiction 2010, twenty-two of them from languages I do not know? That on the whole the reader gets a strong impression of a cohesion of style and content that can only be the result of extremely attentive reading, followed by respectful and imaginative rewriting. This cohesion is the hallmark of good translation and the only thing a reviewer with no knowledge of the original can sensibly comment on and elucidate. In each case it would be futile to seek to establish how much we should be praising the author and how much the translator: the author wrote a fine story, which inspired the translator to make a fine translation. Of my own translations, I should say that I was always happy when the author got the praise and I escaped mention; it's self-evident that only a good translation makes it possible for the reviewer to praise the author.
79 Comments