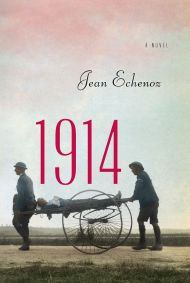 1914: A Novel
by Jean Echenoz
The New Press, January 2014
128 pages / $14.95  Buy from The New Press or Amazon
In 1914, out this January from The New Press, Jean Echenoz turns his distinctive wit on France in the early days of the First World War. Hailed as one of the great writer's of his generation (the so-called nouveau nouveau roman cohort of the 1980's) Echenoz is relentless in his humor and in his antiwar message. He delivers this message through one of his favorite techniques: film parody.
Echenoz has always engaged the themes and aesthetics of cinema. His adventure novels Cherokee, Double Jeopardy, and I'm Gone, are all heavily indebted to the films of Jean Pierre Melville and Claude Chabrol. Crime tropes are consistently employed and subverted: adversaries are bound and gagged in repeated reversals of fortunes, mysterious briefcases prompt brutal killings, identical twins are separated at birth and reunited in civil wars, gun runners turn political idealists. In I'm Gone, a character complains:
"And besides… your whole deal is so cliché. They kill people like this in every TV movie in the world, there's nothing original about it at all."… "I don't disagree," Baumgartner allows, "but I admit to being influenced by TV movies. TV movies are an art form like any other."
According to Liam Callanan of The New York Times, "Echenoz delights in savaging mass media clichés like television docudramas or action-adventure movies… dispatching them with gleeful siliness." His 1997 Big Blondes imagines the production of a documentary film charting the history of blondes in cinema from Dietrich to Bardot. Echenoz usually favors 60s crime cinema in his novels, including entire scenes from Point Blank (1967) with Lee Marvin and Angie Dickinson, and Some Came Running (1958) with Frank Sinatra, Dean Martin, and Shirley Maclaine.
If these previous novels engage 60s noir, 1914 is certainly an homage to the antiwar farce.
He sets the stage in 1914, with his singular ear for period detail. As in several of his earlier novel's (Ravel, Running, and Lightning) 1914 comes off as matter-of-fact historical fiction.
Describing French shoe-makers at the turn of the last century, he writes: 'Not forgetting the godillot, that military boot named after its creator, the discoverer of—among other marvels—the difference between the left foot and the right."
Or on the announcement of war:
"Atop every one of the belfries something had been set in motion, and this movement was tiny but steady: a black square and a white one, each following the other every two or three seconds, had begun regularly switching places like an alternating light, a binary reminiscent of the automatic valves on certain machines back at the factory…The tocsin, given the world situation at the time could only mean one thing: mobilization."
Echenoz highlights silly idiosyncratic everyday life in the shadow of an approaching terror.
The novel ostensibly follows a group of young draftees from a small village, but any plot mostly serves as source material for Echenoz to riff on classic war film "band of brother's" type cliché's.
In response to the notion of individual fates repeatedly crossing paths across a wide theater of war: "Somehow, the four of them always managed in spite of the all the troop movements to wind up not far from one another."
Echenoz skewers the inherent madcap physicality of "the fog of war", echoing great farces like Kleist's The Prince of Homburg, The Marx Brother's Duck Soup (1933), or Woody Allen's Love and Death (1975). On an unfortunate decision to make a bayonet charge: "As it happened they charged too soon, compounding the error by massing on the road that ran through the combat theater. Open and thoroughly familiar to the enemy artillery set up behind the trees, this road was in fact a perfectly clear target."
This echoes Woody Allen's plaintive, "The battle sure looks different in the middle of it than it does for the generals on the hill."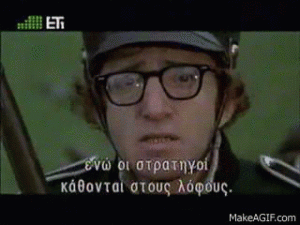 A particularly devastating section describes the decimation of a military band: "The band had suffered further casualties: one of the clarinetists had been gutshot, the bass drummer and his instrument had been sent tumbling by a bullet through his cheek and the second flutist lost half a hand."
The percussive comedy of this section echoes any Marx Brother's gag, with gutshot especially recalling a comedy rimshot.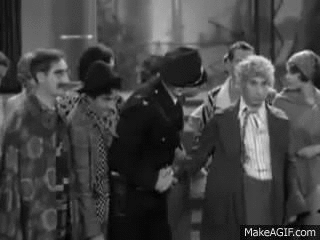 This violent comedy only grows darker as Echenoz engages Chlorine gas, death by firing squad, and the long-term effects of combat on the young soldiers. And while the war technology he describes seems fairly archaic, the wounds are all too familiar. A particularly grisly treatment of shelling and shrapnel drives home the inherent barbarism of armed conflict. Echenoz is a master of farce, and 1914 is a very compelling book.
***
Joseph Houlihan lives and writes in Minneapolis, MN.
Tags: 1914: A Novel, Jean Echenoz, Joseph Houlihan