1914: A Novel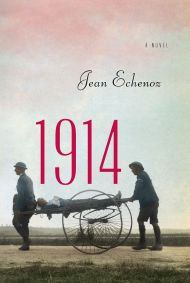 1914: A Novel
by Jean Echenoz
The New Press, January 2014
128 pages / $14.95  Buy from The New Press or Amazon
In 1914, out this January from The New Press, Jean Echenoz turns his distinctive wit on France in the early days of the First World War. Hailed as one of the great writer's of his generation (the so-called nouveau nouveau roman cohort of the 1980's) Echenoz is relentless in his humor and in his antiwar message. He delivers this message through one of his favorite techniques: film parody.
Echenoz has always engaged the themes and aesthetics of cinema. His adventure novels Cherokee, Double Jeopardy, and I'm Gone, are all heavily indebted to the films of Jean Pierre Melville and Claude Chabrol. Crime tropes are consistently employed and subverted: adversaries are bound and gagged in repeated reversals of fortunes, mysterious briefcases prompt brutal killings, identical twins are separated at birth and reunited in civil wars, gun runners turn political idealists. In I'm Gone, a character complains:
"And besides… your whole deal is so cliché. They kill people like this in every TV movie in the world, there's nothing original about it at all."… "I don't disagree," Baumgartner allows, "but I admit to being influenced by TV movies. TV movies are an art form like any other."
According to Liam Callanan of The New York Times, "Echenoz delights in savaging mass media clichés like television docudramas or action-adventure movies… dispatching them with gleeful siliness." His 1997 Big Blondes imagines the production of a documentary film charting the history of blondes in cinema from Dietrich to Bardot. Echenoz usually favors 60s crime cinema in his novels, including entire scenes from Point Blank (1967) with Lee Marvin and Angie Dickinson, and Some Came Running (1958) with Frank Sinatra, Dean Martin, and Shirley Maclaine.
If these previous novels engage 60s noir, 1914 is certainly an homage to the antiwar farce.
He sets the stage in 1914, with his singular ear for period detail. As in several of his earlier novel's (Ravel, Running, and Lightning) 1914 comes off as matter-of-fact historical fiction.
Comments Off

on 1914 and the Madcap Cinema of Jean Echenoz
February 21st, 2014 / 10:00 am