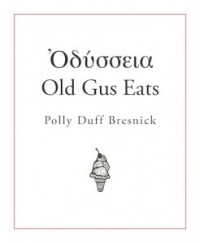 Old Gus Eats
by Polly Duff Bresnick
Publishing Genius Press, 2012
28 pages / $4 buy from PGP
[The Translator's Note accompanying Old Gus Eats begins: "To visually mistranslate The Odyssey while not knowing the language, I looked for familiar shapes in the Greek symbols that could form English words. This has been termed eye-rhyming, bad lip reading, and Rorschach writing." Similarly, I wrote a 25 point review of Old Gus Eats, translated it into Greek using Google Translate, and attempted to visually mistranslate the Greek back into English.]
1. Paprika Pad Thai mojo draws the attention of asphyxiating ukulele slatherers, forming a tautology.
2. Yogurt induces food observations.
3. Ventrical self-serving pie charts can and will increase avoirdupois noontime chestnut old betsy emissions. Otto enters the ether.
4. An echo purges me nightly, biting my journal of Hellenistic studies, kumquats, eureka, mazeltov, orange pod.
5. O.J. Simpson as maker of P.T. Barnum bone structures: not only cornucopia but 88 tote bags of ayahuasca doctors. Madeleine Albright goes deep.
6. Negative herpes icon resembling Tristan Tzara's dressmaker dummy applies milk mask to mule, nods vigorously, becomes spurter, engages in tantric AYO ALMIGHTY KAPOW verses, pierces epilogue.
7. Aztecs not mentioned.
8. Aflac peen dongler appears as vat paddler. Oval apertures and vellum vulvas elongated to vast dimensions of fatwa flavors.
9. Otto triangle ensnares kava plant with Diplo audio, followed by frequent kevlar didacticism. Ottawa nixed from frontal bouche/gouge, and trumpeted into era of revisionist tapioca pap smears.
10. Mystic River references unencumbering, pie frequent, epoxy pleasant.
11. High ecstasy zappers encourage return to paprika, though petri dishes prefer totem potence aka Atahualpa aka Atahuallpa aka Atabalipa aka Atawallpa aka Tower of Power.
12. To avoid Otto seasoning, take nine doses of tapas, vittles, ovaries, etc.
13. Two T's equals Pi or also "Tip it."
14. Yapping about the dawn of plants causes monks, reluctant yet firm, to emerge from bayou bearing essence of brine, quart, yeast, electricity, acai berries, you name it.
15. Interesting amounts of nearly perfect pointy scorpions–tapioca protocol–with mops, triangles (dinner time), overwhelming xenophobic lariot-action.
16. Audioslave is derived from the Greek.
17. Lotion, albumin, ewoks: all chipper. Attention, toxic glycolysis GIFs insert Esther. Boon quarantine Xanax ebullience.
18. Etta ayahuasca soy ship launcher. Tatou mop quota without diaphragm Napa, spurning pie hats can be awful tough.
19. Popped bathing fuselage avatars in heat, plus 39 step diet nap papaya generator.
20. Bring me eggplant, bring me hyphen. Bring me fleshy paroxysm. Bon Jovi's nephew's uncle's boon humper leaked typo nostalgia followed by earn burglars. T.P. Barnum.
21. Catapult Otto Dix's attaché case into armoire reservoir, then do a "hurl it." Captain Fishstick's (real name) resignation hurt a whinny. Tunisian pizza dome was site of Madeleine Albright's "stomp it" doings and etiolation ad infinitum.
22. Mashed esophagus to capture image of lake Baikal in shelf cranny.
23. Echolocation as gold.
24. Quantum plant vibes are a last resort of echinacea divas. Vapor crumbs call entities, and entities transform picnics.
25. Train tracks outside anthropological category violate pacts, opinions, playwright enthusiasts. Autoeroticism for adenoids.
Tags: 25 Points, Old Gus Eats, Polly Duff Bresnick, Publishing Genius Press