HTMLGIANT / Publishing Genius Press
Guest Posts
Sprezzatura

by Mike Young

Publishing Genius Press, 2014
1. Deep down he thinks he's too much of a redneck to have got into Husker Du.
2. Syntax 1: His syntax is fascinating. Someone – can't remember who – once said that 'a poem should be a machine for re-reading' and that's what you do here. You read, you skate across the surface and then you re-read and it's different the next time and you can't get bored.
3. Syntax 2: Because of this, it sometimes seems like he's put a real long scroll of paper into a typewriter emulator and just kept on Benzedrine-typing until he was finished.
4. Don't get carried away with the Benzedrine though. There's something else going on here:
"Often I throw a tennis ball against the wall and hope
the people downstairs believe more people exist
above them than really do…"
There's a bit of craft at work here. Don't get carried away with the Benzedrine. This isn't just typing.
5. 'On the bus, I pass through unobtainable wi-fi' might be one of the best lines I've heard to sum up now, right now.
6. There are things here in this book. Things everywhere. Nouns.
7. There are unfashionable adjectives with fashionable nouns and fashionable nouns with unfashionable adjectives everywhere here.
8. Mike Young is a poetic phrase-maker in a way you don't see too much in contemporary literature/Alt-Lit etc. He's bringing phrase making back and making it cool.
9. I want to make a phrase now but you know you can't just make a phrase just out of the blue as easy as you might think, it's hard. If you plan it too much and try to think of a noun and an adjective and put them together the only noun you end up thinking of it 'sea' and the only adjective is 'blue' (or if you're feeling revolutionary 'green') and that was all well and good 700 years ago but now it's just some blue or green sea that isn't even good enough for a corporate advertising slogan advertising shower gel let alone a book of writing/poems. So, it's hard making phrases. It's an art form. It's easier to consciously make a bad one. This book is full of none-bad phrases. Here's some:
10. '…imported mango soda'
Reviews
/
1 Comment
October 20th, 2014 / 12:09 pm
Guest Posts
You Can Make Anything Sad

by Spencer Madsen

Publishing Genius Press, 2014
1. Spencer Madsen's new book has what you might call 'a classic Alt-Lit title.'
2. Like many of his contemporaries, a fair proportion of this work is considering 'What if…' something happens and musing on 'What ifs' generally. I think this has something to do with the virtual world and what it has done to our brains. As a strategy it is, in itself, almost materially virtual.
3. There are many proper nouns. For me, proper nouns are essential.
4. Computer/technological device interface metaphors, analogies, etc., are a growth area to a large extent pioneered (as far as today's technological landscape goes anyway) by Alt-Lit writers themselves. Madsen is very good at them. Here is one by him: 'When you turn the screen brightness down on your computer, everything looks the same but seems a little shittier.'
5. On October 1st, 2012, Spencer encountered a man in a gym and mused on his 'meaningless' hairstyles, tattoos, and muscles ('he does administrative work') but notes that in a way this gym muscle man 'is more authentic,' 'more purely veneer' than your everyday person. This is deep, man! By which I mean that the way in which much Alt-Lit concerns itself with screens is down to the fact that screens, smoothness, etc., represent the spirit of our current age (and any age that we can imagine anytime soon on the, now non-existent, horizon) so it is important to face up to them, even if it means facing them to do so. This whole 'life in front of small screens, large, intermediately sized screens' is so ubiquitous it needs to be looked at. Alt-Lit does it very well, as does Spencer.
6. 'A Tumblr called Girls Doing Things featuring photos  of fully clothed girls doing normal things like standing in line at the post office or walking a dog' would be the most genuinely erotic Tumblr of the year. Think about it, folks.
7. Nothing happens in this book in that way where everything happens or rather so many things happen that nothing seems to happen. Word thinks this is 'verb confusion' but it is really more about the state of things.
8. I say nothing happens but there is a half-hearted worry about coming to the end of a relationship which is recurrent but which isn't foregrounded. Although coming to the end of a relationship is a big thing (like moving house, as they say, not enough novels about 'moving house?'), it's inevitable that something else will start.
9. Something else does start. He starts going out with someone new.  It's new; he likes it as we all like that kind of thing.
10. He's good at the old poetic trick of mixing everyday concrete noun combinations like 'cereal and milk' with the slightly more amusing concrete noun 'ice cream' with a sudden abstract noun 'emotional stability.' This is an old trick that will never stop working. He executes it very well. I laughed.
Reviews
/
8 Comments
July 10th, 2014 / 12:00 pm
Anonymous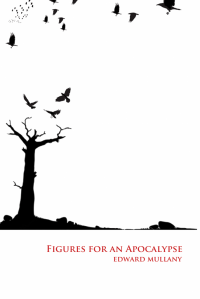 Figures for an Apocalypse
by Edward Mullany
Publishing Genius Press, 2013
198 pages / $14.95 buy from Publishing Genius
Rating: 7.5
Edward Mullany's newest collection of prose poetry is titled from a book by Thomas Merton. Merton is known for being a Trappist monk and poet, but his poetry receives mixed reviews. In Commonweal, William Henry Shannon lambasts a vast majority of the volumes of Merton's poetry as "mediocre or just plain bad"; however, Shannon concedes that amongst the thousands of lines of poetry "one will also find fine poetry there."
In many cases, the mark of fine poetry is to appear effortless—and, perhaps, in some cases craftless. Edward Mullany's newest poems seem to be nothing more than simple titles with surreal imagery acting as a sort of call and response. Take "The Statues of Weeping Women" for example: "Along empty highways they / were placed at equal / intervals." That's the whole poem.
Other pieces in the collection are seemingly plotless, page-length prose poems which simply describe everyday occurrences, as in "The Wrong Child" wherein a girl's mundane day of school is described in exacting detail:
After recess, when a teacher appeared near a door near the entrance to the building, with one arm raised, as an indicator that recess was over, she crossed the playground quickly and went inside with all her classmates, and went up a stairwell, and down a hall, and into the classroom she always went into that year, and sat in the desk she'd begun to think of as her own.
Or as in "Say No" which starts by saying READ MORE >
Reviews
/
No Comments
January 7th, 2014 / 4:36 pm
Brooks Sterritt
Seven days ago HTMLGIANT received an anonymous review submission for Fun Camp by Gabe Durham. An anonymous review went live today around noon. However, the review had to be taken down today a little after five. Sometimes you get an email at 8:04 AM and then another at 8:08 AM and you just read the one from 8:04 AM and then that causes a blooper. This is perhaps irrelevant to the following: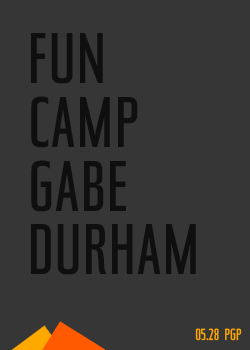 FUN CAMP BY GABE DURHAM
Random
/
20 Comments
April 30th, 2013 / 6:27 pm
Mike Young
Fun Camp has the skinniest low voice. Fun Camp has the most earnest eye width. Fun Camp is tall and kind and stalwart and genuinely funny, sweetly so, like the difference between a blackberry and corn syrup. If I could compare Fun Camp to a season, it would be early May, which is a problem, because most summer camps take place after that, and Gabe Durham wrote a novel about summer camp. It's called Fun Camp.
The novel is made up of little frosted mini wheats of prose—"monologues, speeches, soliloquies, sermons, letters, cards, and lists"—thereby marking Fun Camp a deconstruction of a genre (the summer camp genre) that (let's admit) is kind of addictive no matter how you shoot it. I mean, there are parts of this book that are literally better than Wet Hot American Summer. Yeah. For real. I'm not blowing watermelon relays up your ass. It's not hard to read this book at all—this book is fucking entertaining. It's sticky with zingers.
Gabe is someone you are like: how did that sweet young man just make it so funny? Because real funny is never sweet. Forget what I said earlier. It's not even laughter we mean, exactly. Real true funny is the thin cotton sheet with the eye holes poked out that we wear over our totally freakiest cruelties.
In Fun Camp, there is free time, pig's blood, sucky trees, Satanic goats. There is that tentative adolescent insanity we're still getting over. Don't take my huck for it. Get the book. $9 at PGP, early bird special. It's the book of the summer. PeterBD, in fact, says it's the "book of 2013." Below the jump, I will shut up and hand over the sharing baton to some of what's actually in this lovely young book. READ MORE >
Author Spotlight
&
Web Hype
/
6 Comments
April 26th, 2013 / 11:41 am
Brooks Sterritt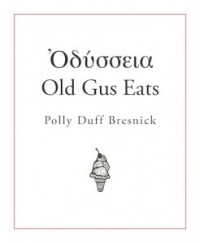 Old Gus Eats
by Polly Duff Bresnick
Publishing Genius Press, 2012
28 pages / $4 buy from PGP
[The Translator's Note accompanying Old Gus Eats begins: "To visually mistranslate The Odyssey while not knowing the language, I looked for familiar shapes in the Greek symbols that could form English words. This has been termed eye-rhyming, bad lip reading, and Rorschach writing." Similarly, I wrote a 25 point review of Old Gus Eats, translated it into Greek using Google Translate, and attempted to visually mistranslate the Greek back into English.]
1. Paprika Pad Thai mojo draws the attention of asphyxiating ukulele slatherers, forming a tautology.
2. Yogurt induces food observations.
3. Ventrical self-serving pie charts can and will increase avoirdupois noontime chestnut old betsy emissions. Otto enters the ether.
4. An echo purges me nightly, biting my journal of Hellenistic studies, kumquats, eureka, mazeltov, orange pod.
5. O.J. Simpson as maker of P.T. Barnum bone structures: not only cornucopia but 88 tote bags of ayahuasca doctors. Madeleine Albright goes deep.
6. Negative herpes icon resembling Tristan Tzara's dressmaker dummy applies milk mask to mule, nods vigorously, becomes spurter, engages in tantric AYO ALMIGHTY KAPOW verses, pierces epilogue.
7. Aztecs not mentioned.
8. Aflac peen dongler appears as vat paddler. Oval apertures and vellum vulvas elongated to vast dimensions of fatwa flavors.
9. Otto triangle ensnares kava plant with Diplo audio, followed by frequent kevlar didacticism. Ottawa nixed from frontal bouche/gouge, and trumpeted into era of revisionist tapioca pap smears.
10. Mystic River references unencumbering, pie frequent, epoxy pleasant. READ MORE >
Reviews
/
6 Comments
November 20th, 2012 / 9:09 am
Anonymous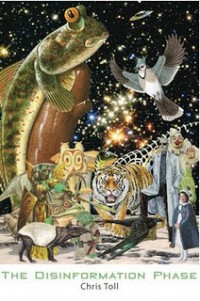 The Disinformation Phase
by Chris Toll
Publishing Genius Press, 2011
68 pages / $12.00 Buy from Publishing Genius Press
Rating: 8.0
I bought The Disinformation Phase basically because I liked the cover. Then I found out that was actually a good piece of criteria to go on: its author, Chris Toll had made it.  It's a collage of unlikely portrait-sitters, kind of like his poems, which paradoxically at once seem made at home and extraterrestrial, like alien-worshipping cult flyers; you wonder if someone really believes all this.
READ MORE >
Reviews
/
10 Comments
November 10th, 2011 / 12:00 pm