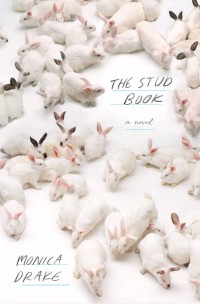 The Stud Book
by Monica Drake
Hogarth, 2013
336 pages / $25.00 buy from Amazon
1. Monica Drake has written a compelling novel of manners.
2. The Stud Book follows a group of adult friends in Portland, Oregon (aka everyone living in America today) as they reconcile expectations with reality.
3. There is a zookeeper, a mortgage underwriter, a photographer, a yogi, and a computer repairman. Unsurprisingly, hilarity ensues.
4. Drake diffuses the novel's many anticlimaxes (mishaps, muddled careers, domestic failings, generally unrealized ambitions) with a singular sense of humor.
5. The Stud Book is a book about motherhood. And the baby jokes crackle. A woman mistakenly licks a bit of dirty diaper from her shirt (not mustard!); another knocks an Oxycodone into an infant's mouth. Drake exploits babies like the vulnerable little props they are.
6. Drug humor abounds as the friends imbibe in the manner of well-established stoner citizens. Justifying a "Volcano" vaporizer at a high school assembly one says, "I've got a chronic pain problem. This is totally legal." Another drives high, she "ignoring the dosing instructions… nibbled pills all day long." "She'd started to see the benefit: a military dose of Klonopin with red wine, dished out like a free lunch, would end the troubles in the Gaza Strip." "Her car was speckled with pink, pale yellow, and white pill crumbs, Klonopin, diazepam, Vicodin."
7. But beyond bad behavior, Drake finds a gentle humor in frailty.
8. On justifying the purchase of a derelict storefront, "Crack addicts curled in the recessed doorway and cans of OE8 littered the curb, but there was a Starbucks practically next door. Starbucks with their market research was an indicator the neighborhood was poised for an upswing."
9. On Mrs. Cherryholmes, the beautiful but villainous school principal, "Her lipstick was frosted, too, in a sheen of confidence. That was probably the actual lipstick color: Administrative Confidence."
10. One particularly funny and gruesome scene of self-love is a shoo-in for the annual bad sex in writing award, "He spit on his hand, cupped it and rubbed his damp palm over the head of the cock."
11. Drake celebrates cringey and irrational aspects of everyday life.
12. Her images border the surreal: a night crawler drags a slimy belly band, a human ear grows off the back of a rat, a woman gives a sex-ed talk in a skintight latex suit.
13. The strongest sections of The Stud Book emerge through stories of subverted expectations and clichés.
14. Drake is a sort of champion of clichés. She catalogs mimosas, old college girlfriends, car accidents, undyed hemp canvas bags, Subaru's, French feminist tramp stamps, Kurt Cobain, and persistent icky Big Chill plot parallels.
15. The only black character is introduced with "skin like coffee ice cream."
16. But a lot of the plot (clichés included) plays out like the romantic sub-plots in David Lynch's Twin Peaks. That is to say, with a hearty nod nod, wink wink.
17. Drake employs various devices to move the novel along, but she generally subverts the narrative hermeneutic thrust. Drake makes her characters reconcile their desires over and over.
18. This is heartbreaking core of the novel. It directly addresses the sad, broken, totally irrational America we live in.
19. There is very often no real danger in scenes of supposed danger, but violence springs up at random. This makes for genuinely scary scenes.
20. Mrs. Cherryholmes turns out to be an especially terrifying villain; because her motivations do not align with the well being of the characters she is tasked with helping. She offers a chilling look at the violence of the blasé bureaucrat. "She saw the words "documented disability." She saw words like medication and therapist and delayed learning. There it was: special needs…" "Arena is not a slow learner…" "Mrs. Cherryholmes laced her fingers together. She shook her head slowly, and let a frosted lipsticked smile spread…" "In this program, all funding is federally protected. They can't take it away." "She said it as though, as an educator, she was letting Arena in on a special bargain…"
21. The novel follows the overlapping stories of several characters. And despite Drake's dedication to anti-climax, the final pages feel a little convoluted.
22. A dog, introduced as long beloved, is put down within the span of a few pages. This dog was not long beloved by the reader.
23. The novel almost becomes a writ accounting of events (x happens, then y happens, then z happens.) This sacrifices some of the potential pleasure of a long novel.
24. The Stud Book is not a long novel, but it is a beautiful and perceptive novel.
25. And it has Johnny Depp in it too.
Joseph Houlihan lives and works in Minneapolis, MN.
Tags: 25 Points, Hogarth, Monica Drake, The Stud Book