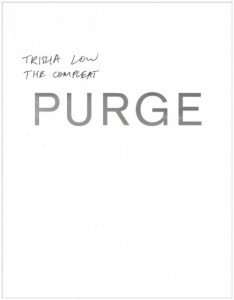 The Compleat Purge
by Trisha Low
Kenning Editions, 2013
240 pages / $15.95  Buy from Kenning Editions or Amazon
I listen to NPR's Morning Edition on Verdi's 200th birthday. Soprano Sondra Radvanovsky says she loves Verdi's operas: "People can relate, and say 'Wow! I'm not the only person who fell in love with the wrong person,' or 'Oh gosh, I'm not the only person who made the wrong choice.' Verdi makes people realize it's OK to be human."
This "realization" is the purge. Finger down the throat, razor from the drawer, opera on the stage. Purge. It's OK to be human.
Trisha Low's The Compleat Purge: a purge in three acts.
*
Act I: Low writes her last will and testament, turns a legal formality candid, into "gushy epistolaries" at age 6, then 13, 15, 17, 19, 20, 21, 23, 24. Suicide notes to her parents, to first loves, old friends, new friends, apologizing, professing undying love, willing Hitchcock DVDs, quoting from Murakami and Batman.
Low's suicide notes are not gateways to reading her work, they're the work itself. She's keenly aware of Plath, Sexton, and Woolf. With Low brushing off the coup de grâce, the letters refuse 'authentic' truth.
Vulnerability as "elaborate conceptual joke."
In an interview, Low quotes Joseph Kaplan: "I am interested only in the successful, annihilative manifestation of the poem, as an absolute violence."
In John Cassavetes' film Faces, characters pulse through impromptu sing-a-longs, threats, slaps, insults, a buzz of reverie and devastation. Overcome after cheating on her husband with the young playboy Chet, Maria downs a handful of sleeping pills. Chet finds her on the floor, tosses her in the shower, sticks his fingers down her throat, anything to wake her up, slaps her until she cries herself awake. Moment of calm. Chet lights a cigarette for her, leans back on the bed. "Nobody cares. Nobody has the time to be vulnerable to each other."
Vulnerability as violence.
Is vulnerability a hassle? The vulnerable must be cared for. Are the recipients of Low's letters concerned? Fed up? Indifferent? It's OK to be violent.
*
Act II: Collaged sex scenes and online convos between fan girls and leather jacket rockers. Is Low playing Anthony Rossomando? Is Fabrizio Moretti calling someone "sweetums?" Their voices and behavior become indistinguishable. Fan girl as rocker, rocker as fan girl.
In the war on roles, Low plays every part.
On Amazon.com, I see a Mother's Day ad with a blooming lilac. Two weeks later, a Father's Day ad with a power drill. I am neither drill nor bouquet. Or I am both.
Though capable of intellectual jousting, Low often eschews that armor. She speaks in stumbling transcription, arguments shaded in off-the-cuff charm:
"To simplify – you don't understand, Dad. We totally, like, respect you, but we want to be like, I don't know, you know, different."

"Because, I guess, or but, you know, at this point I'm tired of explaining myself"
To purge is to let go of curation. To welcome conceptual self-mutilation. It's OK.
On a podcast, Marc Maron says the only way to combat the pace of technology is "by being vulnerable." He and Bret Easton Ellis discuss the propensity for bullying in the culture, how anonymous finger pointers make spectacles of a phrase or slur taken out of context, to assert moral superiority above the accused. What Ellis calls the "pageantry of outrage" exposes an inconsistency: unprecedented insight into each individual's 'authentic self' via social media coupled with the anxiety of self-censure. What's rewarded is not the 'authenticity' or 'rawness' the system advertises, but how well one cultivates a coherent, unoffensive display self.
My friend Andy pages through the book, remarking on the recurrence of Rossomando and Moretti. He says "Don't their names feel over-curated?" We list names of other Strokes members: Julian Casablancas, Nick Valensi, Albert Hammond Jr. "Hammond could've been a regular guy, but that Jr. makes him unreal."
*
Act III: Low as heroine of Victorian novel, in search of "the crowning mercy of a good man's love, which is indeed the greatest blessing Heaven has in its power to bestow." Her love interest: CHIP E. MACGUFFIN, "MacGuffin" being a literary term for underdeveloped object of desire, a handsome wisp of air to catch the protagonist's eye.
"'CHIP E. MACGUFFIN, something seems to have come between us.'"

"'CHIP,' she cried. 'CHIP E. MACGUFFIN – my love, my love, come back to me.'"
Do I relate to Low? Am I getting the Verdi Purge Special? Purge as emotional transaction, as saving grace? I also listened to Third Eye Blind. I also watched Empire Records.
I also mulled over suicide. Who didn't?
Low talks about her work in relation to a "post-conceptual narcissism." To restate the myth: Narcissus turns down the affections of Echo, and to take revenge, Nemesis lures him to a pond. Narcissus gazes into the water and falls for a reflection he doesn't recognize as himself. He suicides not from vanity, but unrequited love. So why is this a 'stop-looking-in-the-mirror' parable? Doesn't he die from a lack of self-knowledge? What can one learn from the fate of an insecure MacGuffin or Moretti? Wasn't Narcissus's real problem, like, an inability to acknowledge his own, you know, humanness?
***
Patrick Gaughan is a poet, performer, & critic living in Northampton, MA. He interviews artists & writers for BOMB & The Conversant. Find recent writing in Coldfront, DIAGRAM, The Volta, Entropy, & Blunderbuss. He's the writer & director of Fast Five, coming this fall from the Connecticut River Valley Poets' Theater.
Tags: The Compleat Purge, Trisha Low