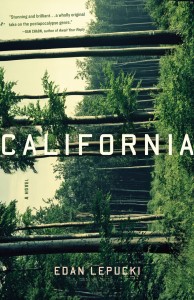 California
by Eden Lepucki
Little, Brown and Company, July 2014
400 pages / $26  Buy from Amazon
Even before picking up Eden Lepucki's 2014 post-apocalyptic-near-future novel California, I've been enthusiastic about the city of Calabasas, or as Nick would say, "obsessed with." Calabasas is at the edge of Los Angeles, where Mulholland Drive ends its twenty-one mile tour through Hollywood's dark heart. Located in a southwest curve of the San Fernando Valley, it is just on the other side of the Santa Monica Mountains from Malibu, but it's as far from a beach paradise as the moon. When I ask my mom what she knows about Calabasas she looks at me and asks, "Isn't that where all the porn is?" Who wouldn't be obsessed?
Nick and I relocated to Los Angeles last summer. Since then I've been preoccupied with William Mulholland and his vision for the city: bringing water and commerce to the desert. Putting a whole bunch of people where really, they don't belong. Werner Herzog, Joan Didion, Mike Davis and countless others have tried to capture the sense of LA being the end: the end of the road, the end of history, the end of the world, without denying it's also a bit of paradise: full of promise, a beginning, the future. It's a place where millions of people go to work every day. Moby claims to have moved to LA explicitly for its "pre-apocalyptic strangeness" and because it was "always seemingly an inch away from some sort of benign collapse." At the city's fringes, that benign collapse is already underway.
On the face of it, Calabasas synthesizes many of the repelling and alluring adjectives attributed to LA: success, consumption, celebrity 'culture' (desirable, self-absorbed, etc.), wealth, exclusivity, naïveté, and so on. It similarly has aspects of the "near future," "pre-apocalypse strangeness," "dystopian," "wasteland," often ascribed to the city of angels. In the never-ending quest to articulate this captivating paradox: Calabasas represents a microcosmic example to study and to look for answers.
In California Lepucki's anonymizes and generalizes the state's geographical space and social concepts into pronouns like "The Land," and communities such as "The Community," or "Walmart." However, she decided not to change the name of one Los Angeles community: Calabasas. The LA Times critic Karolina Waclawiak says of the novel, "In this deeply stratified 'afterlife,' the wealthy still hoard what little resources are left (intermittent electricity, expensive Internet, packaged food) and shelter themselves away in Communities with names like 'Calabasas' and the nearby 'Pines.'" I don't think this is a coincidence. If you're searching for a particular brand of ill-omened California to inspire a portentous novel, Calabasas is a wise choice.
In 2003 Calabasas had its television debut with MTV's reality show, Newlyweds: Nick and Jessica. The city was marked. And later in 2007 with the reality TV show Keeping up with the Kardashians. The city's image has proliferated. Calabasas is a small, sparsely populated city, overrun with gated-communities and tract mansions. Instead of a downtown, it's got a strip of Ventura Boulevard, which boasts of The Commons: a faux Mediterranean mega retail complex with fountains, a clock tower, and a moat. There are approximately 1,780 people per square mile. Compare that to the more urban neighborhoods of Silverlake at 11,266, or Echo Park at 16,856, areas spacious enough to accommodate the homes of James Franco, Angelina Jolie, Ryan Gosling, Zoe Saldana, etc. As integral residents, these celebrities contribute to the philanthropic cultivation of their communities and therefore the city.
The valley city of Calabasas is not known for its culture, it's not even particularly attractive. It's known for its safety and privacy and for a certain brand of celebrity who lives there: Reality TV personalities, B-listers, one hit wonders, recovering rockers, and professional male athletes. People such as: The Kardashians, Kendra Wilkinson, The Osbournes, Meatloaf, Rebecca Romijn/Jerry O'Connell, Tori Spelling, Tommy Lee, Denise Richards, Derek Fisher, and more. Calabasas also hosts the likes of Beau Bridges, Jennifer Lopez, and Melissa Etheridge and one could feasibly argue that those three are stacked with talent, but I won't make that case. And then there's that Justin Bieber character.
The two main characters driving the narrative in California are a married couple, Frida and Cal, who struggle to cope with the future-present: an excessively crude and corrupted Los Angeles. Early on Frida runs crying from a porcupine, and later Cal misses "the sounds of large, gas-guzzling engines." Who are these characters modeled after? I'm reminded of perusing US Weekly (a mandatory pleasure) while in line at Rite-Aid. As I wait for my birth control prescription, I turn the pages of the US and read about how Kim Kardashian's ready to have a second baby. They're taking over, I think to myself. The woman in line behind me says something about how her son has printouts of a scantily clad Kim on his wall. "At least she has curves," the woman says. I flip to photos of the attractive Khloe Kardashian driving around in her black Range Rover. "She has a white one too," the woman comments.
Sara Sklaroff's writes of Frida and Cal in the Washington Post, "Selfishness also means self-preservation, which is a kinder interpretation of Frida's immaturity. When does caring about yourself cross the line? Frida and Cal might not be the kind of people you'd want to be stuck with at the end of the world, but given how little they seem to care about anyone else, they may have a better shot at making it than most." The postmodern survival tactic one can learn from glossy magazines: make sure you take care of you.
I don't mean to unreasonably judge any of these characters (although conceivably that's exactly what Lepucki wants). It's not that Nick and I have an escape plan if and when the time comes, though I do know how to pitch a tent and I do know that having sex with my husband might be an easier way to become pregnant than using a turkey baster, as Frida contends and goes on to describe as, "their own ad hoc fertility treatment." I'll admit this thinking panics me. Then again it's to their credit that they were able to keep themselves occupied in a world without selfies. Still the post-apocalypse snuck up on the likes of Frida and Cal, where as residents of Calabasas, including that paragon of the selfie Justin Bieber, seem to see it coming.
A panic room, or a safe room, is a secure and protected room installed in houses or in offices (or in mansions belonging to massive estates as commonly found in Calabasas). Should there be a threatening and invasive event such as a break-in or a grave weather event, this room allows residents to hide or escape from danger. The state-of-the-art rooms, the ones pertinent to this article, have external security monitors, advanced alarm systems and are usually equipped with escape shafts. And just like in Hollywood movies safe rooms can be hidden behind many household features, such as mirrors, wardrobes, bookcases and even fireplaces.
So why does Justin Bieber need a panic room? There aren't any gangs in Calabasas. It isn't a violent place. The closest it gets to violence was the Bling Ring: a bunch of white bitches that robbed other white bitches and had a movie made about them. Although Bieber isn't alone, panic rooms are popular among those that live inside the secure gated communities in Calabasas. What are they panicked about? I contend there are crazies, while being flour bombed as Kim K was is no doubt an aggressive and violent act, surely it can be survived without a steel fortress. Are they then designed to protect against the impending near future? When the apocalypse happens, when the zombies devour us, rest assured Justin Bieber and The Kardashians will make it. This is what the future looks like. Maybe it's not the zombies we should fear. As I type this, a new star is born. If you Google "Kim eating" you'll see out of all the 'Kim's in the world [from Bassinger to the North Korean dictator], there's only one Kim: Kim K. If the president makes it, what will he do against the amassing hoard of Reality TV stars?
In the meantime there are many other little apocalypses inching their way towards Calabasas. Like most of Mulholland's desert paradise, Calabasas receives its water through Northern California. The water has a 400-mile commute from the high Sierras to Greater LA where Las Virgenes Municipal Water District distributes water to the residents of Calabasas. Calabasasians use twice as much water per person than their LA neighbors, or than that of their wealthy cohorts holing up in Santa Barbara. Calabasas isn't an agricultural city; tomatoes aren't being grown year round in order to feed the good people of California. What's the water for? Overflowing abundant gardens. Ice for the panic room: Bieber needs ice for his codeine-based concoction known as sizzurp. According to Gawker, "The narcotic, also called 'lean' or 'purple drank,' is typically a mixture of codeine, promethazine, Sprite and a single Jolly Rancher." That shit needs to be cold. Real cold. And in Calabasas the summers are roughly eight degrees hotter than other parts of Los Angeles.
In 2010 Calabasas officials began cracking down on their malfunctioning septic systems. What was going on with the sewage drainage systems in clean and safe Calabasas? Where was their shit going? Well, it was running into Malibu Creek. From Healthebay.org, "In the Malibu Creek Watershed, 14 different streams, lakes, and beaches are listed as impaired for over 20 different pollutants under the Clean Water Act, such as nutrients, bacteria, trash, and invasive species. Local pollution sources include stormwater runoff, septic systems, wastewater discharge as well as runoff from vineyards and equestrian facilities. Levels of nutrients and bacteria frequently exceed water quality standards; at some sites, fecal indicator bacteria, E. coli and Enterococcus, are over the limit 100% of the time." Seriously?
From the creek, it's making its way to Malibu State Beach where children surf and play in the ocean, where Bieber happily strolled the sandy beach with his one-time girlfriend, Selena Gomez, another Calabasas resident. (Wikipedia describes Selena not only as an "actress," but also as an "American philanthropist".) "Aww.. Justin and Selena will make amazing parents because they are great with kids. Don't you think?" Of course they are!
All this to maintain the appearance of an unambitiously desirable non-place: it's not utopia but suburbia. Former major of Calabasas, David Stanley describes Calabasas, "It's like a time warp. We have no sidewalks or street lights. People are out walking, the kids gather at the community center to swim and BBQ, and once a year we put on a parade to celebrate the founding of our city—marching bands and all."
In California when it turns out Frida's pregnant (from having sex sans turkey baster and avec Ecstasy) the couple struggle with how to best blend in and be incorporated into the Calabasas-like community of "Pines." After a long and grueling approval process which NY Times reviewer Jeff Vandermeer likened to, "reality show contestants or House majority leaders…" Frida and Cal are finally accepted into the esteemed Pines community. (Pines appears to mimic Hidden Hills, a community inseparable from Calabasas.) Lepuckis's description of Pines resembles mayor David Stanley's, "It had been their first week as newly minted citizens in the Pines, and they had been walking through the park nearby, holding hands. They were taking it all in: the cameras, the signs, the park's plastic castle with its slide and shaky rope bridge, the kids squealing as they crossed to safety on the other side."
Nick and I drive past Calabasas when heading north from Echo Park where we live, to visit my parents. We visit them often. We have a puppy and their willingness to puppy-sit allows us to take the coveted bike rides that I'm still unwilling to do in the city. What we see from the road as we pass Calabasas: an arid and barren landscape, multiple expensive automobile dealerships, nothing spectacular, although we don't see the "inside." The inside is past the looming gates: even if we wanted to we'll never get there. Instead we view Calabasas from the outside. I ask Nick, "What's your impression?" I get no answer.
On the phone with my mom she's adamant about the porn. She owned a neighborhood video store in the 90's called Video Vault. Apparently some folks from Calabasas drove up to purchase all her pornography after Blockbuster drove her out of business. "When I think of porn," she reminds me, "I think of Calabasas." She goes on, "I swear, Nora," she says, "you should look into it."
I'd like to propose a new reality TV show, one where Justin Bieber and Kim K's half sister, Kendall Jenner (because she's age appropriate, etc.), document their life from their panic room. A reality show where they watch on their security monitors and tape what's happening on the outside, like in the world. Maybe they'll even have the first ever baby delivered in a panic room. Don't get me wrong, I like the Kardashians and not necessarily in an ironic way. I might even be a little jealous: they have fucking beautiful hair. I mean look at it. And skin too. "Kim's god-like," I tell Nick. "I don't see it," he says. "You don't see it!" Totally unbelievable.
Justin Bieber I could take or leave, however I'm not his audience and I suspect he's OK with that. Then again there's nothing to worry about, they'll out last us all. When the zombies take over, or more likely when the climate implodes, the catastrophe will no doubt start first with Los Angeles. It's been ordained: paradise has consequences. As temperatures in Calabasas rise, the drier and more desert-like it will become. Invasive fire-prone species will spread. The periods of drought will be more frequent. There will be a significant increase in vicious brushfires. The more frequent wildfires will further affect the air quality and human health overall. Yes, even behind those closely secured gates. There will be more demand for water, even among the wealthy. Even in a low-density city, such as Calabasas, residents will feel encroached upon, but not by paparazzi but by a different nature. They too will need to prioritize. The seraphic people of Calabasas will get busy in their panic rooms: eating Blazing Buffalo & Ranch Doritos, or gluten-free pretzels, watching Lost reruns, selectively watering their avocado trees.
The waters will rise. The highways will disappear. It won't be endearing like the teeming canals of Venice, Italy. Or like the nostalgic empty ones of Venice, California. I sure hope they've kept the nurse in there well fed, they might be in there indefinitely. Then again maybe they'll abandon their stately properties and move someplace more desirable like Lancaster. Detroit's nice, I've heard it's reinventing itself.
It seems Lepucki's fictional use of California's dystopian future as a loose backdrop for her novel isn't so fictional after all. She writes of Frida and Cal's thinking about their crops, "If nature continued to cooperate, they would be okay." Nature doesn't corporate, it makes the rules. Our mammoth consumer society might be nature's biggest competitor, yet for nature we are the movable backdrops. It's anyone's guess what will happen next, what will come of all of this. At least we can agree if those are the last men and woman standing, they'll be dressed in style. In the meantime I'm going to get by, like most of us do. I'm going play with the pup and distract myself: I'll prep for class and over dinner Nick and I will make bets about the last season of Mad Men (harder to predict than what the climate's expected to do). I might look into the Calabasas porn angle, although I fear my mother's conception of Calabasas is outdated. My mother is insistent, "Just look into it, it might offer clues about California's fate." I try to tell her it's all about reality TV: the girls, their cars, their bodies and their pink toenails. She sighs. I can picture her. She's shaking her head.
P.S. In case you're looking to move to a less climate-impacted city.
P.P.S. In case you can't move to Detroit and want to make your very own panic room.
***
Nora Lange's writing has appeared in The Fairy Tale Review, LIT, Birkensnake, The Hairpin, Two Serious Ladies, and is forthcoming in Sidebrow. She holds an MFA from Brown University. She lives in Los Angeles, where she teaches literature and creative writing.