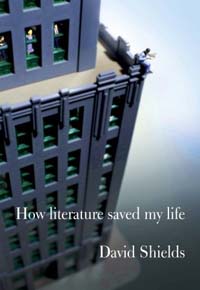 How Literature Saved My Life
by David Shields
Knopf, February 2013
224 pages / $24.95  Buy from Amazon or Powell's
Published last month, How Literature Saved My Life is both a boldly written love note to a most precious of subjects, and David Shields's latest statute in his quest for "art with a visible string to the world." Short of a true sequel to his polarizing 2008 "novel," Reality Hunger, Shields's latest work does devote more than a little page space to proselytizing for his vision of a world where fact and fiction combine and literary tropes like linear plot lines and fanciful character design fall by the wayside.
Sharing my current reading choice with friends — and an unsolicited suggestion that they look into it — it was a common to hear, But isn't it just for writers and literature snobs?
Well, yes.
Casual readers may be able to sieve out the life lessons, but will likely find themselves drowning in a sea of name drops and literary in-jokes. Which is not to say that a novice reader couldn't use the book to take studious notes and build a respectable reading list, but I wouldn't consider that sort of parergonal use to be a huge selling point.
Truth is, how many summer readers are going to pick up a book called How Literature Saved My Life in the first place anyway? And it's probably my fault for recommending it for a general audience, because it isn't. Shields makes no bones about writing for a niche audience, one he can't help but self-consciously wonder about with a market analyst's zest, a fact of life for virtually any creative professional these days, whether we like it or not. Unabashedly, Shields probes this and other insecurities writers in the digital age run up against with far great frequency and impact than their predecessors.
Is literature worth writing anymore? Can it adapt without losing whatever attributes make it recognizable as "literature"? Who am I writing for?  Franzen: Why bother?
For literary types with similar doubts, Shields's writing comes across prescriptive, offering answers to questions lie those raised by Jonathan Franzen in Why Bother? (originally published as Perchance to Dream: In the Age of Images, a Reason to Write Novels), and in one sense answering David Foster Wallace's charge against forms of literature that have no remedy for the ills they diagnose.
That's not to say Shields believes he holds all of the answers. For all his manifestoing, Shields comes off very much as the Sisyphean analog described in Camus's famous essay, "The Myth of Sisyphus," always climbing towards some semblance of meaning while remaining all too aware that the proverbial boulder will just roll right back down the hill. Make no mistake, this is an inner battle almost every writer faces on a regular basis; the difference here is that Shields has put it on the page for all to see, stripping away the layers of certainty and confidence that give a finished work its sheen and exposing us to the honest process.
"The notes are the book," Shields wrote to a student having a crisis of literary form, "I promise you."
This is going to irk those lit-department craftsman who will undoubtedly argue that the job of the writer is nothing if not taking the skeleton notes and fleshing them out into something whole, something virtually indistinguishable from pages of hastily jotted ideas. It would be easy to say that the approach Shields encourages is little more than compensation for a lack of narrative knack. But Shields — and I — would argue that the literary collage straddling the line between fiction and non is a more authentic reflection of real life, and particularly how our brains make sense of the real world, using " the ambiguities of genre as an analogue to the ambiguities of existence."
And that's not an indictment of modern culture, which has done little more than to highlight the fractured nature of our realities. We don't experience the world as a linear narrative, but rather as a constant influx of signals and information which our highly evolved frontal lobes then set about determining the priority and relevance of. The mistake previous generations of fiction writers made, Shields would argue, is that they've taken it upon themselves to do all of the interpretation, deciding for the reader what the important narrative is and turning down everything else. Here, Shields bucks against the tendency of writers to carefully guide readers along a pre-determined path of escapism, remarking emphatically that he finds "books that simply allow us to escape existence a staggering waste of time."
What's interesting is that Shields has managed to turn his pleas for a new form of literature into that very form of literature.  It wouldn't be unreasonable for a reader to be exasperated by this, wondering when Shields will step down off the soap box and get to writing this next generation literature he's spent two books extolling the virtues of.
The critic of metafiction's self-referentialism won't find much to love here. That wall has long since be reduced to ruble in Shields's canon. The writing is about writing, is about reading, is about a lonely man trying to connect with a few other lonely souls out there. Great and powerful Oz, indeed. The façade of the writer is no more in Shields's mind. He is unapologetically tied to the work, not as egoist but as "symbolic persona, theme carrier, host for general human tendencies."
Shields's strength, what makes him an effective writer in spite of a resistance to traditional narrative, is his brave insistence on embarrassing himself on the page; a laying bare of himself runs appropriately parallel a laying bare of the form itself. We find out about his secretly reading the diary of a girl in college in order to better woo her and hear his ruminations about growing up in "post-hippie" California in a family he called a "horrific regime."
Perhaps the most important moment of the book, though, comes early on, as Shields uncomfortably compares himself on a point-by-point basis to George W. Bush, noting their similar propensities for outsourcing as much work as possible, their shared love of football and pretzels, and their shared, secret disdain for their mothers. What Shields is ultimately getting at here is one of psychology's dangerous ideas, which is simply that we're not all that different when it comes down to it.
To bring it all back to Camus, who is cited regularly in How Literature Saved My Life, I think Shields's boulder is ultimately not meaning but a relief from human loneliness. In a wise but weary final line, Shields shares his desire for ­"literature to assuage human loneliness, but nothing can assuage human loneliness. Literature doesn't lie about this— which is what makes it essential." It may not exactly be a happy ending, but still, you must imagine Sisyphus as happy.
***
James J. Fitze is a writer living and working in New York City. His debut novel, The Atomist, is due out in early 2014.
Tags: David Shields, How Literature Saved My Life, James J. Fitze