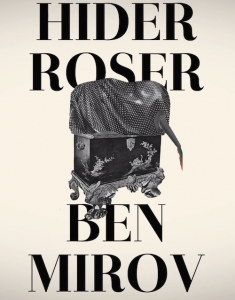 HIDER ROSER
by Ben Mirov
Octopus Books, 2012
95 pages / $12.00 buy from SPD
A shamanic healer in San Francisco, who charges way more money than $12 USD, says we are always every age we have ever been. She promises to heal us of the behaviors that once protected us, at 3 and 8 and 13, but now no longer serve us. She will heal us with repeated sessions in which she asks 'who is talking?' and 'what age is that person?'
For $12 USD, Ben Mirov's HIDER ROSER provides direct textual access to this sort of temporal and spatial inquiry. You can keep it in your bag. You can have it all the time. What's more, the poet reveals his own story (or the story of a mirror character) (or many mirror characters) (who is talking who is talking?) reducing the feelings of aloneness we may experience on our own trips. He gives us his eyeball, still wet. He gives us his ID. I read this book during a week of bad panic attacks, or "death lite" as I like to call them. I felt understood by Mirov's book. "If your wolf gets too heavy / don't pop the flares," he advises. "No one will rescue you. You are the rescue team."
Simultaneous threads of fear and acceptance run through these poems. The speaker watches himself disintegrate. The Self and its idea of who and what it is are not solid. Yet in knowing that he lacks the power to stop the fracture, Mirov's speaker possesses the wisdom to embrace the  dissolution.
In "Figment" Mirov writes:
…my beliefs
though flimsy and hollow like yellow reeds
bent low against the wind
down by the black river where dreams
kneel down to die in peace
are the only things that confuse me.
And this is why I love them.
There is a beautiful sadness in these poems. Mirov skillfully co-inhabits the realms of the physical and the metaphysical, the containment suit and the dark star. In a world both familiar and foreign, Mirov inquires as to the nature of the universe, as well as the absurdity of layering institutions over the void. We are keeping "busy all day." We are running from something. What is it?
In "I is to Vorticism," he writes:
If you come upon a vortex in your laundry tonight
don't be afraid.
Give it a name like Scheherazade…
They don't teach you this in college
or how to deal with moving faster than the speed of light
into a brick wall
but that's how I got my diploma
knocking around the chrysalis…
This book isn't nihilist and it doesn't throw up its hands. Rather, it contends with what we can still do in spite of the strangeness of it all. Friends go bodiless and faceless, yet somehow they maintain the power to deliver us to the tangible safety of a "porch coated in rain." There is still the ability to kiss, which brings on both an astrophysical journey through time and space as well as the spilling of a "mug of strong black tea" in this dimension. There are One Hundred Poems from the Chinese, which provide no consolation to "the soldiers / in Afganistan who spend their nights / shooting at the same five guys." But when the speaker, as lost human, needs the consolation of "Wandering Ghost Bridge" and "snow-capped mountains," One Hundred Poems from the Chinese are so there. Poetry is the bridge that makes the strangeness of this universe not only bearable, but meaningful.
HIDE ERRORS
ROD HER SIRE
REORDER HIS
DOER ERS HI
RED HE SIR OR
DO HEIRS ERR
IDS HE ERROR
HIDER FUCKING ROSER