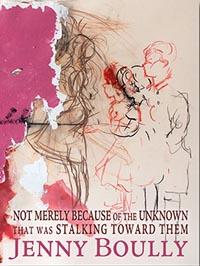 not merely because of the unknown that was stalking toward them
by Jenny Boully
Tarpaulin Sky Press, 2011
80 pages / $14  Buy from Tarpaulin Sky
First, there was the 1902 novel The Little White Bird, by J.M. Barrie, which we all might know of, but probably haven't read. It blossomed into a play, "Peter Pan, or The Boy Who Wouldn't Grow Up," which became the 1911 novel Peter Pan and Wendy, or, later, just Peter Pan. In 1953, Disney presented the world with a lasting image: chipmunk-faced, androgynous Peter Pan.  Playboy-bunny Tinkerbell. Matronly Wendy in her prim blue nightgown. Hook, with his long, angular face, knife-sharp mustache, wild black curls.
From there, contemporary culture's love affair with this flying boy and the Darling children has seeped into all possible representations. We have the 1991 movie Hook, with 40-year-old Robin Williams as an aged Peter struggling to recall how to eat imaginary food with the Lost Boys, among other feats of childhood creativity lost upon adulthood, and a miniaturized Julia Roberts as Tinkerbell, donning (how clever!) a pixie-cut. We have the 2003 live-action version of Peter Pan, starring Jeremy Sumpter, and French actress Ludivine Sagnier (see also: Swimming Pool, filmed the same year) as sexy, non-speaking Tinkerbell. Tink, it turns out, also has her own 2008 animated film, and J.M. Barrie gets his own story told in 2004's Finding Neverland. Add to these films the thrill of the "Peter Pan's Flight" ride at Disneyland, in which you glide slowly above the aged diorama-world of Neverland, and the plethora of I-just-turned-18 "sexy fairy" Tinkerbell tattoos emblazoned on hordes of females (seriously—Google it), and the easy green-tights-green-tunic Peter Pan Halloween costume that you've no doubt seen on an any number of men, women, children, and/or dogs.
Enter Jenny Boully. Her newest book, not merely because of the unknown that was stalking toward them, by Tarpaulin Sky Press, re-examines our culture's obsession with a fairy tale that we don't actually know that well. Or at least Boully helps us realize how little we truly know about it. Boully takes italicized snippets (including her title) from Barrie's original work in the Peter Pan series and weaves those dark, shimmering threads into her already richly textured prose.
Using this combination of borrowed Barrie texts along with her own imagination and playful innuendos, Boully makes her readers wonder at the sinister underside of the Peter Pan story: "A thimble may protect against pricks, pin pricks, needle pricks, Tinkerpricks, but not hooks, never hooks. When he stabs his hook into you, you will see that his eyes are the blue of forget-me-nots—but that is Hook and not Peter—Peter who will forget you" (1).  Regarding Peter, Boully writes: "Peter Pan can do a great deal in ten minutes.  He can do a great deal to you.  For example, he can put a little something inside of you, and you will carry that for the rest of your life; thimble all empty underneath in the inside" (61).
Many things are questioned in Boully's re-visioning: what it means to remember, to forget, to make-believe. To enter into a romantic relationship, and to leave it. Questions of pregnancy, marriage, responsibility, and other marks of adulthood. But perhaps most prominent are questions related to traditional gender roles and the budding sexuality of the story's youth, which every other adaption appears to have dulled down; Wendy plays mother to the Lost Boys and romantic partner to Peter, while Peter pines for Tiger Lily: "The wayward thing, the wayward thing is not Wendy, but rather Tiger Lily, and there is not a brave who would not have the wayward thing to wife" (4). All the females in the story—Tinkerbell, Wendy, Tiger Lily—maintain a jealous tension in their desire for Peter's attention. The sexuality that oozes out of this book is in part due to Boully's use of italics to indicate Barrie's actual text, but also a result of her own way with language: "There are no other mothers; there are no other mothers around.  We'll just pass Wendy, round and round. She will make you a place that you didn't have before" (6). Tiger Lily wears a shell-encrusted thong and "she doesn't shave her pubes, and they're all sticking out and out" (13) and "Tiger Lily, Peter will come to catch you; he will come to hunt you; he will show your father that he knows whatever there is to know about straining a willow sap cord through the holes of your wigwam" (12).
The structure in not merely because of the unknown that was stalking toward them borrows from other texts of Boully's; almost half of every page is comprised of what appears to be footnotes, labeled "The Home Under Ground." These sub-pieces seem to follow along with the text printed above them, but they tend toward more psychological and metaphorical interpretations of things like "the future" and "love," and usually in Wendy's voice. Boully's The Body: An Essay presented readers with footnotes to an invisible text, so although it isn't clear how we should read "The Home Under Ground" (footnotes? separate narrative?)  it's clear that she is, once again, both melding and resisting traditional conventions of genre—essay, poetry, fiction—which she has so expertly done before, in The Book of Beginnings and Endings and [One Love Affair]*.
Like most hybrid texts, Boully's offers more questions than answers. Who are the Lost Boys, really, and why are they clothed in bearsuits? What's the history between Peter and Mrs. Darling?  How many other little girls did Peter whisk off to Neverland? How does one properly dispose of Never poo? About Tinkerbell, Boully wonders: "where ever will we get such small medical supplies for you? The Tinker dental dam; the Tinker tampon" (61). Boully's writing is often refreshingly tongue-in-cheek ("See, Tootles has to go.  He has to go peepee, and that isn't, I daresay, in the story" (26)), while generally maintaining a dark, mysterious tone throughout.  But the power in Boully's writing—in not just this newest book, but all the others, too—is what is left out, left unanswered; as she demonstrated in [One Love Affair]*, Boully writes with an understanding that the reader brings her or his own self to the book, and fills in the blank spaces (even literally, as in The Body: An Essay). It goes without saying that we would do the same with something as culturally rich as Peter Pan. Boully offers a new way to see the old story of Peter Pan and the Darling children, but she certainly doesn't ever tell us how the story ends, despite the story's own self-referential pleading: "This ending isn't quite so elegant; this ending will never do, never do; please tell the lady: please tell the lady to redo, redo" (61).
***
Kristin Sanders lives in New Orleans and teaches at Loyola University.  She is the author of the chapbook, Orthorexia, coming soon from dancing girl press.  Her poems have appeared or are forthcoming in Octopus, elimae, Crescent City Review, Strange Machine, and Tarpaulin Sky's Chronic Content.
Tags: Jenny Boully, Kristin Sanders, not merely because of the unknown that was stalking toward them