HTMLGIANT / Kristin Sanders
Janice Lee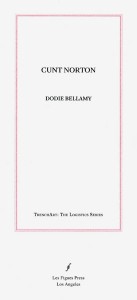 Cunt Norton
by Dodie Bellamy
Les Figues Press, November 2013
75 pages / $15  Buy from Les Figues Press or SPD
In Cunt Norton, Bellamy slices the canonical texts, lifts the raw skin, and slides all kinds of exciting things into the wound. Then she sews it back up. The result is a bulging, infested boil of sex and gender. The result is dirty love poems secreting out the orifices of our favorite fathers. (And one mother: Dickinson.)
Playing off of William S. Burroughs' "cut-up" technique, Bellamy published Cunt Ups in 2001. Now she's back at it, "cu(n)ting" up the 1975 Norton Anthology of Poetry. She selected thirty-three poets from the anthology and has re-imagined their texts: cutting and interspersing their words with hypersexual language. Poets ranging from Shakespeare to Ashberry still sound remarkably like themselves. They are recognizable—only sloppy with desire. Dripping wet.
The multi-gendered speakers in Cunt Norton end up sounding at turns psychotic, absurd, and boring—which comes pretty close to the actuality of sexual encounters and the language we use for desire. When the speaker in "Cunt Auden" says, "You be a good girl—I'll take care of you—lay here in my hands with their many fingers. I've never ever given anybody help who didn't come" (57), I want to barf at the sad, true, cliché of it. I feel the same with "Cunt Yeats," which begins: "Gloom is in my mind, and I have to fuck you so bad. Good girl. Good girl" (40). "Cunt Blake" finishes with a hearty, "I poke out and in thee in so many places, the Air shreds to Rags and the Heavens tear" (21) and "Cunt Tennyson" promises to "fuck thy portal until mouths, foreheads, eyelids lose all boundaries" (35), both of which are equally hilarious and scary. I am reminded of all my worst sexual experiences.
Other pieces are full of rollicking, gender-bending, free-for-alls. Take, for example, "Cunt Frost:" "My clit stands still and dances—it looks huge, the outer lips filling the abyss' void with emptiness. It cries out for you. […] My cock is normal size, ready to throw back without regret into your cunt or your large intestine" (43). The Great Men from the Norton Anthology are marionettes in Bellamy's hands. Their reputations are at her disposal: their genitalia grow and morph, their gigantic desires never satisfied.
But Bellamy's book is as much a political act as it is a book of poetry.
Let me offer an example why. Recently, after I participated in a reading, a fellow (male) poet asked me why I write about the same thing (sex) all the time. And why do I use such vulgar (cock, cunt, etc.) language? He suggested that I would get more publications if I varied my subject matter and cleaned up my language a bit.
Dodie Bellamy's Cunt Norton exists as an answer to these kinds of questions. What I mean is: Dodie Bellamy is a woman who writes about sex. Who writes with verve and risk and imagination. Who isn't afraid of language, or of dead white men, or the reverence we are supposed to have for them. Dodie Bellamy will not be silenced or ashamed. When Ariana Reines writes in the book's introduction that this "could be the most joyful book on Earth" and it "made me feel so good I laughed so hard I cried," what she may be articulating is how powerful it feels to witness a woman writing exactly how she wants to write, refusing to be silenced (by the canon, the patriarchy, any other poet's aesthetic or ethical impulse).
Reviews
/
1 Comment
October 14th, 2013 / 11:05 am
Janice Lee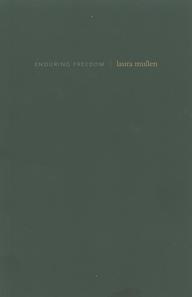 Enduring Freedom
by Laura Mullen
Otis Books | Seismicity Editions 2012
80 pages / $12.95  Buy from SPD
Laura Mullen has been doing a lot of crazy things lately.  And by crazy, I mean wedding-related poetry performances.  She has invited her audience to cut a wedding gown off her body in many cities—Denver, Lafayette, Paris—a culturally fraught version of Yoko Ono's Cut Piece.  She has worn a wedding dress to a gulf coast oil spill protest in New Orleans.  And she has re-sewn a once-cut dress into an awkward, stitched wound of a dress for her "poetry wedding" in Baton Rouge last month.
Full disclosure: I was a bridesmaid in her "poetry wedding."  And by "poetry wedding," I mean the launch for her seventh book, Enduring Freedom.  I wore a bright pink dress and, for my contribution to the ceremony, stalked around the seated audience with the poet Afton Wilky, reading/shouting out a list of operation names from the Iraq War.  This list is one of the poems in Mullen's book.  When I got to "Baton Rouge," I paused for effect.  When I got to "Church," I spoke extra loud.  When I got to "Enduring Freedom," it all made sense.
Because a wedding is a kind of war.  A war is a kind of wedding.  If the parallels aren't clear yet, they will be after you read Mullen's book.  The voices in these prose poems are crazy, sad, frustrated, frugal, suffering from PTSD (of the war? of the wedding?).  They are brides!
We know brides.  Even if you aren't/can't/haven't yet/never plan to/O yes have been a bride, you know the territory: the gown, the DIY, the invitation, the photography, the gestures, the whole commercialized industry.  These poems remind us of the performance of weddings.  And that tradition breeds cliché, decay.  And the inauthenticity of something proclaiming its own sincerity.
But things get scarier, because a wedding is a war:
Reviews
/
4 Comments
October 22nd, 2012 / 12:35 pm
Janice Lee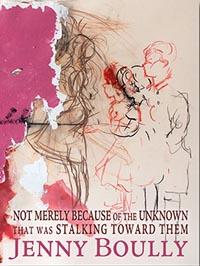 not merely because of the unknown that was stalking toward them
by Jenny Boully
Tarpaulin Sky Press, 2011
80 pages / $14  Buy from Tarpaulin Sky
First, there was the 1902 novel The Little White Bird, by J.M. Barrie, which we all might know of, but probably haven't read. It blossomed into a play, "Peter Pan, or The Boy Who Wouldn't Grow Up," which became the 1911 novel Peter Pan and Wendy, or, later, just Peter Pan. In 1953, Disney presented the world with a lasting image: chipmunk-faced, androgynous Peter Pan.  Playboy-bunny Tinkerbell. Matronly Wendy in her prim blue nightgown. Hook, with his long, angular face, knife-sharp mustache, wild black curls.
Reviews
/
9 Comments
August 26th, 2011 / 12:00 pm