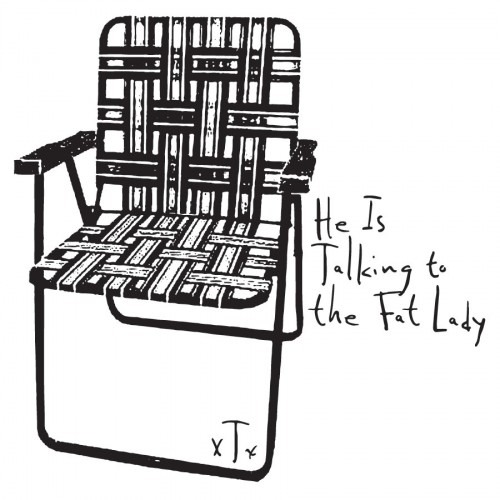 The top of my head is gone.  What else should I expect?
Warning: reading xTx's chapbook He Is Talking To the Fat Lady will talon-rip the top of your head off.
Published by Safety Third Enterprises, xTx's first chapbook sold out in two days, and rightly so.  Her work draws readers in like the pull of gravity, a force at once shocking, truthful, candid, powerful and brutal.  Energy, pulling you in with brave themes, language, and voice.  High voltage.  You've been warned.  But as with any mysterious force, few will fight this pull and none will be let down.
Known widely by readers of both print and online journals over the past several years, xTx brings six unpublished pieces in this chapbook of 11 stories.  The remaining five – "Payout," "He Is Talking To the Fat Lady," "You Are Big I Am Tiny," "Yet I Kneel, I Tie," and "The Butterfly Lounge" – have previously appeared in Pank, Swink, Rumble, Prick of the Spindle, and Kill Author, respectively.  So do the new works measure up with the published pieces?  Does a bear shit in the woods?
Throughout the 11 stories, we are given the dark gift of a voice full of desperation, longing, toughness, a stark but somehow tragic whisper beneath what, at times, can be heard that tiny voice we all share.  Our inner struggle and conflict.  Such as this paragraph from "Parts":
"The filth stays where they left it.  Her feet and legs stained with it all.  His too.  This embrace unites them.  It's a place love hides.  It will wash away.  It will remain.  There is nothing."
In "Parts" we have a protagonist trapped amid violence and love.  Pain and lust.  As good as anyone, xTx has the ability to braid these opposites into a new tapestry, a storytelling ability all her own.  We sense in this story both a desire to get away as well as the need to stay.
In some way, each of the 11 stories deal with this theme at least in part.  In the title story, "He Is Talking To the Fat Lady" the narrator waits and waits and continues to wait for the unmentioned moment of love to wander her way.
"I look over. He is still talking to the fat lady. What could he be talking to her about for so long, I wonder. I am annoyed. He went to get me water. He has my water. My mouth is dry  with rice cakes. I need to wash it all down. I need to cool my face. I need the water. I imagine it is cold and refreshing. I am more annoyed."
Instead, we are shown in a stunning moment of character work when a young girl, Sabrina, wanders over – the narrator's younger mirror, a reflection either breaking or already broke by longing but unwilling to change course.
"Sabrina looks at me and sort of steps side to side and clicks her tongue around her dirty mouth, using my shoulder to steady herself. She is mouth-breathing staring into my eyes with no expression. SABRINA GET OVER HERE NOW she yells and this time it makes me scared. Sabrina seems nonplussed and hesitates for a heavy moment before complying. Innocently defiant."
In the next paragraph, the narrator states outright her connection to Sabrina after this meeting saying, "Good for her I think. I feel bonded to Sabrina."
However, in stories such as "A List of the 10 Things I Will Think About Instead of You" we see how even with heavy-handed themes of hurt and anger, xTx can show how playful she can be in this context.  The numbered list includes one surreal fantasy the narrator plays out in regard to perhaps the former lover it addresses.
"4. A Pterodactyl swooping down and lifting you up by your scalp and an ankle. I think this still counts as something I am thinking about instead of you because I  mostly am picturing the way the Pterodactyl swoops down from the sky screaming that mad-bird screech and how its eyes are super stoked when it lifts you up because it knows it will tear the shit out of you with its beak and talons when it gets back to  its nest in like, 10 minutes.  (I hope it has babies.)"
Whether playful with angst or writing of characters accepting their often difficult circumstances, there is always the use of pitch-perfect poetics within these stories – the varying of sentence lengths, the stand-alone paragraphs that punch like two jabs and a roundhouse hook, the cutting honesty never flinching away from where a story might take both the writer and the reader.
One such moment stands out in "A Wager," arguably the most graphic and most powerful stories in the collection, along with the heart wrenching and horrific "And After, Upon Your Request, I Will Make You Both Ham Sandwiches" takes us along for an evening with a "doe-eyed hooker" who takes on a client in Vegas who is "middle-age ugly and fat as a giant's castle doorknob."  What follows is both unexpected and, to the observant reader, full of heart.  The hooker takes her client to a room where the events that transpire paint that complicated set of emotions and human connections xTx so aptly weaves within her work.
"You were surprisingly huge when you entered me with another crying noise. I took a shit then. It was not purposeful. It was an accident. We fucked all over the shit before we even  realized. I cried again, embarrassed at the mess. You said don't cry. You said it's okay. You said look, and you took some of the shit from your back and rubbed it on your face."
As aforementioned, Safety Third Enterprises sold out the 50 copy run of He Is Talking to the Fat Lady within days of announcing it was available for purchase.  For a writer who has published one e-book, Nobody Trusts A Black Magician (Nonpress) and another, Shudder Pageant, in collaboration with Mel Bosworth, this level of interest alone gives proof enough of her growing abilities.
Not a blooming flower, though.  Not a rose of raw ability or a talent-dusted tulip.  This is a writer who tells her readers on the page that she has already found her voice, her themes and admits that yes, she may be a blooming, if one must make that comparison, but she will be more quick to point out that a cactus might be a better example – prickly and dangerous to the touch, but a source of water, of life within, if one cares to look closely enough.  For instance, consider this section from "And After, Upon Your Request, I Will Make You Both Ham Sandwiches":
"…I wash your car, feed your tigers and engage in a threesome with that 'smokin' hot blonde P.A.' you've had your eye on, you tell her to 'watch this' and you proceed to bash my skull in with a hammer. She recoils, knitting the bed sheets against her chest with her fists.  You only say, Don't worry baby, she doesn't feel a thing.  Ain't that right sweetheart? And through the pulp mix of blood, brains and bone an enthusiastic nod is detected. The blonde releases, sighs, smiles. You move on to my knuckles, and I continue to not feel."
Look closely.  See it?  Of course you do.  Look again.  Closely.
Note: Rumor has it an e-book version of He Is Talking to the Fat Lady will be available soon.
Tags: Chapbooks, Safety Third Enterprises, xtx