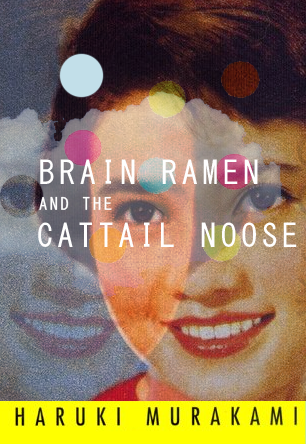 Brain Ramen and the Cattail Noose
by Haruki Murakami
Vintage, July 2013
345 pages / $22
One late afternoon, unemployed narcoleptic celibate Uno Moribundo, pensively awaiting the shipment of a real doll and some obscure jazz CDs, falls asleep in a large bowl of scalding ramen. Permanently disfigured with third-degree burns to his face, he wanders Tokyo's underground wearing a Ringo Starr mask looking for blind children to bring home and love. With some weary repetitions, troublesome inconsistencies, and heavy-handedly overlapping plot points, it becomes apparent that Moribundo may be in a coma. "His pillowed brain resembled bloated ramen left in a bowl, the spilled broth grown tepid over the months as floor thought bubbles trying to remember something," Murakami deftly writes. Enter Yoshi Yummimoto, a 14-year-old goth school girl whose Lorazepam habit may be seen as complicit auto-narcolepsy. She falls asleep in class, and on his face. Follow this unlikely pair through the mental labyrinths of memory, identity, intimacy, and self — to a climactic hot pot binge, which spilled, brings them to their knees.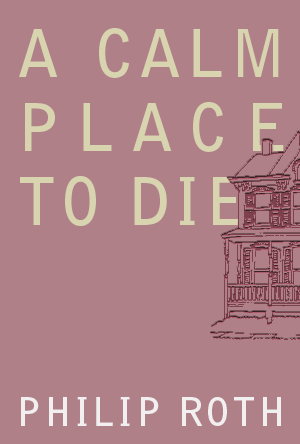 A Calm Place To Die
by Philip Roth
Houghton Mifflin, September 2013
171 pages / $38
Professor emeritus in English Lev Levinman, battling a sprained shaft, has returned to his childhood home in Larchmont, New York to die — but first, has hired a lawyer to oversee his will and redefine the legal definition of euthanasia so that only those with equity can kill each other. At the precipice of his mortality, Lev meets Becky Muffinmeir, his lawyer's college intern's supposed "best friend forever," who comes to borrow fabric softener over Memorial day weekend. All is excruciatingly painful vigorous love — and one may note the post-feminist somewhat inverted metaphor of Becky's acrobatic "reverse cowgirl," performed from a negligently bolted sex swing (spoiler alert) — until Lev meets Becky's brother Justin, a member of Larchmont's Aryan supremacy group, who fancying Lev as "The Floating Jew," tries to replace Lev's oxygen tank with helium. Along with a termite infestation, aggressive subscription renewal notices from The New Yorker, and some loud Pakistani neighbors who've discovered rave music, the old Victorian cottage is not exactly a calm place to die, but rather, a bleak portrait of America at its logical end.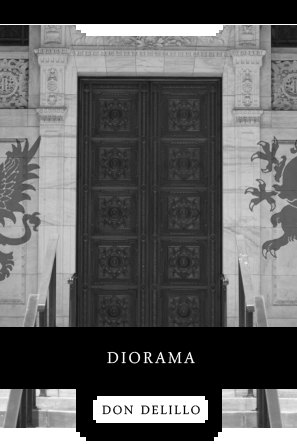 Diorama
by Don DeLillo
Scribner, November 2013
438 pages / $28
A dark cloud made of copier toner has covered lower Manhattan, turning everyone black (except for blacks, who have all fled to Harlem to invent more difficult to appropriate dance moves). Dale Diremore, a pasty mid-level market analyst, is eating an all white meat sandwich while arguing with his wife on speakerphone about the nutritional facts of their daughter's cereal, bothering the pigeons, who are now crows. A gush of wind turns Dale into a walking Platonic shadow of himself, retreating to his cave for delusions of a stabler future. The twinkling flame of his monitor provides security, each pixel an empathetic square. But as the market, his marriage, and ceiling all collapse at 4:59 p.m., Dale comes to discover that every empire is but smaller premature plan of itself, a shoebox diorama made in elementary school by a kid with Asperger's whose snot is Elmer's glue. On his ride home, a rap song's bass line triggers the airbag, blasting Dale's face with the last puff of white air known to man.