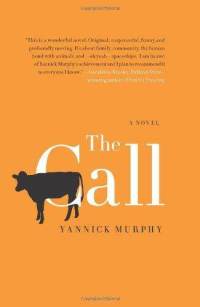 The Call
by Yannick Murphy
Harper Perennial, 2011
240 pages / $14.99 Buy from Harper Perennial
Rating: 9.0

I picked this book off the shelf at the closing Borders based entirely on Yannick Murphy's name, having been familiar with previous books, particularly Stories in Another Language, one of the Knopf titles under Lish. I decided to buy the book immediately after opening the book to its first page, and finding there the manner of deployment of information that appeared:
CALL: A cow with her dead calf half-born.
ACTION: Put on boots and pulled dead calf out while standing in a field full of mud.
RESULT: Hind legs tore off from dead calf while I pulled. Head, forelegs, and torso are still inside the mother.
THOUGHTS ON DRIVE HOME WHILE PASSING RED AND GOLD LEAVES ON MAPLE TREES: Is there a nicer place to live?
WHAT CHILDREN SAID TO ME WHEN I GOT HOME: Hi, Pop.
WHAT THE WIFE COOKED FOR DINNER: Something mixed-up.
If that doesn't make you want to buy a book, I don't know what would. And the novel goes on in this same manner for 220something pages, using these sets of tags to cut the unnecessary mechanisms of storytelling off the narration and get it out there as quickly as IV'd liquid into vein. Ostensibly the mechanism is derivative of the occupation of the narrator, a man who works as a vet in rural New England to support his family of five, a wife and three kids. The form begins, then, as a work journal of sorts but quickly opens up to finagle in all manner of the narrator's life, which begins with the opening of hunting season, and follows through several seasons following a trauma that erupts, which I won't give away a lick of here.
Let's say, though, that what emerges from this wonderful device, and which continues to innovate itself under tags like: THOUGHTS WHILE WATCHING THE LEAVES IN THE SHAPE OF A MAN; WHAT WAS NOT IN THE PHONE BOOK; WHAT MY WIFE WANTS TO KNOW; WHAT THE RABBIT DOES WHEN SAM READS, etc., is a story that manages to both move on all the strings of true heart and passion, the small hauntings and birth and deaths and fears of same of everyday, while never once dipping too low in the stream of it and getting tedious or dropping its momentum, all while stringing up these sentences that say as much alone as they do in the place in the story where they are told. This is a beautiful book, and one that partly due to its mechanism but mostly due to its prowess at considering how life goes, is one that should act as a great model for using form as a scaffolding for innovation of approach, while also firing from the hip of the voice and the blood of why people started telling stories ever at all.
Tags: Harper Perennial, The Call, Yannick Murphy