I have enjoyed three really gorgeous books recently–Baby by Paula Bomer, The Physics of Imaginary Objects by Tina May Hall and Bad Marie by Marcy Dermansky. These are books you're very much going to want to read because they are, simply, exceptional.
I love domestic stories. There is an intimacy to them that I find very pleasing because we're allowed to see moments that are terribly personal. Everyday life is always the most interesting to the person living it but there are writers who can take everyday life and make it interesting for anyone. I have discussed, at length, my love for The Little House on the Prairie books and one of the things I loved most about each of those books was how everyday life was made interesting in ways that were always hypnotic. I loved the precise details about home and hearth, the food the Ingalls ate, the bitterness of the cold winters. In the hands of the right writer, a domestic story is more than just a domestic story. Another one of my favorite books is The Age of Innocence by Edith Wharton, another story where the details of domestic life,  elegant and refined, are conveyed meticulously. The ordinary becomes extraordinary as we read about the social and domestic mores of a different people in a different time.
In each Baby, The Physics of Imaginary Objects, and Bad Marie, I found that same extraordinary quality–stories that were familiar yet original. In each of these books, the personal, the every day, is used to reveal complexities you might otherwise assume weren't there.
It is easy to sing the praises of a writer like Paula Bomer–she writes beautiful stories that, as I read them, hope will never end. I am an unabashed fan of Paula's writing (and, full disclosure, I am also a friend). Bomer's Baby (Word Riot, December 2010) is a tight collection of ten stories about mothers, children, husbands and wives and the bitterness, or at times, the bittersweetness of what it takes (or is it costs?) to love others. The most interesting thing Bomer does in this collection is reveal a unique perspective on motherhood, one that is complex, touching, sometimes ugly, always brutally honest. All too often motherhood is portrayed in literature in narrow, clichèd ways but the mothers in Baby defy the traditional ways in which motherhood is written into the literary cannon.
Baby opens with "The Mother of His Children," a sad portrait of a sad marriage that inspires mostly pity for both Ted and Laura, a couple who fell into marriage more than they chose the institution for themselves. The husband, Ted, thinks, "Did he love her? This was a subject matter both Ted and Laura found embarrassing. It was something they had in common, this squeamishness about love." In the title story, a mother tries to negotiate her new life as a mother in a city after the first months of mother hood don't quite meet her expectations. "The Second Son" is another outstanding story where a mother tries to make room in her heart for her second child, a heart swollen with affection for her firstborn. In each of the stories in Baby, Bomer negotiates the fine line between depicting disappointing and disappointed people without rendering them overly pathetic. It is a fine balance. If there's a favorite in this collection for me, it is "Homesick," a story about Louisa, an Austrian woman who marries an American, John, and tries to adjust to a new life and a new husband in the American Midwest. The story is sweeping and quite grand but it reads so intimately, I felt like I was sitting in this couple's home, watching them muddle their way through their marriage and John's mental illness and Louisa's loneliness. Ultimately, that's what Bomer does best with her writing–she makes everything she writes about feel so real and yet so very extraordinary. Baby is available for pre-order from Word Riot, and I highly, highly recommend this book.
When I read the chapbook All the Day's Sad Stories by Tina May Hall, which won Caketrain's 2008 chapbook competition,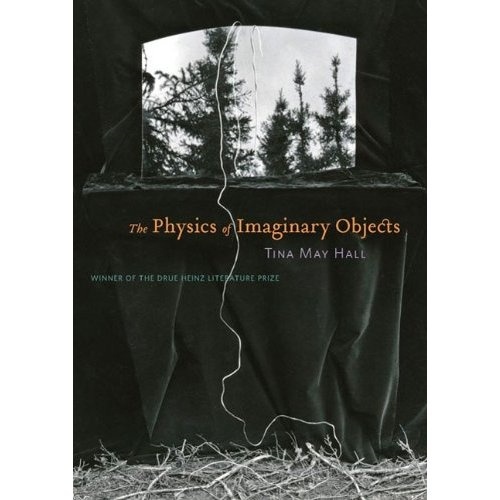 I felt like my eyes had been opened to a level of writing I didn't think was possible. I fall in love with lots of books but there was something about All the Day's Sad Stories that rooted itself somewhere deep inside me because it was the story of a childless couple, Mercy and Jake, who are dealing with infertility and inertia and detachment and connection but there's also a real mystery with random chalkings on their property and there's a touch of infidelity and a touch of marital dishonesty and all of these ordinary elements of a marriage are conveyed with a spare poetry that is quite moving. When I heard that Tina May Hall was going to have a full length collection, which includes the chapbook, I was terribly curious wondering what kinds of stories she would tell and hoping that book could live up to the immense expectations created by her chapbook.
I was not disappointed and my expectations were, in fact not only met but exceeded. The Physics of Imaginary Objects, winner of the 2010 Drue Heinz Prize in Literature, is one of the most breathtaking books you will read this year. The stories are dense and elegant and oftentimes strange but always engaging. Hall is a master sentence crafter. She puts words together in really complex, beautiful ways. She understands using imagery to a story's advantage and I was also impressed by the range of stories in this collection. My favorite is, "Skinny Girls' Constitution and Bylaws," which is whimsical and brutal in its way. The story, told in an unconventional narrative style, begins with the rhythmic sentence, "We will know each other by the way our watches slip from our writs, the bruises on our knees, our winged shoulder blades tenting silk dresses."  It is a story begging to be read aloud as are many of the stories in the collection. I also loved "The Woman Who Fell In Love With a Meteorologist and Stopped the Rain," that builds and builds really nicely. I don't think I've read a more interesting title than, "There is a Factory in Sierra Vista Where Jesus Is Resurrected Every Hour in Hot Plastic and the Stench of Chicken," a story about a road trip and the desert and magic and like so many of Hall's stories, none of those things. It's hard to really talk about this book because as I read each story I was left with a profound sense of awe for the intelligence and grace with which this collection was written. This fine book is available now from the University of Pittsburgh Press.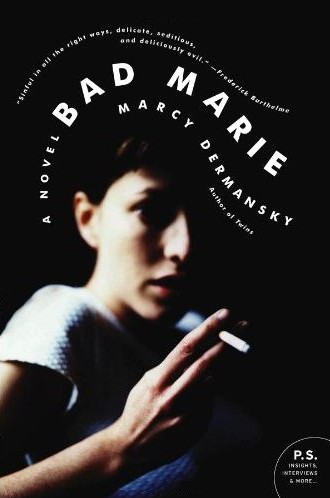 Bad Marie (Harper Perennial, June 2010) is a slim novel (or at least I assume it is; I read it using Kindle) but it is one of the most witty, twisted, and even heartbreaking stories I've read in a long time. It's part French farce, part Greek tragedy. I'm a sort of sick individual so I often enjoy when the "bad guy" gets away. Marie is a sort of sociopath who Dermanksy, one of the smartest writers I've read in recent memory, manages to paint rather sympathetically. As Marie, throughout the novel, justifies the wrong decisions she can't help but make, you easily find yourself going along with her choices, rooting for her, wanting her overcome everything standing in her way. Bad Marie is a woman who recently got out of prison after six years of incarceration. She was in prison for reasons that are never fully explained but at the heart of her crime there was a man, José. There's always a man, isn't there? He's dead and Marie is working as a nanny for her frenemy, Ellen, a woman Marie's mother worked for as a housekeeper when Marie was a child. They have a contentious relationship rooted in a complex history of social inequalities and betrayal. Ellen has a two and a half year old daughter, Caitlin, whom Marie adores, and a French husband, Benoit Doniel, who wrote Virginie at Sea, a book that helped Marie survive prison. Her employment is not an accident. Marie has a plan and it involves Ellen's man because, again, there is always a man. "This was the real reason she was there. Why she had come to New York, arrived on Ellen's doorstep, asking for a job, though she had no idea at the time who Ellen had married. It was why she was naked in the bathtub, her body on display for Benoit Doniel's gaze." The story moves quickly from there and spans across New York City to Paris to Mexico as Marie makes one disastrous decision after another and somehow manages to land on her feet.  The book is tragic and sexy and hilarious and the story itself is expertly paced–I read the book in one sitting and did not want it to end. Bad Marie is about many things but at the heart of the novel, for me, was the story of a woman trying to find a home for herself no matter the cost.
Harper Perennial has generously offered to donate three copies of Bad Marie to HTMLGIANT readers. If you'd like a copy, be one of the first three people to name the best book you've recently read and we will hook you up!
Tags: Marcy Dermansky, paula bomer, Tina May Hall