HTMLGIANT / paula bomer
Adam Robinson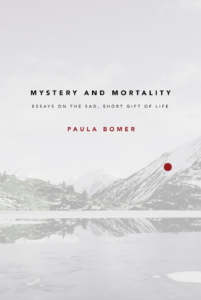 Mystery and Mortality: Essays on the Sad, Short Gift of Life is, as the title says, a collection of essays. In this book, Paula Bomer (author of the powerful and unflinching books Nine Months and Inside Madeline from Soho, and Baby from Word Riot) looks at the work of writers ranging from Tolstoy to Ferrante and Kathy Acker to Brian Allen Carr. She combines her reflections about this literature with her mother's dementia and her father's suicide and, through this, she runs some painful thought experiments about why we are what we are and do what we do.
It's very generous, for a writer to expose so much. It's humbling to publish it.
Here's the first paragraph:
Yesterday, I walked by a mirror and I stopped and looked into it and thought, or maybe said out loud, as I'm prone to talking to myself, being one of those writers who spends far too much time alone, "I am not my mother," repeatedly. Then I walked away.
A few of the 15 essays originally appeared here at HTMLGiant before the turn of the decade, when Paula was a contributor here known as "pr." Some readers might remember her being lauded for all that scholarship on Flannery O'Connor.
There's an introduction by Meg Tuite where she says there's:
no milquetoast in … anything she's written. Straight on ferocity that doesn't reek of the formaldehyde of sodden decorum and martyr-esque, flushed vaginas that pop out babies with a smile and a song. Bomer's work rakes through brutality.
Plus, check out this cool spine:

The book is available now from Publishing Genius, and right now it's still just $10 (+ $3 shipping) through this week.
Author News
/
2 Comments
April 11th, 2017 / 10:32 am
Janice Lee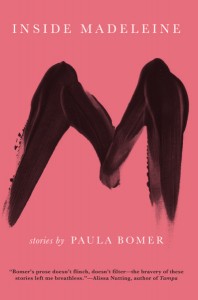 Inside Madeleine
by Paula Bomer
Soho Press, May 2014
272 pages / $16  Buy from Amazon or Soho Press
The stories in Paula Bomer's Inside Madeleine take your hand, tell you a secret, and then burp in your face, giggling. They are honest, playful, and cagey, and the very title of the collection suggests these tonal complexities: while Inside Madeleine refers literally to the various objects one character inserts into her vagina (bars of soap, a rubber ducky, penises), it also suggests something unfiltered, like when a reporter promises to take viewers "inside" an important issue or place. But here, Bomer's mischief arises again, because programs like Inside Edition (or anything that offers the "inside scoop" on the life of a celebrity) are lurid and full of shit. And so the characters in Inside Madeleine are all these things too: playful, unfiltered, lurid, full of shit. At the beginning of the book, a narrator says that women are "supposed to be nice, well behaved things," but, thankfully, nothing is nice and well behaved about Bomer's fiction.
Reviews
/
No Comments
April 28th, 2014 / 10:00 am
Sean Lovelace
11. Paula Bomer book. Mike Young book. Word Riot. Pre-order special ends Dec 1. I reckon you better.
14. From Paper Cuts.
Audience Q: How do you know when you're getting better?

Lorrie Moore: Maybe you don't.

Audience Q: How do you know when you've found the right ending?

One of the Brooklyn guys named Jonathan: Maybe you don't.
5. internet stunts versus blurbs: is there a difference? (Or how do I get Tao Lin's name into this post?)
77. My computer crashed two days ago. Do you back up your writing? How and how many times? Any horror stories like when Hadley lost all of Hem's stories on the train, etc?
Roundup
/
28 Comments
November 22nd, 2010 / 12:27 pm
Roxane Gay
I have enjoyed three really gorgeous books recently–Baby by Paula Bomer, The Physics of Imaginary Objects by Tina May Hall and Bad Marie by Marcy Dermansky. These are books you're very much going to want to read because they are, simply, exceptional.
I love domestic stories. There is an intimacy to them that I find very pleasing because we're allowed to see moments that are terribly personal. Everyday life is always the most interesting to the person living it but there are writers who can take everyday life and make it interesting for anyone. I have discussed, at length, my love for The Little House on the Prairie books and one of the things I loved most about each of those books was how everyday life was made interesting in ways that were always hypnotic. I loved the precise details about home and hearth, the food the Ingalls ate, the bitterness of the cold winters. In the hands of the right writer, a domestic story is more than just a domestic story. Another one of my favorite books is The Age of Innocence by Edith Wharton, another story where the details of domestic life,  elegant and refined, are conveyed meticulously. The ordinary becomes extraordinary as we read about the social and domestic mores of a different people in a different time.
Reviews
/
18 Comments
September 17th, 2010 / 3:40 pm
Nick Antosca
–  Jackie Corley's Word Riot Press, which published Midnight Picnic by me, just announced that they're going to be publishing collections of short stories by the excellent Paula Bomer, former HTMLGIANT contributor and good friend of mine (here's a short story by Paula called "A Galloping Infection") and the excellent Mike Young, editor of NOO Journal and also a good friend of mine (here's a short story by Mike called "Ten Gallon Bucket of Fries").
–  New story by I. Fontana at Spork.
–  I was walking through the grass today and saw a black snake as long as my arm but as thin as a pencil go slithering right in front of me.
–  A huge pink-eyed white cat was yowling under my window at dawn.
–  Did you read Outliers by Malcolm Gladwell?  I read it on a plane.  It made me think I can never be successful.
–  I can't wait to read The Pregnant Widow by Martin Amis.  (Great title.)  I get the feeling most of my literary peers don't like Amis much.
Random
/
44 Comments
December 29th, 2009 / 3:21 pm