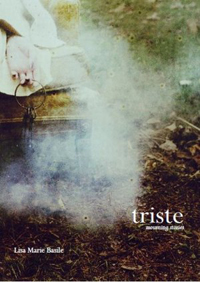 Triste, Mourning Stories
by Lisa Marie Basile
Dancing Girl Press, 2013
30 pages / $7  Buy from Dancing Girl Press
Lisa Marie Basile's chapbook is a collection of persona poems chronicling the loves and losses of a group of mostly women. Basile's writing is sexy and intelligent; these characters live and breathe and fuck. She delves deeply into their psyches, making her poems immediate and real, but also accessible. Grief and longing and love turn her characters' worlds into magic; even little details gain immediacy and meaning. As I read this collection, what stood out was the power of Basile's images, which are often stark and compelling because of their meaningfulness. Basile captures emotion and meaning beautifully through these images. Here is a sampling of images – one line from each page of the collection:
Triste: Redux. Lines from Lisa Marie Basile's Triste, Mourning Stories.
You find in-grown wings within my chest cage. Forget the color of wheat alongside the track. She envisions bodies doing the foxtrot after expiration. He is smooth and pretty like ivory, but false like winter. Once I thought I saw you at the market buying plums. You're always not in the dark, and always not in the light. A small brown mouse runs between my feet.
I am growing your weeds in strange places all over my body. One day, there was an atomic bomb beneath my lawn in a shape vaguely like yours, and digging carefully, I realized to love something is to think you could explode. To me your mouth is a cannon. A worn worm soldier jamming its way into the core of a ripe melon. I weigh myself against the dead; I feel light. I think of summer in the shape of the father.
You are locusts swarming villas & tall gates that haven't swung yet. You smell the love on me like a sick & quarantined village. I had to force my body to love you, with spit in palm. I am the death mask of this old vulture house. The fog couldn't help itself; she came to rouse me. It's not so hard to wake up the underworld; it's not so hard to ram your head into things you miss. Don't you ever stop screaming until someone says they love you.
Make a name for the dark parts of you. The birds, they multiply when no one is looking. Lies. In my bones like bits of beach. They razorblade your last name. My mother's lovers are always watching.
***
CL Bledsoe is the author of ten books. He's been nominated for the Pushcart Prize 8 times, had 2 stories selected as Notable Stories by Story South's Million Writers Award, and has been nominated for Best of the Net twice. He blogs at Murder Your Darlings, http://clbledsoe.blogspot.com
Tags: CL Bledsoe, Lisa Marie Basile, Mourning Stories, Triste