CL Bledsoe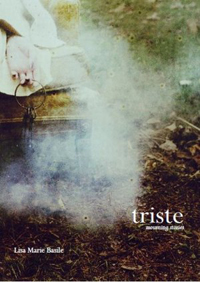 Triste, Mourning Stories
by Lisa Marie Basile
Dancing Girl Press, 2013
30 pages / $7  Buy from Dancing Girl Press
Lisa Marie Basile's chapbook is a collection of persona poems chronicling the loves and losses of a group of mostly women. Basile's writing is sexy and intelligent; these characters live and breathe and fuck. She delves deeply into their psyches, making her poems immediate and real, but also accessible. Grief and longing and love turn her characters' worlds into magic; even little details gain immediacy and meaning. As I read this collection, what stood out was the power of Basile's images, which are often stark and compelling because of their meaningfulness. Basile captures emotion and meaning beautifully through these images. Here is a sampling of images – one line from each page of the collection:
Triste: Redux. Lines from Lisa Marie Basile's Triste, Mourning Stories.
You find in-grown wings within my chest cage. Forget the color of wheat alongside the track. She envisions bodies doing the foxtrot after expiration. He is smooth and pretty like ivory, but false like winter. Once I thought I saw you at the market buying plums. You're always not in the dark, and always not in the light. A small brown mouse runs between my feet.
Comments Off

on Triste: Redux. Lines from Lisa Marie Basile's Triste, Mourning Stories
March 8th, 2013 / 12:00 pm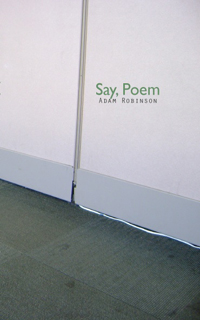 Say Poem
by Adam Robinson
Awesome Machine/Publishing Genius Press, 2010
76 pages / $4  Buy from Publishing Genius
Adam Robinson is one of only four or five writers I know named Adam, but he's the only one with the last name of Robinson. Adam Robinson runs a press named Publishing Genius (the only one named that) and I'm inclined to agree. Robinson has been publishing some pretty awesome writing for the last few years. I've seen him read a few times, and I have to say he's one of the most entertaining readers named Adam I've seen. If he'd take his shirt off, he'd probably be in the top six.
A lot of people use words like "meta" when talking about writing, and it would certainly be appropriate when describing Robinson's Say Poem, except I don't like the word "meta." "Meta" killed my father. It was during a hunting trip in New Jersey. "Meta" said it was an accident; he said he was aiming for a deer. My father looked nothing like a deer. For one thing, he was slightly taller and had fewer legs. For another, he was asleep in his bunk. So instead of using that word, I'll use "George", which was my father's name, to describe Robinson's collection. He would've liked that. The book is very George. Robinson is commenting on the difference between poetry on the page and poetry in the ear in a very George kind of way. The book is split into two sections, two long poems, really: "Say Poem" and "Say Joke". The George-conceit of the first poem is that it is a text of Robinson performing several short poems. It includes often-very-George-commentary, light stage directions, banter Robinson would use, theoretically, between shorter poems within the longer section, either to add context to the poems themselves, or to keep the flow of the collection going. Robinson manages to do this without intruding on the poems too much. My father used to say that it's not what you say it's how you say it. He used to say that, but it's been so long since I've heard it, I don't even remember what his voice sounds like. Isn't that sad? Some of Robinson's poems are sad, too.
Comments Off

on Say Poem
September 21st, 2012 / 12:00 pm