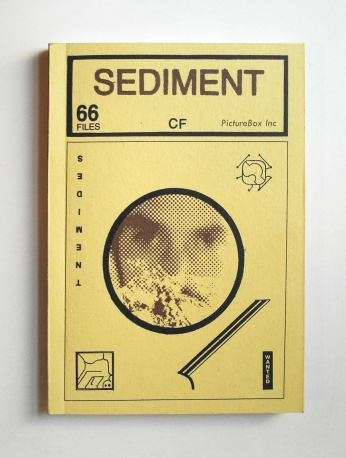 Sediment
by CF
PictureBox, 2011
62 Pages / $30 Buy from PictureBox
CF is one of the few people—successfully, in my opinion—working in comics today with a distinct style that is simultaneously distinctly his (though often copied), while also reminiscent of the historical narrative of comics that came before him; recalling specifically Windsor McCay's work from the beginning of the 20th century, and the multitude of Euro-comics in the 70s and early 80s (think Guido Crepax, Milo Manera or even a primitive Moebius). There's a hint of what could be considered a naïve sense of character proportion, an acute attention to architectural shapes, and an abject ("melting") sort of representation.

Sediment is not a narrative comic in itself. Rather, it's a collection of CF's drawings and paintings that closes with a two-page mini-narrative that casts light on the content of the entire book itself. It's not a sketchbook though; the book is structured thematically, broken down as follows:
"scenes" (tableau with characters within architectural spaces)
characters depicted head-on in abstracted spaces,
a continuation of "scenes," though this time in horizontal alignment
sketchy pages, many various parts on a single page, elements
painted abstraction that perhaps are mattes for scenes
character elements mixed with abstraction
a few more "painted characters"
the final two pages being a short narrative comic, reflecting on the nature/utility of comics
Limited to only 1,000 copies, the book is printed beautifully on water-color paper french folds, and it's really a nice object to hold. The cover maintains CF's idiosyncratic design insistence, and as an art book—a gallery of CF's work—is something to pick up again and again.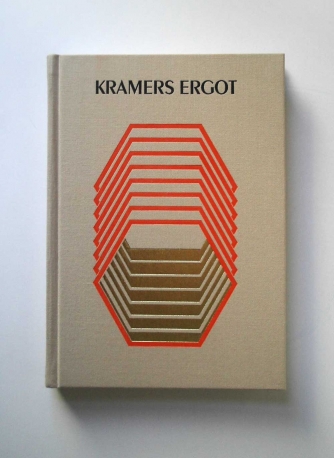 Kramers Ergot 8
ed. by Sammy Harkham
PictureBox, 2012
232 Pages / $32.95 Buy from PictureBox
I've been reading the Kramers Ergot anthologies since the publication of the 5th volume in 2004, and they played an important role in developing my appreciation of the medium. Since I encountered it, I've managed to read all but the first two volumes, but from what I understand I'm not missing much there; the series didn't really 'radicalize' (though it's arguably not as radical as some of the more hyper-contemporary work the "art comics scene" is working on now) until the 6th volume. Ultimately, I'm regularly at least satisfied by the series offering a welcome alternative to other regularly published anthologies like Best American Comics and Fantagraphics' MOME.
While I found the plus-sized Kramers 7 ultimately disappointing due to the fact that the only artist who managed to really make use of the ridiculous size (the book is a 16 by 21 inch hardcover) was Chris Ware, an artist whose work is—well, to be blunt, basically boring, Kramers 8 is most likely the most successful volume yet. Harkham has explained in interviews that the series is less an outlet for new or breakthrough comics artists and more of an exercise in curation, and with this volume there's a consistency across the board of themes—most often a somewhat perverse sexuality, a theme that has found its place in comics since underground comics started in the 60s and 70s.
Not all of the comics are even new, per se, and some of the work cannot even necessarily be considered a "comic," since there is no progression from one panel to another. Non-narrative visual work punctuates the book and helps to pace the book, while 30 or so pages of Wicked Wanda, a camp masterpiece from 70s Penthouse closes it out. Because looking at each comic individually would serve as little more than to illustrate the contents, I've decided that it's best instead to focus on the best work from the anthology.
After a few pages of non-narrative imagery, the book opens with an essay by Ian F. Svenonius titled "Notes on Camp, Part 2," playing off, of course, Susan Sontag's quintessential essay from 1964. The essay serves to both locate the work within the anthology directly into a historical context (launching from the camp culture of pre-Stonewall homosexuals), and is both hyperbolic and brilliant. Even if you're not that interested in comics as a medium, the essay itself is worth a read due to its brilliant contextualization of Warhol's boring pop-art.
Not surprisingly, my favorite work in the entire anthology is CF's "Warm Genetics House." Taking a monochromatic palatte of black, white, and a muted green, the narrative resembles something that could be found in a sort of sci-fi/horror/fantastique film from Europe in the 70s or early 80s. It's weird, hyper-perverse, and ultimately satisfying in the jouissance it draws from twisted events.
As a big fan of the COLD HEAT series, I was also excited to see a new work in collaboration from Frank Santoro and Dash Shaw. The art is beautiful, and the narrative is a fairly 'straightforward' tread of the events that happen in television shows like "To Catch a Predator." It's nothing new in and of itself, but it's a pleasure to read, and Santoro's ultimately prescient understanding of comic-layout is in full force here.
A selection of Takeshi Murata's hyper-real digital art also serves to heighten the tone of the book, looking like illustrations that could be found straight out of Baudrillard, but with more of a camp twist—one rendering contains a T-2 metallic skull, a ceramic bowl (the kind you smoke out of, not eat cereal out of), and an upside copy of Douglas Davis's critical examination of science, technology and art, Art and the Future.
Overall, the entire anthology maintains a sort of perverse, antiquated sense of the fantastique, highlighted by sci-fi elements, crack-pot mysticism, and the ever present sense of camp. A a really terrific volume.
Tags: CF, comix, Dash Shaw, kramers ergot, PictureBox