Impossible Mike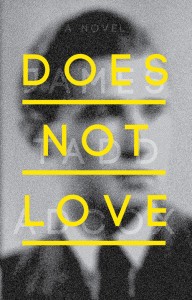 Does Not Love
by James Tadd Adcox
Curbside Splendor Press, 2014
275 Pages / $14.95 Buy from Curbside Splendor
I recently married someone. We drove to Vegas to get married. This is to say, we drove together through the desert.
We drove together through the desert to a city filled with neon signs, designed to distract from the fact that on all sides, the city's surrounded by emptiness.
We drove together through the desert, and we got into an argument. I don't remember what started it, but I remember driving down the strip at 1am, me squinting and crying, him slamming his fist on the wheel.
I looked at him and thought, how did this even start? He looked at me and said something that made the fight feel finished.
I felt an overwhelming warmth. I thought, this is the man that I love and the man I am going to marry. We're staying together through strangeness, and that is what matters.
I also felt an overwhelming corresponding chill. I thought, he could have left me. I too could have left, in a burst of adrenaline.
We could have left each other standing in each other's emptiness. Instead, we stayed together in the desert.
Every marriage is built of moments where two people stayed, but could have left. And all the moments in between. And all the emptiness between them.
*
James Tadd Adcox's novel Does Not Love is a beautiful compendium of these moments within the fictional marriage of Robert and Viola. It is a study of ways that the couple makes meaning—and, trying and failing—attempts to make something. Appropriately, Adcox sets the novel within an alternate reality Indianapolis—a city which, to me, has always felt like something akin to a giant parking lot. Robert and Viola live in a blank space where people put new things. I feel that Does Not Love is about their unease with this space, and what they do to live with that unease.
READ MORE >
I'm very happy with my decision to maintain that silence even while working in the publishing industry. I know a lot of people say that networking is as important for writers as it is for anyone else, but I think that's crap. Writing should stand on its own. Period. I'd hate for friendship to muddy the waters of a publisher's decision to take on my work, even if — especially if — that muddying effect were to work in my favour."
—Jason Hrivnak in conversation with Beth Follett, 2009
Hrivnak has written a single book, The Plight House, which came out in 2009. It's one of my favorites. There is hardly any presence of him on the internet. The quote above pushes an idea that I think is true, and wish that everyone could realize it. It's taken me five years, and sometimes I still doubt its veracity.
Ideally, I'd like to be invisible to my imagined audience. Yes, we live in a world where it's important for the writer to take part in the publicity effort, but I think that The Plight House (and other books like it) work best when the author remains somewhat faceless. In terms of the work itself, I'm reasonably satisfied by the extent to which my desire to disappear has soaked down into the deepest levels of the book. Yes, much of the story is very personal, but that material is so intermixed with pure invention that even readers who know me well won't be able to "find" me there. I'm not invisible, but I'm next-best-thing-to-invisible.
Hi everyone, I'm Impossible Mike, and while it seems like most people aren't aware of it or simply ignore it (which, given the circumstances, I'm more than OK with), I've been a regular HTMLGiant contributor for a little over 4 years.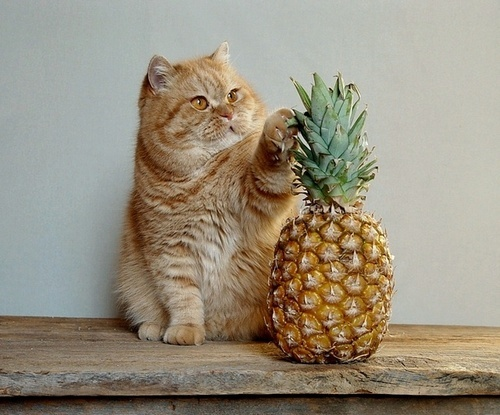 I deleted my Facebook account on the night of my 27th birthday (I'm five months past 28 at this point) and it was the greatest decision I've ever made, but since I still have friends who are on Facebook I occasionally get sent screenshots of stuff that happens there. Tonight a screenshot was shared of I think (though I'm not sure b/c the screenshot is cut off?) Paul Cunningham writing about why HTMLGiant was actually great (since, as I've also been told, there are hordes of people talking about how glad they are to see HTMLGiant disappear), and in the comments Sarah Rose Etter (who I totally love and haven't talked to in like 2 years because I think she deleted her twitter around the same time I deleted my facebook) bemoaned my absence on Facebook. Well Hi Sarah! I'm still not getting back on facebook, but I thought I'd write a naval-gazing journey through my REAL LIFE experiences that were mediated by HTMLGiant since as we've all seen, nobody cares about literature but everyone cares about Alt Lit, so I assume that means that people will care about me talking about myself! I'm also probably not going to edit anything but may or may not delete this post before the whole site ends on October 24th!!!!
So, let's go far back in time to a ~~~~~dark and spooky place~~~~~~~ called 2010.
In 2010 I was drinking too much whiskey in DeKalb, Illinois. I had finished my BFA in photography in 2009 and was sticking around, working at the university I had attended as a HUSKIE PRINTS COORDINATOR, which was a job I got from my best friend/roommate/bandmate which consisted of me supervising student staff, raiding the library for examples of French poetry & literature in translation, printing zines & chapbooks on the University's dime & drinking excessive amounts of iced coffee. When I was not at work I was manically posting on Facebook, doing Yoga and riding a bicycle I had rented from the Uni as often as possible, and writing ferociously. I hadn't had sex in two years, but I mostly didn't care because my life was inexpensive, occasionally satisfying, and mostly fun.
Blake had initially contacted me asking if I wanted to write a guest post about the French horror movie Martyrs because I thought (and still think) it's fucking great, and he didn't like it, but since he had formerly enjoyed my now-very-defunct film website (http://esotikafilm.com) he was interested in my opinion. I still haven't written that post! Wow!
Around the same time I had been chatting with Tim Jones-Yelvington (whom I think I encountered via Dennis Cooper's blog) online, and he invited me to do a reading at the series he ran with Megan Milks in Chicago. I was thrilled! I had never done a reading outside of DeKalb, but I had been in theater in high school and played in about 45 various bands in DeKalb so I was way into the idea. Around the same time, I had entered the scary world of "trying to get my work published in lit journals" because I still suffered the illusion that that had any importance whatsoever! I was trying to figure out "how to be a writer" without attending an MFA program because MFA Programs are fucking stupid!
Now let me qualify: While I still run an Online Lit Journal, I still don't think getting published in lit journals has any sort of careerist importance whatsoever, especially because if you are not an academic or you don't live in New York City you can't be a careerist writer anyway! However, I think it can be important for other reasons! Like community! Community used to mean that you had an opportunity to interact with other people with similar interests and you could hang out with them and help each other with various things, whether interpersonal or art based! Now community seems to just mean "free advertising" or "something to navigate in order to further my career." Boy, things have changed!
It turns out, and because I'm an idiot I hadn't realized this, that the first journal that ever accepted my work for publication, Artifice Magazine, was based in Chicago! Tadd & Rebekah, who ran the journal at the time, are totally awesome people. They came to my reading in Chicago because they lived in Chicago! I met them and they were awesome. They invited me to go on a reading tour to the East Coast and I was ecstatic. "Boy!," I thought, somewhat naively, "all of my friends in DeKalb have gone on tour with their bands, but I've never heard of a reading tour! This is so cool!"
I had started posting somewhat regularly at this point. Jackie Wang was invited to become a contributor at the same time I had, and she seemed awesome to me! (Flashing into the future: I saw Jackie in LA two days ago! It was great to see her! I see her about once or twice a year at this point, and I wish I saw her more) I was excited that I had what seemed like a very important place to post my thoughts on literature in public! Plus it seemed like everybody on the sight ended up getting a book deal, so that was cool! (Note: I have never gotten a "book deal." To be fair I've never really tried because I'm not really a novelist, nor do I write anything that anybody cares about in the slightest)
Going on tour was cool because sometimes when I went to places I had a way to introduce myself because I was an HTMLGiant contributor! I met Adam Robinson and I didn't think he liked me but I didn't really care because I was having so much fun! (Later I would hang out with Adam Robinson more at a couple AWPs, and I think he is a swell dude to hang out with).
I came back from tour totally thrilled about independent literature and totally thrilled about meeting new people. I had no idea what was in store!
Stay tuned for our next installment of CHRONOLOGY…. 2011!
But before we get there, here are my favorite posts I made in 2010:
if some thing black: On Alix & Jacques Roubaud
SILENCE STILL = DEATH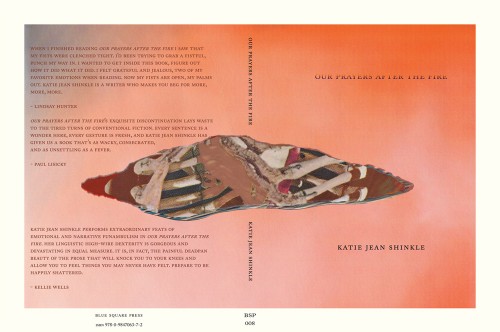 "When I finished reading Our Prayers After the Fire I saw that my fists were clenched tight. I'd been trying to grab a fistful, punch my way in. I wanted to get inside this book, figure out how it did what it did. I felt grateful and jealous, two of my favorite emotions when reading. Now my fists are open, my palms out. Katie Jean Shinkle is a writer who makes you beg for more, more, more."
—Lindsay Hunter
"Our Prayers After the Fire's exquisite discontinuation lays waste to the tired turns of conventional fiction. Every sentence is a wonder here, every gesture is fresh, and Katie Jean Shinkle has given us a book that's as wacky, consecrated, and as unsettling as a fever."
—Paul Lisicky
"Katie Jean Shinkle performs extraordinary feats of emotional and narrative funambulism in Our Prayers After the Fire. Her linguistic high-wire dexterity is gorgeous and devastating in equal measure. It is, in fact, the painful deadpan beauty of the prose that will knock you to your knees and allow you to feel things you may never have felt. Prepare to be happily shattered."
—Kellie Wells
Pre-order now from Blue Square Press.
Another round of catch up, periodically interrupted when I say I'm going to stop wasting time with bullshit and actually watch the legions of "art house" or "experimental" films that I've accumulated over the year. Despite the urge, always end up wanting to watch contemporary horror, something easy and fun about it with occasional surprises. Half of these are probably on Netflix, who knows.
Devil's Due
dir. Matt Bettinelli-Olpin & Tyler Gillett
Found-footage is all the rage right now, but I don't actually mind that because I think it's a totally effective mode of storytelling when it comes to the super-natural–also, it's never really a surprise to consider people filming everything at this point (have you been to a concert lately? more people are watching whoever is performing through their phone-cameras than actually watching the stage itself). I also always love movies that deal with satan/the devil/satanism or some half-baked idea of such. And so, this is fun, though I'm always struck by the hilarity of newlywed heterosexual married couples and how ultimately futile these relationships always are. Invented symbols are also always a plus for me, as it adds a sort of abstracted flair (see also: Paranormal Activity 5: The Marked Ones).
Afflicted
dir. Derek Lee & Chris Prowse
More "found-footage"ish fun with the added bonus of jet-setting with a terminal illness? For what ultimately turns out to be a vampire movie, this is a remarkably interesting take, and avoids the pitfalls that the genre has fallen into over the last 10 years in the US. Also mostly lacking in machismo for a movie which is about "two bros travelling the world," which is great, but the protagonist who is not afflicted is annoying as shit.
Resolution
dir. Justin Benson & Aaron Moorhead
Bizarre movie in the sense that it's part "get you off drugs buddy movie" and part "mysterious unknown forces are controlling some crazy shit and it's fucking with us." But, the absent nature of the unknown forces and their bizarre manifestations that tie into, in a sense, a sort non-linearity of events is interesting enough in concept to make the movie hyper-watchable despite not totally delivering on what's promised.
Dark Touch
dir. Marina de Van
De Van was a director who popped up among the "New French Extremism" micro-movement in the early years of the 2000s with a gore-ridden "Is-it-or-isn't-it-autobiographical" film In My Skin about a woman (played by the director) who becomes increasingly fascinated by self-mutilation after she suffers an accident, and ends with the woman covered in blood staring into the screen, basically (and from what I can remember at least). Dark Touch takes a super-natural approach to the issue of Trauma and child-abuse, which is really interested, but also gets weirdly marred near the end of the film when things are wrapped up a bit too pat. Regardless, this movie is still really interesting and worth watching.
Contracted
dir. Eric England
Fuck this movie.
Here Comes the Devil
dir. Adrián García Bogliano
Pretty terrific Mexican horror movie that plays up, once again, issues of trauma and the difference between the horror of the supernatural (the Devil) and the horror of man (pederasts). Icy cold in its approach (save for a minor scene of presumed-revenge) which is always preferred when it comes to affecting tone. The revelations that come at the end of the film are perfect, in the sense that it doesn't wrap anything up, it's not some bullshit and pointless twist, but actually seethes with a mythological backing that makes the entire trip the film provides really work.
Lost And
by Jeff Griffin
University of Iowa Press, October 2013
174 pages, Buy from Amazon
I've been a big fan of Jeff Griffin's work since he added me on facebook, years ago when I lived in DeKalb, IL and still had an account. I published an excerpt of Luxury Arcana, a collaborative work that Griffin produced with his compatriots Jerimee Bloemeke and Henry Fitch, in an early issue of LIES/ISLE. I became a dedicated fan of Human 500, Griffin & Bloemeke & Finch's press, purchasing everything they put out.
One of my favorite books that Human 500 put out was There's Never Been a Day That Didn't Require Knives Like These (which you can hear Jeff talk about here), which is ostensibly an early version of the beautiful book LOST AND. I read it hung over after I had missed the train leaving Chicago taking me back closer to the shithole of DeKalb, IL which I called home at the time. In the state of being hung over the book carried a heavy affect that resounded through my aching bloodstream. I was astounded by the, perhaps let's say, purity, or maybe even authenticity (though as a friend once said, "Nobody cares about authenticity other than Lorde") that carried the tone of the assemblage. Thick for a chapbook, but totally comprehensive.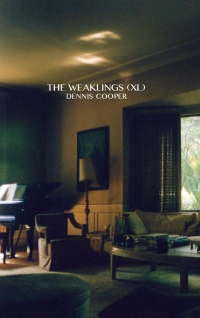 The Weaklings XL
by Dennis Cooper
Sententia Books, 2013
84 pages / $12.95 buy from Sententia Books or Amazon
1. Dennis Cooper's The Weaklings XL repeatedly interrogates three unknowables: the body, desire, and language.
2. Language is eternally indefinite: "You're the / one who fired a gun at his head, so high / on whatever, and so depressed by my / lack of whatever that you were afraid you / might have otherwise not hit the target, / wherever I was at the time."
3. We can never truly know our own bodies, the insides, the way they function. Because of this, one might assume the only way we can ever truly know the idea of a body is through exploration of the body of another. This is akin to Blanchot's conception of death: we can never know our own death, we can only know the death of another.
4. Desire is impossible to ever know, to ever understand, to ever achieve in the sense of a totality. Cooper's poems show how parts of desire can be hinted at in physical altercations, but desire is always immaterial and, thusly, can never be adequately incorporated into an experience.
5. In a suite titled "BOYS2BRELOCATED," a selection of invented "personal ads" by under-age gay (or not gay, because it doesn't really matter) men/boys soliciting sex, 666HEAVYMETAL666, 17 years old, posts the following: "DO YOU REALLY GIVE A CRAP? I'M SCARRED OK." The suite presents a context in which misspelling echoes the reality of the quick-typing mode of the internet, where the reader can imagine these personal ads would be found. However, in a bizarre semantic twist, the context of the typo allows a double reading of the message: "SCARRED" can either be read as it is typed, as "scarred," as in wounded, damaged or affected, or it could be taken as a misspelling of "scared," as in frightened, terrified. This dynamic back-and-forth is all the context any of the personal ads need.
6. Before recent years Dennis Cooper was mostly known as a transgressive writer who was obsessed with writing about the sexual murders of young boys. This is his content. The success of his writing is dependent upon this obsession: it's not literal (as in, I don't think the claim could be made that Dennis Cooper the person is interested in murdering a young boy in a sexual context), but it's the guiding force of the work. It's a metonymic mode that allows a total and occasionally exhausting exploration of the indefinite nature of language, desire, and the body.
7. Somehow in recent years the content of Cooper's work has been "white-washed" and the focus has turned onto his ability to construct sentences. Dennis Cooper is a brilliant prose stylist, and at the level of the sentence is work is amazing. This is demonstrated throughout all his work, I think; the poems here, all of the novels, his work in theater. However, I think ignoring the obsessive thematics of the work is doing the work a disservice. It strikes me as a sort of intellectualization that would position the work as some sort of purely intellectual art. Cooper is a brilliant writer who demonstrates remarkable intellect, but I think to read the sentences while ignoring the content would be a futile gesture. Language and the body, language and desire, these things are all linked.
8. Bernard Noël's early career as a poet consisted of works that interrogated the relation of language to the body. This often resulted in the work carrying on into dark places. As a poet, I think Noël's work is far stronger in its interrogation of the body/language divide, and much more accomplished. However, nobody reads Bernard Noël, especially not American audiences, as very little of the early poetry is available in English, and what is available is in no way easy to come by. In opposition, however, Cooper's novels are far more accomplished than Noël's single 'straight-forward' novel, The Castle of Communion.
9. Cooper's poetry, while less formally/visually interesting or experimental than his novels, strips the words to the core of the problem that is often present in the novels: how can one mete language with desire, with the body.
10. In the annals of juvenile "trying to out-gross" one another, I remember hearing a "joke."
"What's the best thing about having sex with a twelve year old girl in the shower?"
"…"
"Slick her hair back and she looks like an eight year old boy."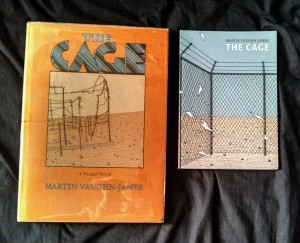 The Cage
By Martin Vaughn-James
Coach House Books, November 2013
192 pages / Buy from Coach House Books
In November of this year, Coach House Books released a new edition of their seminal 1975 graphic work, Martin Vaughn-James's The Cage. When I found this out, I was astounded. I'd been singing the praises of The Cage for years, recognizing it not only as one of the most important (and accomplished) work of graphic fiction ever created, but also insisting upon it being one of the greatest books every produced. Upon its initial publication, there were only 1500 printed copies; beautiful over-sized hardbacks with heavy brown paper inside. The book is a monolith, an object. Just the visual presence matches the title: The Cage, the book, the volume, holds something inside, much as a cage does.
I discovered the book from Richard Kostelanetz's Dictionary of The Avant-Gardes, a resource that I read from cover to cover, taking note, over the course of the several months I spent reading it, on everything I wanted to learn more about, to discover. And then I spent several months following up on everything I had noted, often not remembering anything about why I had noted a book title or an artist's name down. I worked in a library at the time, so I would just request anything from Inter-Library-Loan that we didn't have on our shelves. It was through this process that Martin Vaughn-James's book came into my life.
I took it home from work and blew through it, realizing that it was doing something heavy, something that I had long wanted the comic form to do, to work with narratives in ways similar to, say, Alain Robbe-Grillet or concrete poets had done, but to make use both of words & images, sequencing and panel development: to open up the tools available to a visual artist who also has a poetic bent. The book accomplishes so much, and I soon became obsessed. I read the book several times while I had it, and then checked it out several more times throughout the year. I desperately wanted to photocopy it (as copies available online were far too expensive) so I could always have it with me, but the book was too big to reasonably photocopy into a facsimile-ish form. I tacked down the three other primarily graphic works from Vaughn-James, again through inter-library loan, and marveled at their contents, but knew that The Cage was his masterpiece. Eventually a copy popped up on the internet for a prize I could sort of afford, so I jumped at it and the book joined my possessions.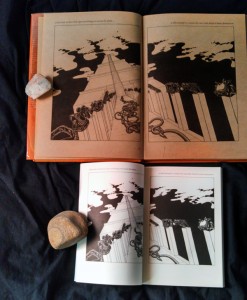 To publish this book again in 2013 strikes me as no inconsiderable feat–while comics have certainly gained a larger presence as a "true literary form" (or whatever) by now, most of the dreck that people applaud is, of course, parallel to the novel, "realistic," though told with pictures in addition to dialog. The Cage takes the height of the 70's delirious experimentation with form and content, and pushes it into something that, even now, speaks as something new.
As such, I'm pleased to now revisit the work, in two parts. First I will comment upon the initial 1975 release, that is virtually impossible to come by outside of the library at this point, and second, I will consider the reprint, which offers both new front-matter & back-matter, as well as a formally different content, comparing and contrasting the two.
A Note: All photos included in this post were taken on my cellphone and do not necessarily reflect either the colors or the image quality of the printed books themselves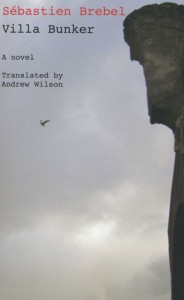 Villa Bunker
by Sébastien Brebel
Dalkey Archive, July 1st 2013
102 Pages / $14.00 Buy from Amazon
The copy of Villa Bunker, offered both on the Dalkey Archive website and the back of the book itself, presents the narrative contained within as follows:
The narrator of Villa Bunker receives letters, dozens of them, sent by his mother from an isolated seaside villa. These letters recount his parents' troubles in this uninhabitable house, which will soon become a kind of labyrinth haunted by memories and long-buried emotions. At first the narrator's parents are worried about the villa's physical deterioration, but soon their own psychological deterioration will become the focus of their tale. Is their madness due to the villa's aberrant architecture? Is its isolated location to blame? Or were they mad all along? The narrator is left to piece together the clues, in turn falling prey to a villa of his own imagination, which like memory and time is in a state of constant metamorphosis.
This piqued my interest, as someone, purely on a level of narrative and story, finds himself remarkably interested in labyrinthine houses. A blurb for the book, from Fabrice Lardreau, calls the book "an unexpected cross between Danielewski's House of Leaves and Robbe-Grillet's geometric and obsessional universe in Jealousy." Between the copy and this blurb, I was convinced I wanted, if not needed to read it. Besides, as someone who is perpetually interested in French fiction, I'm always curious to read more of the contemporary authors that clearly work in a lineage descended from my favorites, like the new-novelists & the post-Tel Quel novelists.
Reading the novel, I found myself more than satisfied, though perhaps not in the way I had expected. There is a shifting spatial element to the villa, recorded by the mother in her letters to her absent son, that certainly recalls the inner-narrative of "The Navidson Record" found in Danielewski's tomb. There is, also, an almost fetishistic level of attention, at time, to minutiae, that certainly recalls Robbe-Grillet. But overall, the extent of these comparisons end at a surface level, leaving the very strange text to move like an abject music score—though not through any formal techniques, but rather through the construction of the narrative itself.
READ MORE >
Starring Dorothy Tunnell (our starlette) & Janey Smith (the man in the hallway)
Shot at 851: The Squat
Shot for the book BTW by Jarett Kobek, available from Penny-Ante Press (or from Amazon)