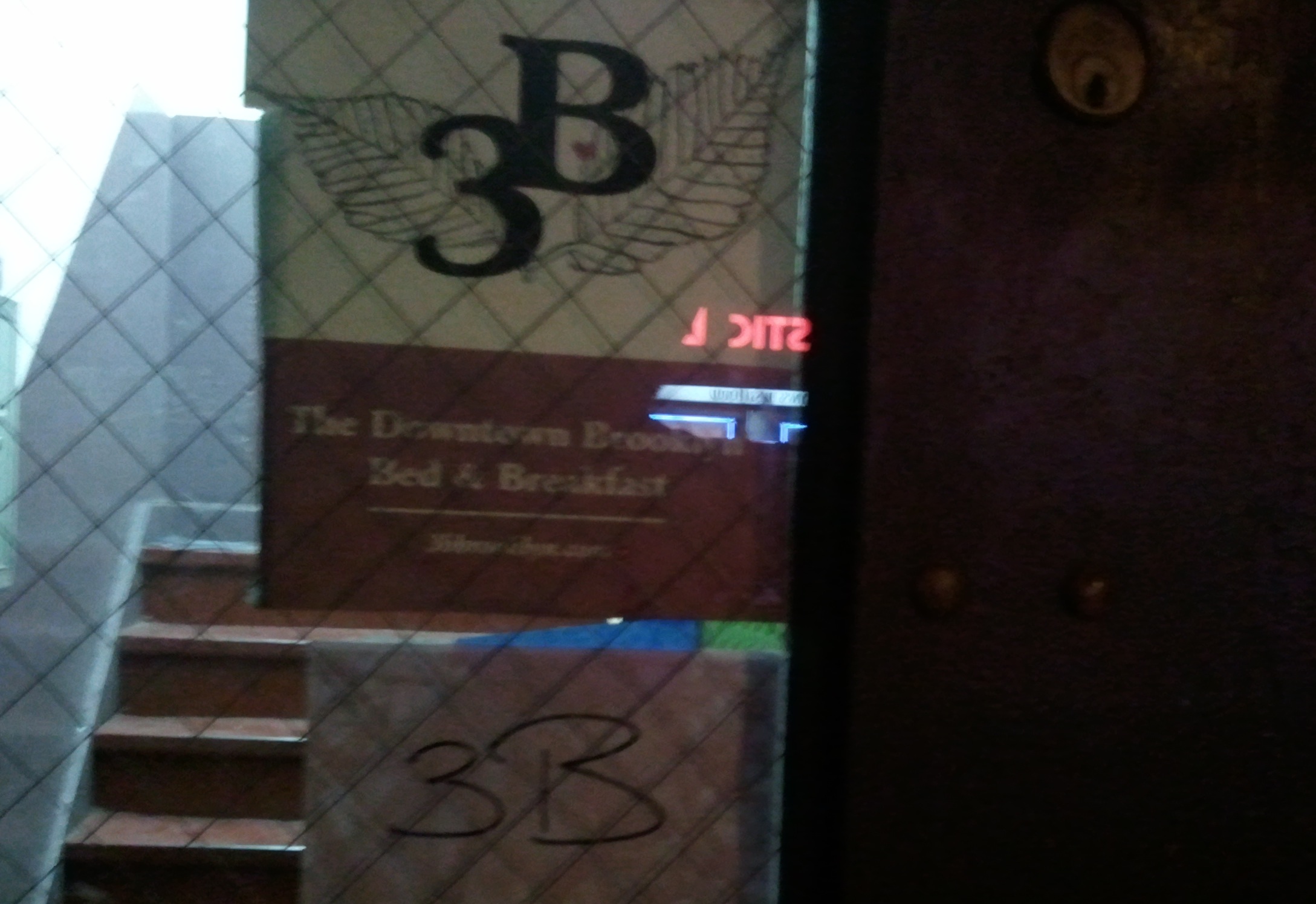 After college John Woods navigated a hectic maze of streets in downtown Brooklyn and dropped me in front of a fried food restaurant. He said, "Where is it," and I pointed to a little sign in the corner of a window that said, simply, "3B." I called a number someone named Matt had emailed me earlier in the day and was relieved to hear (your htmlgiant friend and mine) Catherine Lacey pick up. Into the phone she said, "3B Bed and Breakfast, this is Catherine." I liked hearing a young person say something professional. It's about time I got some respect around here. Catherine came down and let me in. John drove away, like my mom.
Catherine showed me up three flights of stairs into a brightly lit hallway with a magenta floor and tall white walls. She opened another door saying, "This is your room. I think you're the only person in here tonight." I had booked a room with four bunks, so I might have ended up with three roommates. For the gamble I paid $40. I could have reserved a single for $120, but I also could have stayed at John's house, or my ballin' friend Joe's. I guess I was just going for the middle path. Anyway, exhausted from a long day telling college students about how poetry doesn't mean anything if you don't want it to, I was relieved to have the bunkroom to myself.
I asked Catherine how's it all going. Business is good. They've been selling rooms pretty well. A well-known writer has stayed here (someone famouser than me). One time they had to kick a guy out for being crazy. People who stay here are usually on vacation so they get drunk. February was a little slow, she said, but I believe that's the natural wane of travel. All-in-all, I got the feeling that the B&B — a ballsy endeavor — was having a good go.
3B is run by a group of eight young friends, each person with a job like accounting, hospitality, or decorating. Catherine is the food orderer. She said she's getting that pretty standardized now. I imagine it would be challenging because what if no one wants breakfast? Breakfast is included in the stay. Catherine showed me the kitchen, which is nice. There's a toaster and a coffee maker and a dishwasher and a fridge and a stove and a swinging door. It's in the community room. In the community room there's a big iMac that she said I could use, but I'm not an idiot. I travel with my laptop and count on free wifi. 3B provides that. So far everything in 3B seemed like a hostel, except for the breakfast being included part. So I asked Catherine if I could see the other rooms.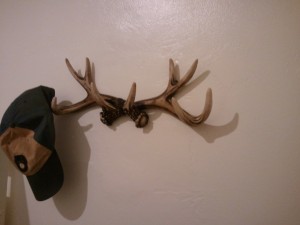 The other rooms are — okay I don't care I'll say it — gorgeous. There was someone in the double so we bypassed it, but I kind of wished I'd laid out for one of the two single rooms, because they are spacious and airy and have big windows. The beds in their white downy comforters look expansive. The traditional hardwood floors give the place a sense of crisp cleanliness. The furnishings are handsome. Catherine said the person in charge of decorating will spend an entire day finding just the right piece. While she spoke she stretched an accordion lamp out from the wall to show how it can reach optimal reading spots. And while the bedding (and mattresses perhaps) aren't any fancier than Ikea, the mirrors and pictures and desks and antler coathooks all come together to create a deliberate and wholesome atmosphere. And that's not to mention the general cleanliness of the place. It would pass the white glove test, no sweat. In fact, 3B might be a bit too sterile, like an Operating Room, but I think that's kind of the name of the game in this heavily-Euro-influenced-hospitality design phase. And for my money, the considered sterility goes a long way when I have to entrust my laptop to a friendly enterprise while I run out for dinner. Cleanliness is next to crime-freeness.
And 3B makes running out for dinner easy. There was a photocopied pamphlet in my room that details the area's restaurants, shops and attractions. The annotated list of options makes me feel like I'm in-the-know. It's a nice touch, classier than the pizza delivery flyers you'll find at a motel, and more personable and loving than the Hilton's room service menus. I chose to eat at Wild Ginger, a vegan restaurant about a five minute walk through downtown Brooklyn's unattractive streets, and was not disappointed. It's a quiet, well-designed place with a hip menu. I ate the "Mango Soy Protein" and felt invigorated.
My bunkbed provided a comfortable night of sleep. I didn't hear any other guests in the hallway, though at one point someone peeked into my room thinking, perhaps, that it was the bathroom. I woke at 7:30 and by that time there was already someone in the place's one shower. These accommodations are the one place where 3B falls short; there's one bathroom with a shower and another 1/2 bathroom. That's not great, but with a maximum occupancy of 12 or so guests, it's also not terribly dire. And, it should be noted, the shower is very large, so it wouldn't be hard to, uh, conserve water with a loved one.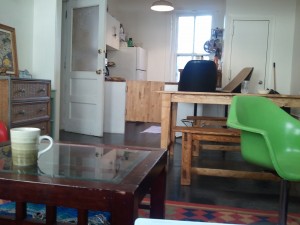 Breakfast in the morning was a fresh goat cheese frittata with asparagus and strong, good coffee. There were five other people eating, and I think they were French. An elderly lady said "monsieur" a lot. Dave was the cook and a friendly guy. He built out the kitchen, he told me as he loaded the dishwasher. He does a lot of the cooking, which he likes because it gets him out of bed. After I ate, Dave showed me the best way to get to the Chapbook Festival. Then he went to a meeting and I went and wrote this and that was My Night of Ecstasy at 3B, the Downtown Brooklyn Bed and Breakfast. Recommended.
Tags: 3b brooklyn, catherine lacey