October 3rd, 2010 / 4:22 pm
Roundup
Roxane Gay
A Brief MFA Discussion Round Up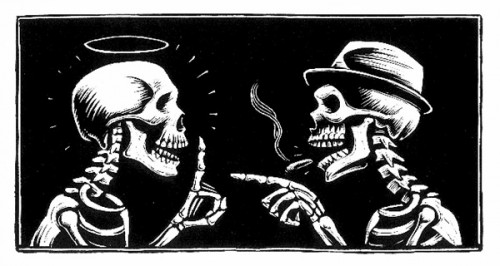 This weekend I spent some time thinking about how much people love talking about MFAs, what they're good for, who should get one, why they're terrible, how much they cost, why they're wonderful and on and on and on. I never imagined that a college degree could generate so much vigorous discussion. I love it.
At The Rumpus, Anelise Chen wrote an essay about the MFA Ponzi Scheme. It's a great, witty essay that makes good, if not commonsensical points. The comments are pretty intense with all kinds of opinions being shared about the MFA with a great deal of cost/benefit analysis. I love when writers get all math-y. I don't have much of an opinion on MFAs. I do not have one. I do believe one should never pay for graduate school but that a graduate education is awesome. There are worse things someone could spend their money on, like drugs, though for some, that might be something better to spend their money on.  I don't judge.
In the London Review of Books, Elif Batuman wrote nearly 8,500 words about creative writing programs. The essay was damn good but a bit (very) condescending. It was, supposedly, a book review, but really it was an opportunity to talk about MFA programs and their utility in a pretty narrow way. With a title like, "Get a Real Degree," you can guess what stance she adopted. Writers with PhDs do love to talk about why they chose that degree over the MFA which is, lest you forget, also a terminal degree. I had a chuckle when she made it clear that she chose the PhD over the MFA.
Lincoln Michel responded, eloquently, as he is so often wont to do. I pretended he was the Leave Britney Alone guy, tearfully shouting, "Leave MFAs alone." Let me not be flippant. His response bring up some really good points. Adam Wilson also had thoughts on Batuman's essay. So does Andrew Seal. Mark McGurl, who wrote the book Batuman reviews in the original essay, also spoke up.
Not all discussions about MFAs are serious. This guy will tell you how to be an MFA student, tongue firmly in cheek.
A Columbia MFA professor wrote a delightful letter to her former comrades at the University of South Carolina about the wonders of the literary life beneath the bright lights of the big city. Seth Abramsom was all, "that woman is telling tales." Girrrrrrl! Oh snap!
How much do we love the Internet, though? Honestly, best thing ever.
In other news though, that lady whose hands appear on the cover of Twilight, well she wants a piece of the vampire action. The world continues to turn.
Tags: Elif Batuman, MFA, The Rumpus, Twilight
27 Comments