Adam Gallari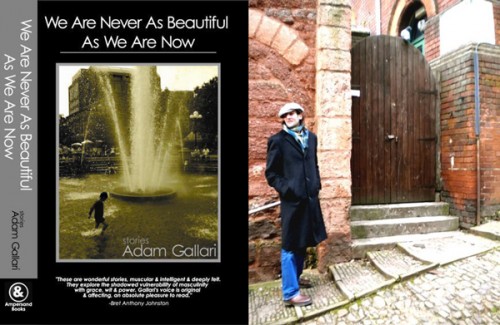 Adam Gallari is an American ex-pat currently working on a novel and pursuing a PhD at the University of Exeter. His essays and fiction have appeared in or are forthcoming from numerous outlets, including The Quarterly Conversation, Fifth Wednesday Journal, therumpus.net, TheMillions.com, anderbo.com and The MacGuffin. I recently read his muted but elegant debut short story collection, We Are Never As Beautiful We Are Now, and talked with Adam about his writing,  living and studying abroad, baseball and much much more. Meet Adam Gallari.
You're pursuing your Ph.D. in England. What compelled you to head across the Atlantic to continue your higher education? What are you studying? What's Exeter like? Have you adopted a British accent? Is the writer's life different in England?
For as long as I can remember, I've been in love with European culture and history and literature. There's so much to explore in it, and there's a great weight that informs it. I've always wanted to find a way to live either on the continent or the British Isles for a protracted period of time to be able to immerse myself in everything, and after I returned to American from Germany to get my masters I figured the first chance I had to go back there I would. A PhD seemed like the next logical step for me as far as my "career" was concerned, so I tried to combine the two and so far it's managed to work out.
As far as the PhD, I'm pursuing it in English and currently trying to narrow down my dissertation, but at the moment it's tending towards an exploration of the works of the Norwegian Novelist Per Petterson in the greater context of American work. His protagonists many to be both existentialist and realist at the same time; I'd compare it to Hemingway's Jake Barnes, but I think that ultimately that's too much of a simplification of the whole thing.