akashic books
The Jesus Lizard Book
by The Jesus Lizard
Akashic Books, March 2014
176 pages / $29.95  Buy from Amazon or Akashic Books
The Jesus Lizard was the greatest live band ever. This is a sentiment echoed again and again and again in this lovingly crafted hardcover from Akashic Books. Book is filled with testimony from fans, critics, and fellow musicians alike, all trying to articulate the ineffable experience of seeing TJL take the stage, pick up their instruments, and promptly destroy the place.
And they're not wrong. I saw the band in the first of three final homecoming shows in Chicago during their 2009 reunion tour. Though I was stoked to see the band, in many ways I was mentally preparing myself to be let down, wondering if I'd maybe spoiled the intimate quality of what they offered by seeing it unfold in what was probably hundreds of youtube clips for the preceding three years I'd been listening to them. Not only that, but they were old—like they were in their late forties old, and so nobody could fault them if they fell short of previous glory.
But—fuck me—I had absolutely no idea what I was getting myself into. The guys got on stage, drummer Mac McNeilly cracked his sticks, and within the first verse of the song David Yow was swimming over our heads in a gaudy red button-down and jeans, cowboy boots flailing above us as he shouted, "Give me something to stop the bleeding, cuz I'm fittin to blow. Knock her down the stairwell and kick her. I think you can take her."
From there it became increasingly clear as the band bruised us with their set list—dark, pernicious, brutal fucking songs—and as Yow took down tallboy after tallboy of Budweiser, you really had no idea what was going to happen. My friend Kurt said he'd stopped making eye contact with Yow after the second song, afraid he was going to slink or slobber or scream his way over and have a laugh at his expense. This wasn't unwarranted: near the last third of the show, Yow, by this point drenched in sweat and his own foamy vomit, steadied himself on the gate in front of Kurt's sister and leaned over, gently, but firmly, placing his open palm over her nose and mouth and holding it there, mouthing the words, "I'm so sorry" over and over again with crossed eyes. The bouncer lifted him off of her and plopped him back on stage, coming back over to ask, "Are you okay?"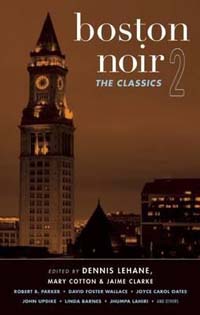 Boston Noir 2: The Classics
Edited by Dennis Lehane, Mary Cotton & Jaime Clarke
Akashic Books, 2012
288 pages / Paperback $15.95; Hardcover $24.95
Buy from Akashic Books or Amazon
I dare you to find a better time to revisit noir. Exit-strategying the Middle East, clawing out of near-Depression, facing post-war fears of foreign threats, the parallels to the Fifties bares a bright opportunity to revisit its definitive form of American Escapism.  And if there was a book to revisit this escapism, it's Akashic's new Boston Noir 2: The Classics.
Since 2004, Akashic has been producing original noir anthologies set in specific cities—Brooklyn, Baghdad, San Francisco, St. Petersburg. Dennis Lehane (Gone, Baby, Gone, Shutter Island, Mystic River) returns to co-edit along with Mary Cotton and Jaime Clarke (Post Road Magazine, No Near Exit) to bring a decadent compilation of stories and novel excerpts that open the noir genre with a rib-spreader and poke it with a knife.
Several books in the long-running series are subtitled: The Classics. Unlike sequels, these books serve as post-prequels, uncovering origins while mapping evolution. The objective is clearly summed up by the editors in the introduction: 
"Noir alludes to crime, sure, but it also evokes bleak elements, danger, tragedy, sleaze, all of which is best represented by its root French definition: black."