Columbia University Press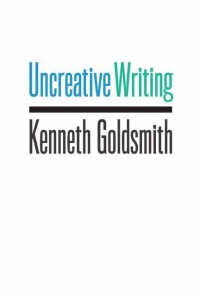 Uncreative Writing
by Kenneth Goldsmith
Columbia University Press, 2011
272 pages / $23.95 buy from Columbia UP
1. Uncreative writing is situating. A détournement. A patchwriting. Goldsmith: "context is the new content."
2. A portrait of Stéphane Mallarmé with "A Throw of the Dice" inserted three times: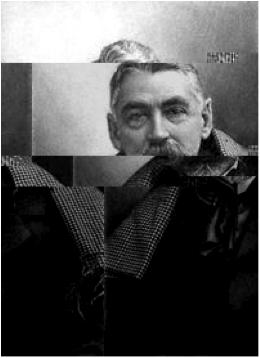 3. Uncreative writing is language as pure material. Quantity over quality. The digital-age inheritor of Stein, Concrete Poetry, Mallarmé, Herbert, Apollinaire, and L=A=N=G=U=A=G=E. It sees the internet as language abundant, language swim, all text thrum. Goldsmith: "What we take to be graphics, sounds, and motion in our screen world is merely a thin skin under which resides miles and miles of language."
4. Much of what Goldsmith says uncreative writing is is stuff I already know. Through Flarf, through FC2 and Les Figues Press, through Goldsmith's own work like Day or Traffic or Sports, through Walter Benjamin and Gertrude Stein and Vanessa Place, through this blog, through Ron Silliman's blog, through David Markson, through any number of conceptual writers working today.
If you're familiar with these things too, you'll nod your head and move along through a number of the early essays here. If you're not familiar with these things, this book's a solid place to begin.
5. But I'm not sure Goldsmith thinks he's saying anything radically new with these essays as much as he's articulating (again) a stance toward language that should be obvious to anyone writing, but still, for some reason, isn't.
A sense of perplexity—maybe even frustration—about a large segment of contemporary writing runs through the early essays here.
Goldsmith wonders: What happened that made most 20th and 21st-century writers miss the work of Duchamp, LeWitt, and Warhol? Why did conceptualism take off so readily in the visual arts and not in the literary? What is taking writing so long to mine the possibilities of the conceptual text? What's with all the holdover from literary Romanticism? The stuff about genius? The stuff about ego and originality? All that stuff about having a voice?
Still worthwhile questions.
6. Here's Goldsmith's annotated copy of Charles Bernstein's "Lift Off," a piece of uncreative writing Bernstein built by transcribing the characters from the correction tape of his manual typewriter.
Here's a recording of Goldsmith performing it.
I like this poem because it's hard to see it being made today. I like this poem because of its impossibility.
And I like Goldsmith's performance of it because, even with all that, he shows how the thing's still legible.
7. When's the last time you typed another writer's story word for word?
8. Picasso's Portrait of Gertrude Stein with excerpts from The Making of Americans inserted: READ MORE >