Dear Editor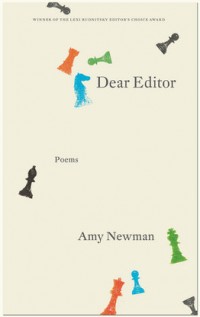 Dear Editor
by Amy Newman
Persea Books, 2011
80 pages / $15.00 buy from Powell's
1. Dear Editor contains cover letters from Amy Newman to an unnamed editor or editors, spread across three seasons. Most of the letters follow the typical format of writer correspondence, beginning with the word "please."
2. Writers are expected to treat editors with professional respect, particularly if that magazines ends with the word Review.
3. The pejorative connotations of the word "submission" have been investigated elsewhere, but Newman revises the process. Submission is a form of prayer. Waiting occurs.
4. Writers need editors. Editors need writers. Some people are both.
5. The manuscript being submitted is titled X = Pawn Capture.
6. Newman does not include any direct poems from this hypothetical collection, and for good reason: the project is contextualized, not concrete. The collection appears to be "a lyrical study of chess," or not.
7. Saints appear throughout Dear Editor.
8. Saints are abnormal. Such is their beauty.
9. Some saints who appear in this book: Saint Berry (not real), Saint Lucy (real, but the letter writer's grandmother claimed that, on her wedding day, "Lucy came in and winked behind the altar, stuck out her tongue"). St. Brigid of Ireland. "Isn't faith a kind of belief that is never satisfied?" Euphrosyne.
10. Is the letter writer Amy Newman? Amy Newman signs the letters. Her name is on the front of the book. READ MORE >