Edmundo Desnoes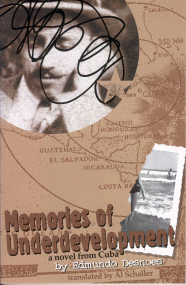 Memories of Underdevelopment
by Edmundo Desnoes, translated by Al Schaller
Latin American Literary Review Press, 2004
110 pages / $15.00 buy from LALRP
1. Memorias del subdesarrollo. Or call it Inconsolable Memories, which shows up in the subtitles of Tomás Gutiérrez Alea's film adaptation, and is itself a wish taken from Hiroshima, Mon Amour, one of the narrator's favorite movies. J'ai désiré avoir l'inconsolable mémoire.
2. I've looked up "underdevelopment" in the dictionary twenty times since seeing the film and reading the book. I'm waiting for the definition to say: a better word for this word is subdesarrollo.
3. The film was shown during Revolution in the Air: The Long Sixties.
4. The longer the 60s, the shorter the 50s and 70s.
5. We're talking about how to get to Cuba the way our grandparents talked about how to get to the suburbs and their parents wondered how to get west. "I already know the United States, but what will happen here is a mystery to me."
6. The author photo shows Edmundo Desnoes with full white beard, pipe in mouth, arms over his head in a pose of relaxation, not surrender. "The first responsibility of a writer is to survive."
7. Reading books after seeing the movie. I made this mistake with The Firm. Even though I find Jeanne Tripplehorn attractive, and love typing out her name, Abby McDeere is shapelier on the page.
8. The novel's first person antihero, Sergio Malabre, has less poise/élan than a Grisham creation (or Tao Lin) and believes himself, like so many first persons, to be the last man. He's not a drinker but there's probably something wrong with his liver. With his wife and family off to America he decides to stay in Cuba, an island he calls a trap, and to live amongst a revolution he calls a tragedy. On a crowded bus he feels like slime. "I am 39 years old and already an old man. I feel stupid. More rotten than mature." The theme of rottenness in Memories of Underdevelopment is slightly less romantic than DeLillo's "apple core going sepia" at the close of Underworld. Sergio, our rotten and rotting antihero, is play acting through the period drama of the future. His actual life is something Donald Draper will make a Park Avenue Sad Face about. He does not want what he wants. He does not want the historical anchors his country offers him. In protest, he removes the timestamps from his journal midway through the novel because he believes dates are meaningless. July 26, 1953. April 17, 1961. October 14, 1962. He's a cultured, good-looking, overripe intellectual educated in New York and Paris (he's done the 90 miles; no matter how far away it is, it's always the 90 miles) who wants to know less, who wants to be stupider. #bayofpigs #Octobercrisis #CMC #gameofchicken.
9. As self-aware as Ben Lerner's cipher in Leaving the Atocha Station, who, following the 2004 Madrid bombings, finds the air alive "less with the excitement of a period than with the excitement of periodization."
10. Sergio, on a walk through the Hemingway house museum: "Americans have an artificial smell, and the Russians stink." READ MORE >