Eternity by the Stars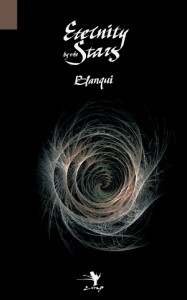 Eternity by the Stars: An Astronomical Hypothesis
by Louis-Auguste Blanqui
Translated by Frank Chouraqui
Contra Mundum Press
202 pages / $20  Buy from Amazon or Contra Mundum
Eternity is a concept rather dubiously tough to wrap the mind around. Throw in the idea of duplicate worlds and simultaneous events with differing end results, replicating yet infinitely fracturing the day-to-day reality we recognize as "the real," and the average reader's head begins to spin. While these matters are not always tidily handled within Louis-Auguste Blanqui's Eternity by the Stars they are dealt with utilizing a fair amount of pith.
Blanqui after all was a ubiquitously engaged nineteenth century French revolutionary thinker and "man of action" who wrote this book from May to November of 1871 while under constant threat of armed guard in a heavily fortified jail on a small, rocky island just off the coast of Morlaix where waters of the English Channel mix with the Atlantic Ocean.
Translator Frank Chouraqui's introduction provides orientation concerning the biographical details behind Blanqui's work while also marvelously untangling some of the thornier scientific scenarios presented in his argument. There are two key scientific authors whose work and ideas Blanqui cites, often contentiously: Pierre-Simon Laplace and Francois Arago. Chouraqui irons out the creases in Blanqui's presentation of each author's argument in relation to his own.
The science passages in Blanqui's text are among the most challenging material for unfamiliar readers. Having Chouraqui's lengthy introduction to refer back to along with the endnotes he provides to the text are of enormous assistance, as is his extrapolation upon the clear relevance of Blanqui's writing to the work of Walter Benjamin, Jorge Luis Borges, and Friedrich Nietzsche.
In and out of trouble with French authorities most of his adult life, Blanqui fought his way through numerous ups and downs accompanying several frequent changeovers within the government throughout his lifetime. These were a series of political changeovers which both in his writings and actions he did his best to ferment. Imprisoned inside Fort du Taureau (Castle of the Bull) Blanqui conceived of and wrote Eternity by the Stars while awaiting his trial, insisting that the text was an integral part of his defense.
Chouraqui describes how, locked up in the island prison, "Blanqui found himself surrounded by a world of repetition." Confronted by such a situation, Blanqui laid out an argument for the prevailing destiny of everything in the universe that would serve to counter the frustration he felt, as Chouraqui describes it: "The main claim of Eternity by the Stars is that the discrepancy between a limited — albeit great — number of possible events and the infinity of time and space necessitate the infinite repetition of all possible events."