ethan ryan
When I was a kid I made up a superhero named Dr. Power. He wore a blue costume, carried a purple Frisbee not unlike Captain America's shield, and whatever powers he possessed were derivative of whatever comic books I'd been reading at the time.
Drawing Dr. Power wasn't enough. I wanted to be him. My mom encouraged my eight-year-old fantasy by making me a handsome cape out of blue velvet, and I made my own mask out of paper-mache. The mask sucked, it was thick and heavy and weird-smelling, and I could barely see anything out of the eye holes, but I thought it looked pretty cool.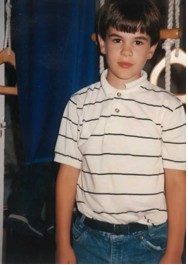 For some reason it was important that my friends believed Dr. Power was real, and not just my super alter ego. So I had my brother take a picture of me standing next to Dr. Power while Dr. Power did pull-ups in our bedroom doorway. See, that's the best you could get with Dr. Power, because he didn't have time for photo shoots. He had to stay fit. Eveready. You never know when your next deranged enemy will come busting through the wall.