Fjords Vol. 1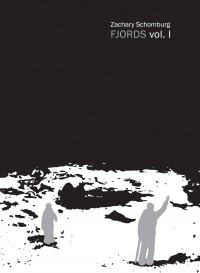 Fjords Vol. 1
by Zachary Schomburg
Black Ocean, 2012
72 pages / $14.95 buy from Black Ocean
1. Fjords Vol. 1 is something I could have read in a few hours—easy.
2. It took me 17 days to read Fjords Vol. 1 all the way thru.
3. Fjords Vol. 1 is 57 pages.
4. I have been fascinated/infatuated by Zachary Schomburg-stuff for quite some time. I sent him an email once but he never replied. I assume this is because he was too busy writing awesome fucking poetry.
5. If I wrote awesome fucking poetry like Zachary Schomburg, I probably wouldn't have the time to reply to emails from people I have never met IRL.
6. It's not very hard to read Fjords Vol. 1, which is nice. But it's also not meant to be very hard, I don't think. It's like something that is easy to learn but hard to master. Like chess, for example. Or swimming. The Tecktonik dance. I don't know. (But) that's how I feel about Zachary Schomburg poetry.
7. If Fjords Vol. 1 had been a homework assignment in high school, I would have found it to be very easy. You could definitely read it all in one night/sitting (if you really wanted to, and I sort of allude to this already).
8. But there is so much to understand and feel and grasp and learn and write down and think about—which is why I love Fjords Vol. 1 so much.
9. Like the poem Staring Problem, in its entirety. "A woman walks into a room. I am in a different room. What has happened to your eyes? she asks."
10. I feel like, maybe, sometimes, Zachary Schomburg is too smart for me to understand—but I generally feel like this about all poetry—so I keep reading the same line over and over, because I keep thinking "No, this is not hard. I am making it hard. I am pretty sure I can understand anything," and even after several re-readings (now)—I still cannot grasp everything there is to grasp in the book. That's fine though. And this is not a bad cannot-grasp-everything. This is a good cannot-grasp-everything. A book that is challenging (to/for) me. Something I can come back to, later in life, after I have read more books and feel like I can finally maybe understand things better. READ MORE >