Gavin Flood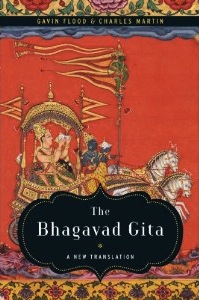 The Bhagavad Gita: A New Translation
by Gavin Flood and Charles Martin
W.W. Norton, 2012
167 pages / $13.95 buy from Powell's
1. The Gita is a 700-verse scripture which is excerpted from the Hindu epic The Mahabharata. The Mahabharata is the longest Sanskrit epic known to date. The Mahabharata is over 200,000 verse lines, totaling roughly 1.8 million words and is ten times the length of the Iliad and the Odyssey combined.
2. The introduction of this translated version quotes Philip Larkin's poem "The Explosion."
3. I have anxiety and decided I am going to read every religious text published this year. I have never read The Bible. I am going to.
4. This section of the Mahabharata is a conversation between a prince named Arjuna and Krishna. Krishna is God for all intents and purposes. Arjuna has to go into battle but it means fighting people he loves and Krishna is trying to get him to go into battle. It's a tough break for everybody.
5. Arjuna and Krishna are basically arguing back and forth the entire time and I was nervous though that making this claim would be disrespectful to say, one of the oldest most important religious texts in history. I wrote to one of the translators of this book. He told me that he never thought of it that way and that there have been no studies on this theory but that I quote, "Might be right, might be onto something," and that, "It is a really interesting theory." Well that was flattering.
6. I picture Arjuna and Krishna on a basketball court going back and forth in each other's faces arguing except they're arguing about the disposition of man.
7. The underlying metaphor is of course the battle for the conscious, the battle for the soul, the battle on how to live one's life.
8. Gandhi called The Gita "his spiritual dictionary."
9. I felt better while reading this book.
10. In the book Krishna says the way to change yourself is to focus on breathing in and out. No-matter the situation, just focus on breathing and you will be changing yourself. READ MORE >