hand of glory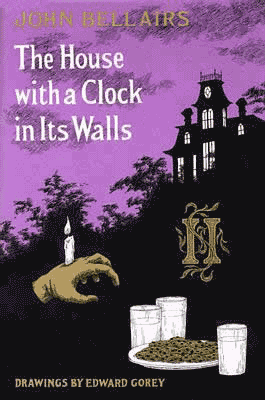 The House with a Clock in Its Walls
by John Bellairs
Dell Publishing, 1973
179 pages / buy at Powell's
 I first read this novel when I was a kid, checking it out from the library. Actually, I first read John Bellairs's novel The Treasure of Alpheus Winterborn (1978), which I picked it up because of its Gorey cover and illustrations. And it's through these novels, I think, that I first learned about Edward Gorey.
I got my current copy of THwaCiIW from my friend Rebekah, last November, at her Friendsgiving party. And it's only appropriate that Rebekah should have given me a horror novel, because my nickname for her is "Ghost Mouth." (Thanks, Ghost Mouth!)
THwaCiIW is a Gothic horror novel for kids, and it's genuinely spooky. For one thing, it's about a house with a goddamned clock in its walls! And not just any clock, but a doomsday clock that, when it goes off, will bring about the end of the world. The book's protagonist, Lewis Barnavelt, along with his Uncle Jonathan, can hear the clock ticking all throughout their house, but they cannot find it. (The evil wizard who made and hid the clock cast a spell that causes the clock's ticking to sound the same from inside every wall). And so neither the heroes nor the reader know when the clock will go off and cause the world to end. Which is like . . . Christ!
The whole novel is tremendously suspenseful. Rereading it now, I still wanted to zip through to find out what would happen.
I remember that, as a kid, the book scared the crap out of me. I found it frightening even now, reading it as an adult. I mean—it's about a house with a goddamned doomsday clock hidden in its walls!