Here and Now: Letters 2008-2011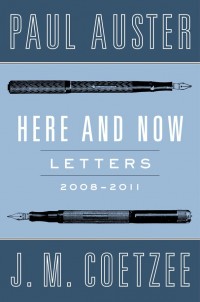 Here and Now: Letters 2008-2011
by Paul Auster and J.M. Coetzee
Viking, 2013
248 pages / $27.95 buy from Amazon
1. As the title suggests, this book documents the correspondence between Asturias Prize winner Paul Auster and Nobel Prize winner J.M. Coetzee from 2008-2011.
2. According to my calculations there are 79 letters, though some letters include emails explaining a fax machine is broken or low on ink.
3. It is not revealed if either titan of world literature had to dial a 9 before faxing.
4. There is no editor's note, introduction, epilogue or index. Peculiar for a book of letters. There are footnotes but only sometimes: a biography of Kafka is footnoted while Pierre Clastres' Chronicle of the Guayaki Indians is not.
5. 11 letters were exchanged in 2008, 30 in 2009, 25 in 2010 and 13 in 2011. The 2008 and 2011 exchanges are high-spirited, covering topics ranging from why men enjoy watching sports to the film director William Wyler.
6. On the 24th letter they perfect their flow: "Thank you for yesterday's fax. I feel that we have finally hit upon a workable system. A slow letter across the seas from America to Australia and then a quick, electronic transmission of paper from a room in a house in Adelaide to a room in a house in Brooklyn."
7. I would've liked to have been a fly on the whiteboard when Viking Press gave the green light to the title. I could've squashed myself.
8. Coetzee is why I wanted to read this book.  I thought I'd never read a book by Auster. Halfway through I realized I have read several of his books, years ago, but I still don't remember reading them. Is not reading a book and not remembering reading a book the same thing? Scrolling for Auster I found James Wood's mean-spirited article  from 2009. Whenever James Wood decides someone is a bad writer they deserve a closer look.
9. "The emboldened critic," Coetzee says in letter 42, "becomes like the child lobbing pebbles at the gorilla in the zoo, knowing he is protected by the bars." Auster on James Wood:  "I mustn't complain, least of all about a man whose name suggests that one day he will be eaten by termites."
10. This book made me miss my grandfathers. READ MORE >