Huddleston Road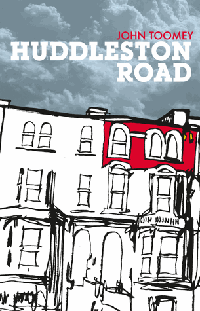 Huddleston Road
by John Toomey
Dalkey Archive Press, October 2012
160 pages / $15  Buy from Dalkey Archive or Amazon
John Toomey's first novel Sleepwalker was an expertly cynical debut; something of a sprawling segue into Dublin as it's then to be known to the reader and its excesses are as hilarious and compelling as they are cutting and insightful. That book is essentially what I think of as a hedonistic pipe dream put down on paper with nothing held back, with all the literary savvy of any of the contemporary masters describing chaos in the city, while retaining an originality that's marked Toomey as an important presence in contemporary Irish literature.
His second book, Huddleston Road, is first and foremost a departure from that cynicism and mania inherent to the first. I'd argue that fans of the first book will immediately know the author's work when they begin reading his second but the shift away stylistically is undeniable; and quite impressive. Consider, for a moment, the first books of Jay McInerney, or Bret Easton Ellis, each American authors who began with dark comedic forays into metropolitan chaos. One could argue that McInerney has grown away from this over the years but he's always retained some of that sensibility, and the same certainly goes for Ellis, ten-fold. Although I'm a tad hesitant to draw comparisons to the first books of either of those writers (of considerably different movements than Toomey) the general point I'm hoping to make is that the writer challenged himself in starting out with such a distinctly-crafted epic as Sleepwalker, and—all the 2nd novel mythos aside—Toomey has managed to show here a different set of literary chops, while retaining the maniacal attention to detail so prevalent in the first book.
It follows a young Irishman named Vic. Vic leaves Dublin for London early on in the novel and through no real preference of his own winds up teaching history and such to teenagers. Again, through each moment, each paragraph, each sentence, the importance of this book seems to be that wild attention to detail Toomey seems to have great control over. A young man standing at a party is never simply that, but an opportunity to explore the ramifications of standing at said party and the physical details of those present and the questions running through young Vic's mind. At times it reads as a sort of summary of this character's thoughts and yet the vivid moments of dialogue and scene give striking reality to each moment when you find yourself so ingrained in this character's reactions to moments that you forget the moments themselves.
Because this will also be an interview, and because I'm hardly interested in giving a moment-by-moment account of the novel's content, I won't delve that much deeper into the goings on in Huddleston Road except to address perhaps the most important part: Lali. Lali is a girl Vic finds himself desperately attracted to with every moment that passes. She doesn't seem interested and even acts like a bit of an asshole at first and yet this draws Vic slightly more to her so that when he's finally given a chance to sit and speak with her his mind is torn asunder with thoughts and worries and chaos and yet he cannot help himself. This is, I'd argue, a love story. There are moments that make it considerably different than most love stories you've read and will read, but all the same there are tropes at play here that make this book a fresh spin on the old magic of two people falling in love in spite of terribly difficult circumstances, and the ramifications in both of their lives as a result of this.